This oat flour pizza is a great way to lighten up pizza night or have pizza for lunch! A quick and easy thin crust pizza base made with only three ingredients – no yeast, no oil, it's gluten-free and can be vegan. It's a perfect pizza to NOT share.
Before I get into why and how you should make this pizza, I need to tell you (if you haven't guessed already) that this is not a classic, indulgent pizza. It's made from oat flour, so don't expect a fluffy American-style pizza. If that's what you're looking for – call up Dominos or Pizza Hut!
That being said, this pizza is still very delicious and will surely satisfy your pizza craving without sacrificing your health. Don't believe me? TRY IT!
Pizza is one of my weaknesses, that fluffy dough drowning in melted cheese? YUM. And while I'm an advocate for including all your favourite foods into your life – in moderation – sometimes I don't want pizza in moderation. I want it every day. For breakfast, lunch and dinner!
So I just HAD TO figure out a way to make that possible – this oatmeal pizza is healthy and you're totally allowed to have it every day if you want!
Ingredients
Not only is this gluten-free pizza dough made with no yeast, but it's also made with only 3 ingredients! If that's not a good enough reason to make this recipe, I don't know what is!
The exact measurements are at the bottom of the page in the recipe card.
Jump to Recipe
Oats: To make oat flour, all you need to do is blend whole oats into a fine powder. You can do this in a blender or food processor. You can also buy oat flour in some health food stores.
Baking Powder: This makes the pizza crust rise and makes it more fluffy. Without it, your pizza will be rock hard.
Salt: This is optional, it just adds some flavour.
Yoghurt: You can use dairy-free yoghurt if you want to make this vegan. Just make sure it's not sweetened! I use Alpro plain soy yoghurt which is on the runnier side, if your yoghurt is thicker you may need to use more than the recipe states.
Step-by-step instructions
Another great thing about this recipe is that you don't need to knead your dough, leave it to rest and rise or bake it on a pizza stone. This recipe just requires you to combine your ingredients, roll it out and bake. It's as simple as that!
Don't forget to watch the recipe video!
Jump to Video
Step 1: (skip this step if using shop-bought oat flour) Add your rolled oats to a blender or food processor and blend into a fine powder that should resemble flour.
Step 2: Add your oat flour, baking powder and salt to a mixing bowl, mix to evenly distribute the ingredients and then add in your yoghurt.
Step 3: Using a spatula or your hands, fold the ingredients until it comes together to form a ball of dough.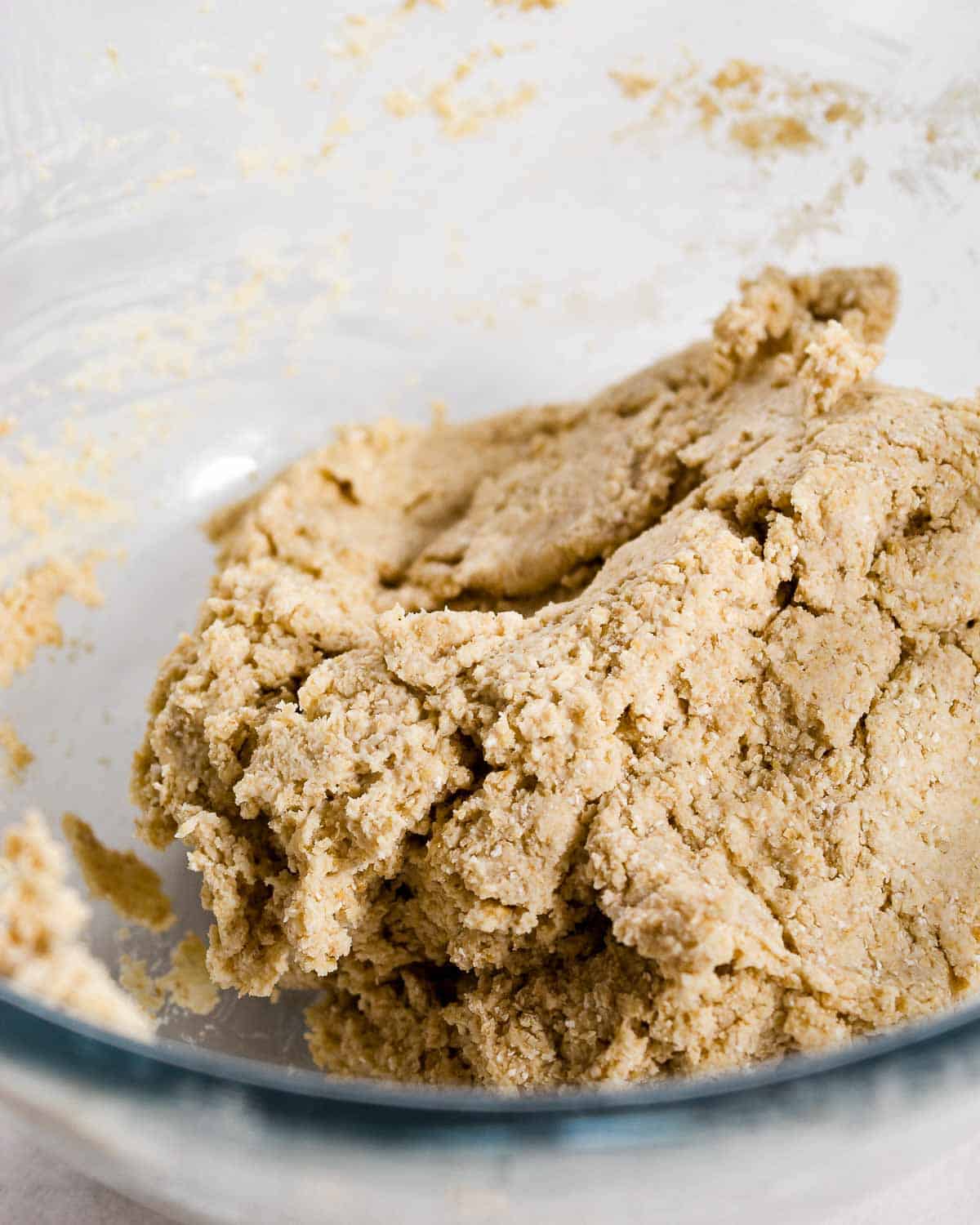 Step 4: Cut a large sheet of parchment paper (roughly 60cm long), place your ball of dough on one half then fold the parchment paper over the dough and roll the dough into a round(ish) shape. The dough should be between 1/2 a centimetre and 1 centimetre thick.
Step 5: Use a pizza wheel or knife to cut off the rough edges and shape your pizza, then cut off any excess parchment paper around your pizza crust.
Step 6: Add your toppings to the pizza!
Step 7: Lift the crust on the parchment paper and place it onto a baking tray or pizza tray. Bake for 20 minutes.
Baking Tips
Your dough should not be overly sticky or wet, if it is too wet – add in some more oat flour. If your dough appears to be too dry – add in some more yoghurt.
If your yoghurt is on the thicker side (like Greek yoghurt) you may need to use more than the recipe states. Start by using the amount listed in the recipe, but if your dough is too dry add in some more yoghurt one tablespoon at a time.
Make sure your toppings are covering the whole pizza crust. If you're using tomato paste, spread it all over and if you're using garlic butter or oil (like I did) do the same – we don't want a dry pizza!
Roll the dough out between parchment paper so that it doesn't stick to the rolling pin.
If you don't have a rolling pin, you can use a glass or a wine bottle (drink the contents of the wine bottle with your pizza!)
I roll my dough so that it's around half a centimetre thick. If you like a thicker, softer pizza crust don't roll it out too much. You may have to bake it a couple of minutes longer.
Healthy Pizza Topping Ideas
To make this a balanced meal, remember to add a source of protein, fat and vegetables! Pizza is such a versatile meal, you can literally add anything you want! Here are some of my favourites:
Protein: Chicken, Tofu, Tempeh, Tuna and of course – cheese is a good source of protein too!
Fats: Cheese, Garlic Oil, Avo or Hummus.
Vegetables: Spinach, Peppers, Onions, Mushrooms, Eggplant, Sweetcorn.
Flavour: Herbs, Chilli, Tomato Puree, Garlic, Barbeque Sauce and MORE CHEESE!
After working in a pizza restaurant for two years, I would say the correct way to build your pizza is: sauce – toppings – cheese – fresh herbs after baking!
Want to save it for later?
While this pizza is best served straight from the oven, there may be an occasion where you want to make it ahead of time or save leftovers for later. Here's how you can do this:
Store your cooked pizza in a Tupperware container at room temperature for up to four hours or in the fridge for up to three days.
To reheat your pizza, pop it in the microwave for a minute or two or cover in foil and bake it in your oven for 10 minutes.
You can also store your uncooked pizza dough in the fridge for up to three days and when you're ready to make your pizza, continue with the recipe from step 4.
Freezing
I would not recommend freezing your pizza. You can freeze the pizza dough, however, simply wrap it in parchment paper and store it in a freezer-safe container or freezer bag for up to two months. Leave to thaw at room temperature for a couple of hours and then continue with step 4.
Frequently asked questions
Can I use regular flour instead of oat flour?
I would not recommend replacing the oat flour in this recipe with a different flour as the measurements will need to be different. You could try this Greek Yogurt Pizza Dough recipe by Dwardcooks instead.
Can I use quick oats instead of whole oats to make oat flour?
Yes, you can!
Are oats gluten-free?
According to Healthline.com, oats are gluten-free and are suitable for people with gluten intolerance, however, some oats are produced in facilities where gluten is present -\\\\\\\\\\\\\\\\\\\ therefore they may not be celiac-friendly. If you suffer from celiac disease I recommend researching the oats that you are using to ensure that they are gluten-free certified.
More Savoury Goodness for you to try
The following recipes are made with oat flour and can be made within the time it takes for your pizza to bake!
BAKING IN GRAMS
All of the recipes I create are tried and tested a few times until it has been perfected. My goal is to develop recipes that are simple to make and easy to follow so that anyone can make them – even if you've never baked before!
One very important thing that will ensure that you get the best results is to measure your ingredients by weight! I recommend purchasing a kitchen scale, they are very affordable and it will honestly change your baking game for good! Not all measuring cups are made equally – for example, a cup of flour to me weighs 120g, but for you, it may be anywhere between 100g and 200g – that's a BIG difference!
I do provide cup measurements, but for best results, I recommend using the weighted ingredients provided.
If you don't have a kitchen scale yet, you can use this Ingredient Weight Chart as a guideline to convert the ingredients to help you!
Now – dust your apron off and get baking! X
Hey! If you make this recipe, I would love it if you could leave me some feedback and a rating ⭐⭐⭐⭐⭐ in the comment section at the bottom of the page! Also let me know on Facebook, Instagram or Pinterest! I can't wait to hear your thoughts and see your photos!
Easy Oat Flour Pizza Crust
This oat flour pizza is a great way to lighten up pizza night or have it for lunch! A quick and easy thin crust pizza base made with only three ingredients, no yeast, no oil and it's gluten-free and can be vegan. It's a perfect pizza to NOT share.
Equipment
Baking Tray or Pizza Tray
Ingredients
120

g

Whole Oats or Oat Flour

(1 + ⅓ cup Whole Oats)

1

tsp

Baking Powder

125

g

Yoghurt

(½ cup)

pinch of salt
Instructions
Preheat your oven to 180°C / 350°F / 160°C.

(Skip this step if using Oat Flour)

Add your whole oats to a blender or food processor and blend until it turns into a fine powder.

Combine your oat flour, baking powder and salt in a mixing bowl.

Add in your yoghurt and fold until it comes together – it should be a solid dough (see video).

Roll out your dough between parchment paper into a round shape (around 1/2 – 1 cm thick). Trim off the rough edges.

Add your toppings, making sure to cover the whole surface.

Bake for 20 minutes until crisp.
Notes
Use dairy-free yoghurt if needed.
See blog post contents for baking tips, storage and serving instructions and pizza topping ideas!
These nutritional values are provided as a guide only and may be different depending on your ingredients and measurements.
Nutrition
Nutrition Facts
Easy Oat Flour Pizza Crust
Amount per Serving
% Daily Value*
* Percent Daily Values are based on a 2000 calorie diet.
Did you make this?
Leave a rating & leave some feedback in the comments section below! You can also tag me on Instagram @Nourishing.Niki and use the #NourishingNiki