Buckwheat groats and water are all you need to make this incredibly easy fermented buckwheat bread. This yeast-free, vegan and gluten-free bread is incredibly easy to make, it's soft and moist and healthy too! This is surely going to become your new favourite recipe!
When someone asks me: "What's your favourite food?" – my first instinct is to say bread. I just can't think of anything more enticing than a thick slice of freshly baked bread with an equally as thick layer of salted butter on. You know the way the butter melts and sinks into the crevices of the bread? THAT.
As you can probably tell, I'm rather passionate about bread. The only problem is that I'm honestly not very good at baking bread. I've always wanted to make a successful sourdough loaf (I'm working on it!). However THIS buckwheat bread kind of changed my life the first time I made it.
Similar to making sourdough, this bread does require some time to ferment, but the good thing is that it doesn't take a week or two, but merely a day and a half! And I promise it's worth the wait.
I'm still rather taken aback by the fact that this bread is made from only buckwheat groats and water.
** While I have made some adjustments to this recipe, all credit for this magical bread goes to Melissa at Breadtopia.com. Check out her Gluten Free Fermented Buckwheat Bread.
How To Make This Fermented Buckwheat Bread

This recipe may seem a bit daunting at first, but once you make it you will see just how straightforward it really is. Stick with me, I promise it will be worth it!
This recipe consists of five simple steps:
.1. Soak: To start the fermentation process, you need to soak the buckwheat groats in water for 12 hours. Add the groats to a glass or ceramic bowl, and cover with water. There should be at least 3 cm of water above the top of them as they do absorb some of the water and will 'grow' a bit. Cover the bowl with a tea towel and leave it on the counter for at least 12 hours.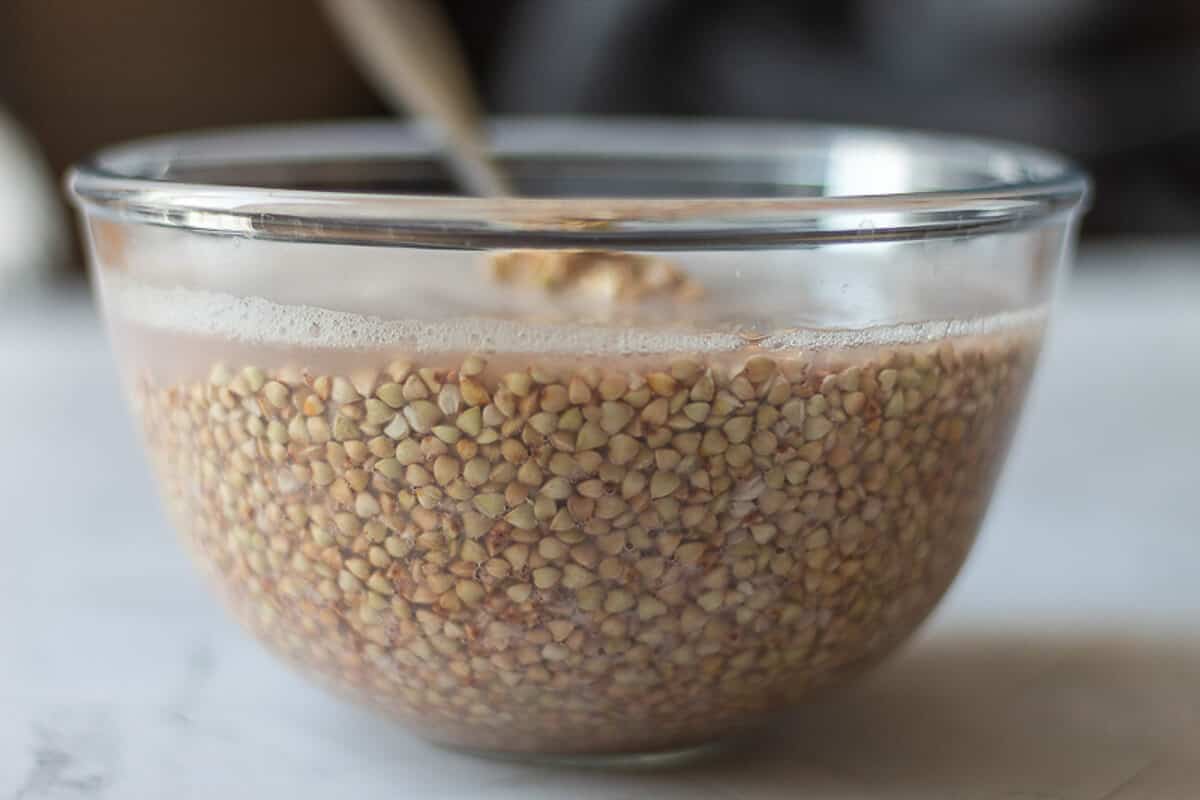 2. Drain: After the twelve hours have passed, tip the contents into a sieve or colander and leave to drain for 5 minutes. DO NOT RINSE!
3. Blend: Place the drained buckwheat in your blender or food processor along with the fresh water. Blend until smooth!
4. Fermentation: Once the mixture is smooth, pour it into a clean bowl, cover it again and set it aside on your counter for 24 hours. Yes, I know this seems like a lengthy process but I promise it's worth it! Make sure there is enough room in your bowl for the mixture to rise a bit as it ferments.
5. Bake: Once the fermentation process is over, line a loaf tin with baking parchment paper and bake!
Baker's Tips For Fermented Buckwheat Bread
GREASE YOUR BAKING PAPER! I'm not sure if my baking paper is poor quality, but it almost always sticks to the bread if I don't grease it when making this bread – this is possible due to there being no fats in the ingredients. So grease your "greaseproof" paper.
Don't disturb the mixture when it's fermenting. Just cover it and let it do its thing.
Find a nice warm spot for your bowl, you don't want it in sunlight, but you don't want it to be in a cool spot as it may have some trouble fermenting.
I highly recommend adding some seeds and salt to the mixture for extra yumminess! You could also add some seeds to the top to make it pleasing to the eye!
How To Store Fermented Buckwheat Bread

Store in an airtight container in the fridge for around a week, or you can slice it up and freeze it, I recommend wrapping the slices individually with some parchment paper. Once ready to eat, leave to thaw in the fridge or toast from frozen.
Do not leave this on your counter after baking as it will go mouldy within three days (trust me!).
If you like Buckwheat, you may also enjoy these recipes:
BAKING IN GRAMS

All of the recipes I create are tried and tested a few
times until it has been perfected. My goal is to develop recipes that are
simple to make and easy to follow so that anyone can make them – even if you've
never baked before!

One very important thing that will ensure that you get the best results is
to measure your ingredients by weight! I recommend purchasing a kitchen scale,
they are very affordable and it will honestly change your baking game for good!
Not all measuring cups are made equally – for example, a cup of flour to me
weighs 120g, but for you, it may be anywhere between 100g and 200g – that's a
BIG difference!

If you don't have a kitchen scale yet, you can use this Ingredient Weight Chart as a guideline to convert the
ingredients to help you!

Now – dust your apron off and get baking! x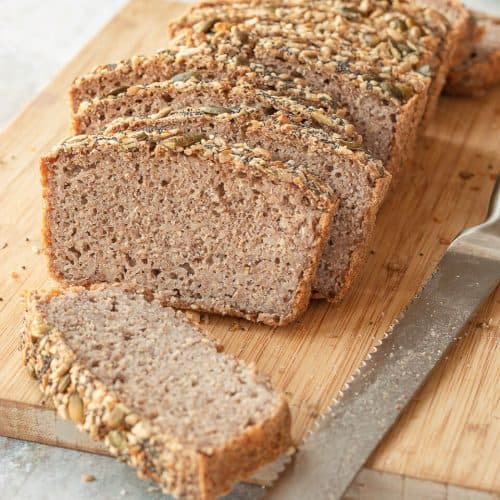 Fermented Buckwheat Bread
Buckwheat groats and water are all you need to make this incredibly easy fermented buckwheat bread. This yeast-free, vegan and gluten-free bread is incredibly easy to make, it's soft and moist and healthy too! This is surely going to become your new favourite recipe!
Equipment
Glass Bowl

Blender

Loaf Tin
Ingredients
350

g

Raw Buckwheat Groats

250

g

Water

Salt and Seeds

optional
Instructions
Add the buckwheat to a large glass bowl and cover with water. Cover the bowl with a tea towel and set it aside on the counter for 12 hours.

Drain the water (but do not rinse) then add to a blender along with 250 grams of fresh water. Blend until a smooth batter forms. Pour into the cleaned bowl, cover with your cloth and leave for 24 hours.

Fold in some salt and seeds and then pour the batter into a 1lb bread tin lined with grease-proof paper.

Preheat the oven to 180°C (160°C fan / 350°F) with the loaf in the oven and bake for 60 minutes. Insert a toothpick to check the doneness - it should come out clean. If there is still sticky dough on the toothpick, bake for a further 5 minutes.

Remove the bread from the tin and peel off the paper (careful, it's hot!) Leave the bread to cool on a wire cooling rack for at least 30 minutes before slicing!
Notes
These nutritional values are provided as a guide only and may be different depending on your ingredients and measurements.
Please see the blog post contents for even more details and some process shots!
Nutrition
Nutrition Facts
Fermented Buckwheat Bread
Amount per Serving
% Daily Value*
* Percent Daily Values are based on a 2000 calorie diet.
Did you make this?
Leave a rating & leave some feedback in the comments section below! You can also tag me on Instagram @Nourishing.Niki and use the #NourishingNiki