These no-bake cheesecake brownies are the perfect treat for the warmer days, they're plant-based, gluten-free, oil-free and refined sugar-free too! A brownie base made with only 3 ingredients, topped with a smooth cheesecake layer (that tastes like ice cream when frozen!) add in some fresh berries – can you think of anything better?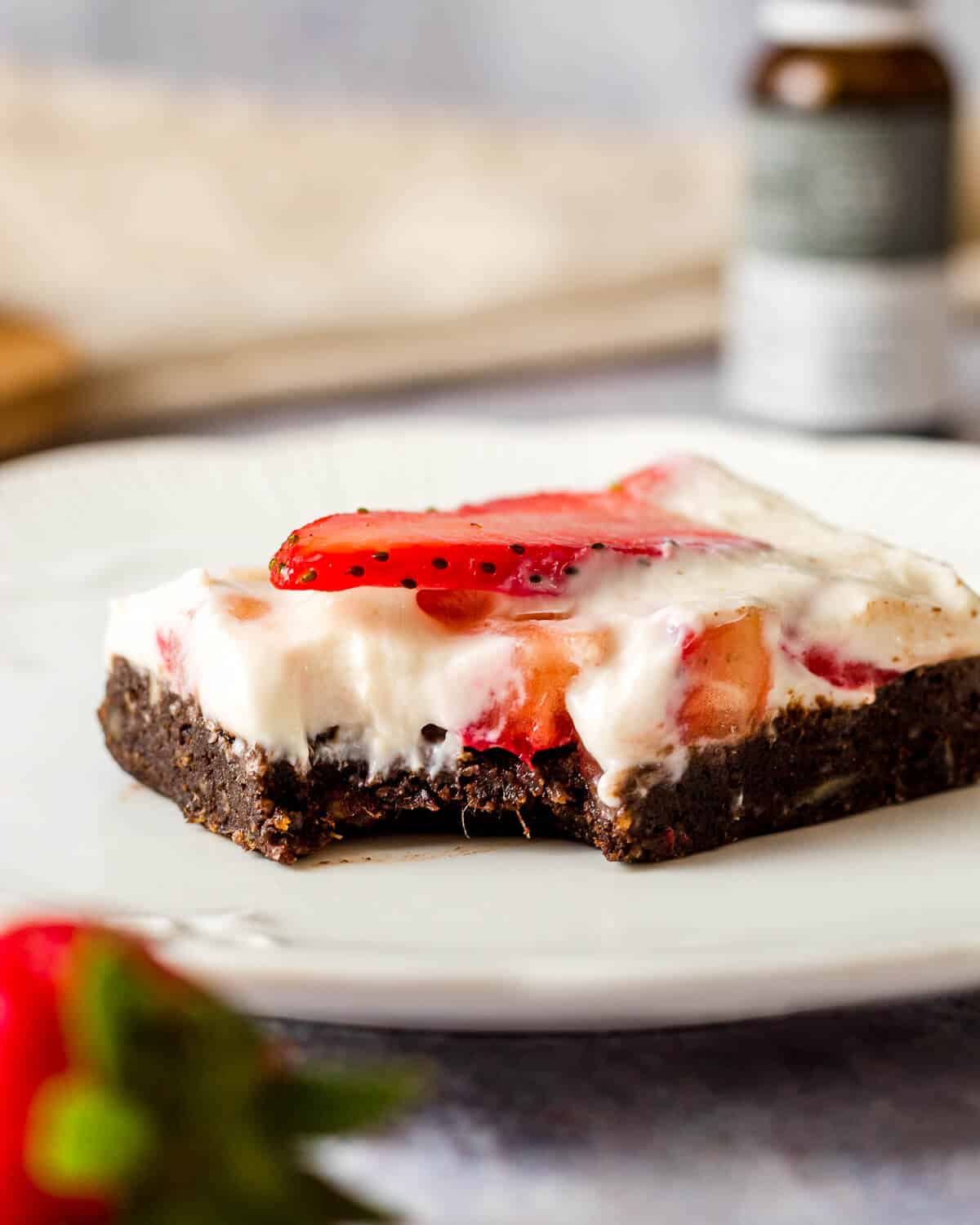 As soon as Spring hits each year, my mind automatically shifts to lighter, cooler desserts that usually involve berries. It's just how it works. BUT my heart belongs to chocolate so, naturally, I had to come up with a recipe that includes all of the above – that's how I developed this No-Bake Strawberry Cheesecake Brownie recipe.
These vegan no-bake cheesecake brownies are not only easy, simple and incredibly delicious they're also made with only 8-ingredients. Eight NOURISHING ingredients of course.
All You Need For No-Bake Cheesecake Brownies
Ground almonds: Also known as Almond Meal can be substituted with ground walnuts or almond flour. Almonds contain lots of healthy fats and plant protein, meaning they keep full and satisfied for longer! They're also a good source of calcium, magnesium and vitamin E!
Cocoa Powder: Yes, you can use cacao powder if you prefer or even some chocolate protein powder? Cocoa powder has some surprising health benefits, they're rich in something called "polyphenols" which is a plant-based compound known for its antioxidant and anti-inflammatory properties. (So yes, chocolate IS good for you!)
Dates: This binds the other ingredients together and sweetens the brownie, so I do not have any substitutes here. I use Deglet Noir dates as they are a bit more affordable, but you could use any soft, pitted dates or Medjool dates if you're feeling fancy. I love using dates instead of sugar in my recipes as they not only add sweetness and structure, they have some incredible health benefits. Dates are also high in antioxidants, vitamins and minerals and fibre too! (They also make a great snack and have an almost caramel-like flavour.
Salt: This is optional (but not really). Salt enhances the flavour and brings out the deep chocolate flavour in these brownies. I use pink salt as it's higher in minerals than regular salt.
Thick Yoghurt: You need to make sure you don't use runny yoghurt as the cheesecake layer will be too thin. I recommend using Greek yoghurt as it's nice and thick and also high in protein! To keep these cheesecake brownies vegan or dairy-free – try to find a vegan Greek-style yoghurt, or a thick coconut yoghurt will work too!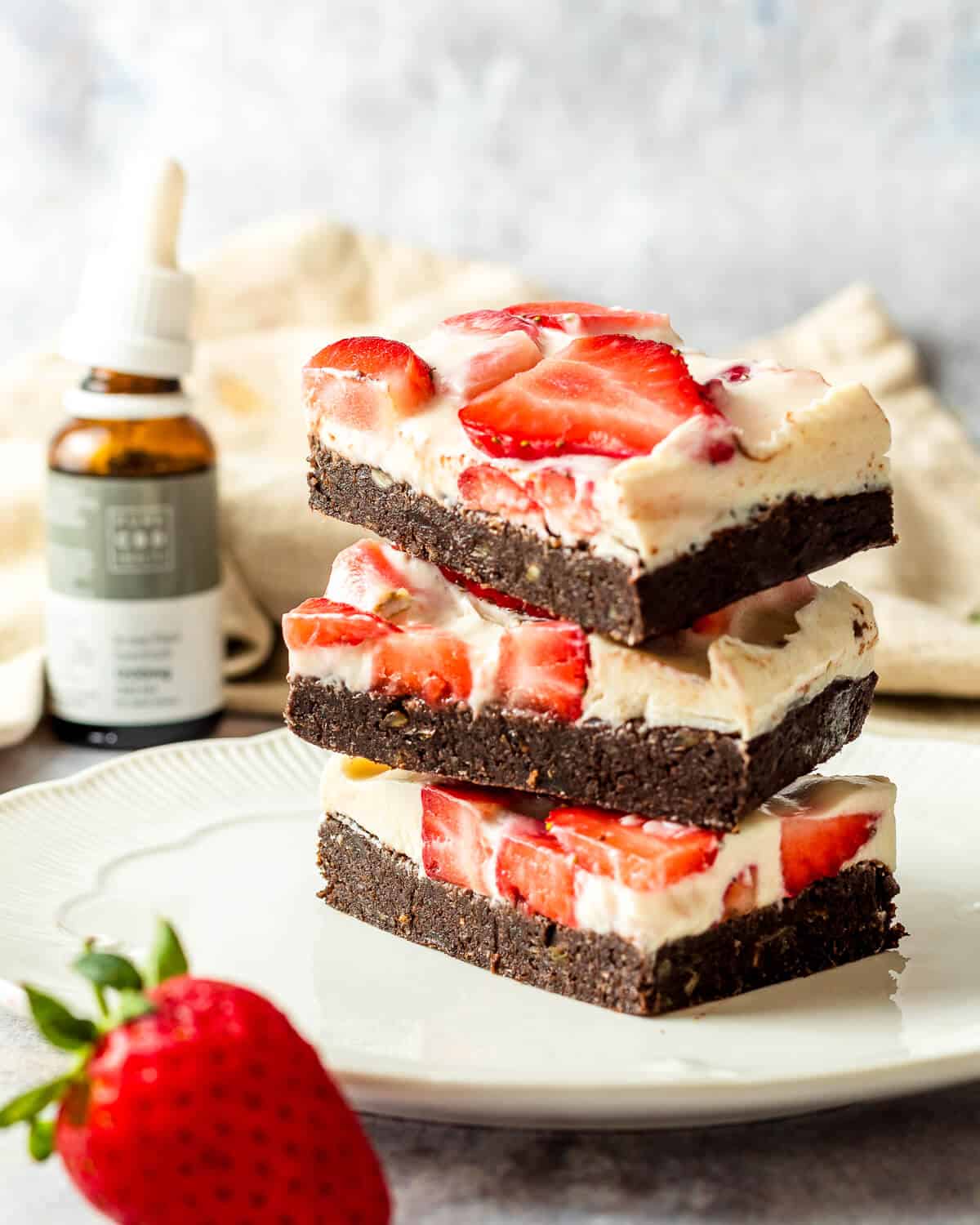 Cream Cheese: I like to use low-fat cream cheese as it's higher in protein. To keep these no-bake cheesecake brownies vegan and dairy-free, you can either buy a vegan cream cheese (available in most grocery stores nowadays, OR why not try this Vegan Cream Cheese Recipe!
Maple Syrup: We only need a bit of this, just to add a bit of sweetness. You could use honey or agave syrup instead if you like OR you could use powdered sugar. Just add a few tablespoons until you have your desired thickness. I love using maple syrup as the taste is DIVINE, but also (once again) it's high in antioxidants and also minerals such as riboflavin, zinc, magnesium, calcium and potassium!
Strawberries: You can use any fresh berries, but I love the combination of chocolate and strawberries together! They're also high in antioxidants and minerals.
Adding CBD To Food
I've been loving CBD oil lately, so much so that I've been adding it to recipes and everything I can think on. If you don't know what CBD oil is, it's an oil derived from the cannabis plant. It has many health benefits including reducing pain and inflammation and improved sleep quality and it also helps with anxiety and depression. I use THIS CBD oil by Pure CBD Health as it's pure and potent! It is THC free (meaning: YOU WON'T GET HIGH!), and the company uses sustainable methods and packaging throughout which is just BRILLIANT! (you can use my code KITS20 to save some money – this is not an affiliate link)
If you want to read more about CBD, here's everything you need to know about CBD oil.
You can also try this Giant Chocolate Chip Cookie with CBD oil!
How To Store No-Bake Cheesecake Brownies
I recommend keeping these cheesecake brownies in the freezer. This helps them maintain their shape as the cheesecake layer can get a bit soft. Also – it tastes best frozen (like ice cream!).
Keep them in a glass container (or any container suitable for freezing) in the freezer for up to 3 months!
Looking For More No-Bake Desserts To Try?
BAKING IN GRAMS
All of the recipes I create are tried and tested a few times until it has been perfected. My goal is to develop recipes that are simple to make and easy to follow so that anyone can make them – even if you've never baked before!
One very important thing that will ensure that you get the best results is to measure your ingredients by weight! I recommend purchasing a kitchen scale, they are very affordable and it will honestly change your baking game for good! Not all measuring cups are made equally – for example, a cup of flour to me weighs 120g, but for you, it may be anywhere between 100g and 200g – that's a BIG difference!
If you don't have a kitchen scale yet, you can use this Ingredient Weight Chart as a guideline to convert the ingredients to help you!
Now – dust your apron off and get baking! X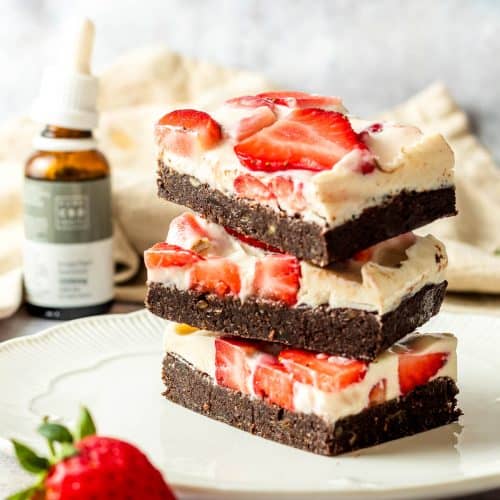 No-Bake Cheesecake Brownies
These no-bake cheesecake brownies are the perfect treat for the warmer days, they're plant-based, gluten-free, oil-free and refined sugar-free too! A brownie base made with only 3 ingredients, topped with a smooth cheesecake layer (that tastes like ice cream when frozen!) add in some fresh berries – can you think of anything better?
Equipment
Small Freezer-safe Dish

roughly 15cm x 15cm
Ingredients
200

g

Pitted Dates

100

g

Ground Almonds

see notes

30

g

Cocoa Powder

Pinch

of salt

1/2

cup

Thick Dairy-free Yoghurt

1/2

cup

Dairy-free Cream Cheese

2

tbsp

Maple Syrup

200

g

Fresh Strawberries
Instructions
Start by covering your pitted dates with boiling water, cover for at least 10 minutes to soften.

Drain the water and then blend your dates.

Combine your ground almonds, cocoa powder and a pinch of salt in a mixing bowl and then add in your dates. Mix until combined. For a cheeky twist – add in a few servings of CBD oil. (I use one by Pure CBD Health).

Transfer your brownie mixture into a small tin (mine is 15cmx15cm) and press it down.

To make your cheesecake layer: combine your yoghurt, cream cheese and maple syrup. Mix it until smooth.

Chop up your strawberries (save 2) and add them to your cheesecake mix. Spread the cheesecake mix onto your brownie. Thinly slice the two remaining strawberries and place them on top.

Pop the tray into a freezer for around 2 hours, then remove it from the tin and slice with a sharp knife.

I recommend storing these in the freezer (it tastes like ice cream!)
Notes
*Please read the blog contents for ingredient substitutions and important info!
These nutritional values are provided as a guide only and may be different depending on your ingredients and measurements
Nutrition
Nutrition Facts
No-Bake Cheesecake Brownies
Amount per Serving
% Daily Value*
* Percent Daily Values are based on a 2000 calorie diet.
Did you make this?
Leave a rating & leave some feedback in the comments section below! You can also tag me on Instagram @Nourishing.Niki and use the #NourishingNiki