These 6-ingredient PB & J Cookies are so quick, easy and fun to make! Classic Gluten-Free Thumbprint Cookies filled with peanut butter and jam – they'll take you right back to your childhood! They're naturally vegan, gluten-free, oil-free and refined sugar-free and they're healthy too!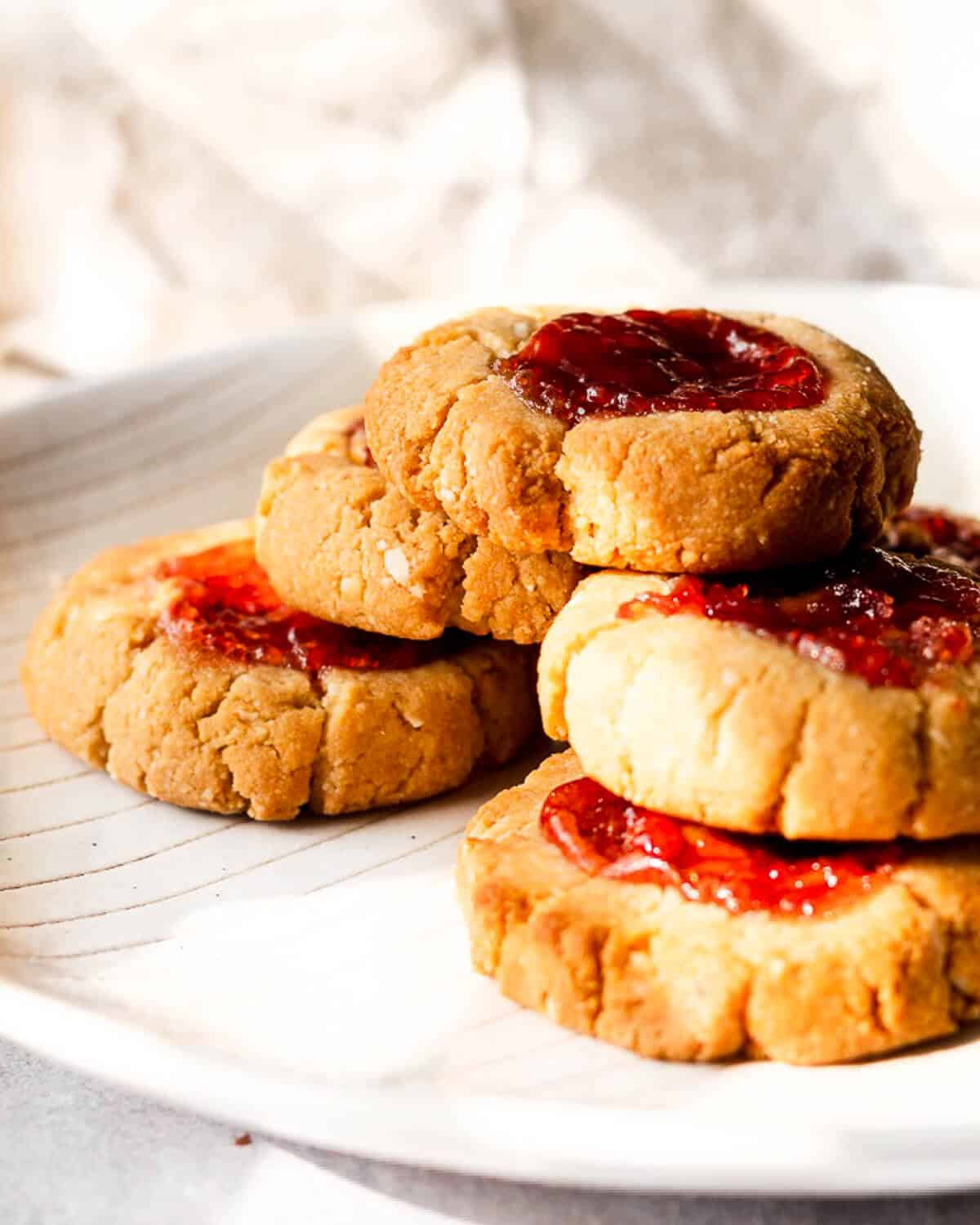 The flavour combination of peanut butter and jam takes me right back to my childhood. Picture this: sitting on the grass on my lunch break in my primary school in sunny South Africa, devouring a peanut butter and strawberry jam sandwich on white bread. What a luxury!
These magical flavours are still a favourite of mine and always create a nostalgic feeling in my heart. Another nostalgic treat of mine is peanut butter cookies. My sister used to bake them (she was obsessed with peanut butter – we called her "Peanut Butter Brain").
I was pondering making some healthy thumbprint cookies, but I was also craving peanut butter cookies – and that's when I got the genius idea of these Peanut Butter and Jam Thumbprint Cookies.
Me being me, I had to make sure they were not only nourishing for the soul but also the body. On top of that: I wanted them QUICK!
These Healthy PB & J Cookies only require 6-ingredients and they're ready in 15 minutes!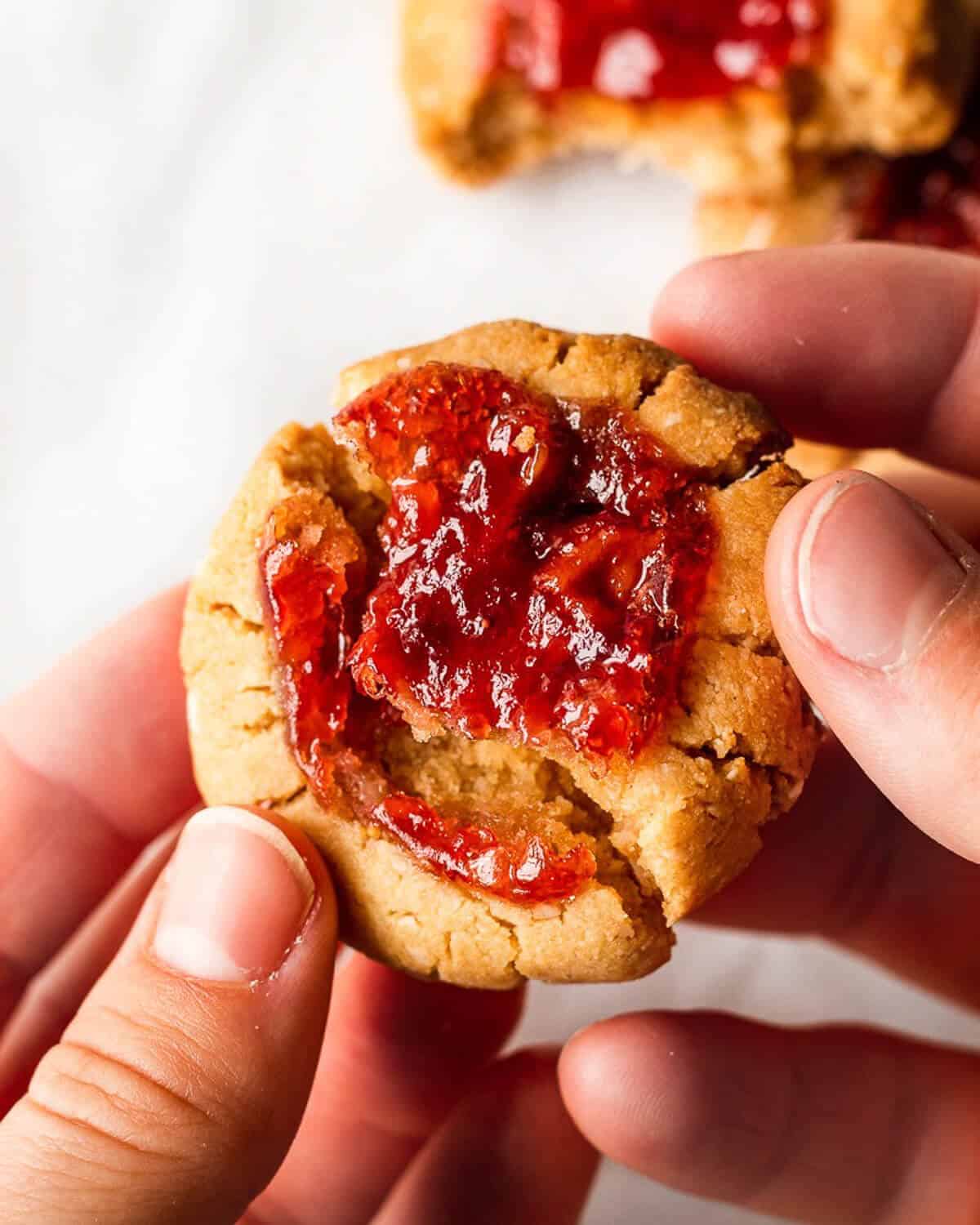 Ingredients & Substitutions
As I mentioned: you only need 6 ingredients!
Peanut Butter: Make sure it's smooth! You could use any type of nut butter or use sunflower butter to make them nut-free!
Maple Syrup: To add a bit of sweetness without adding refined sugar, you need some Maple Syrup, Honey, Agave or any Syrup of your choosing.
Ground Almonds: Almond Meal, Almond Flour – same thing.
Baking Powder: this acts as a leavening agent in the cookies. You cannot substitute this for Baking Soda.
Salt and Vanilla Extract: these ingredients both add flavour to the cookies and also enhance the other flavours!
Jam: I use store-bought Strawberry Jam, but you can use your favourite jam or even make your own!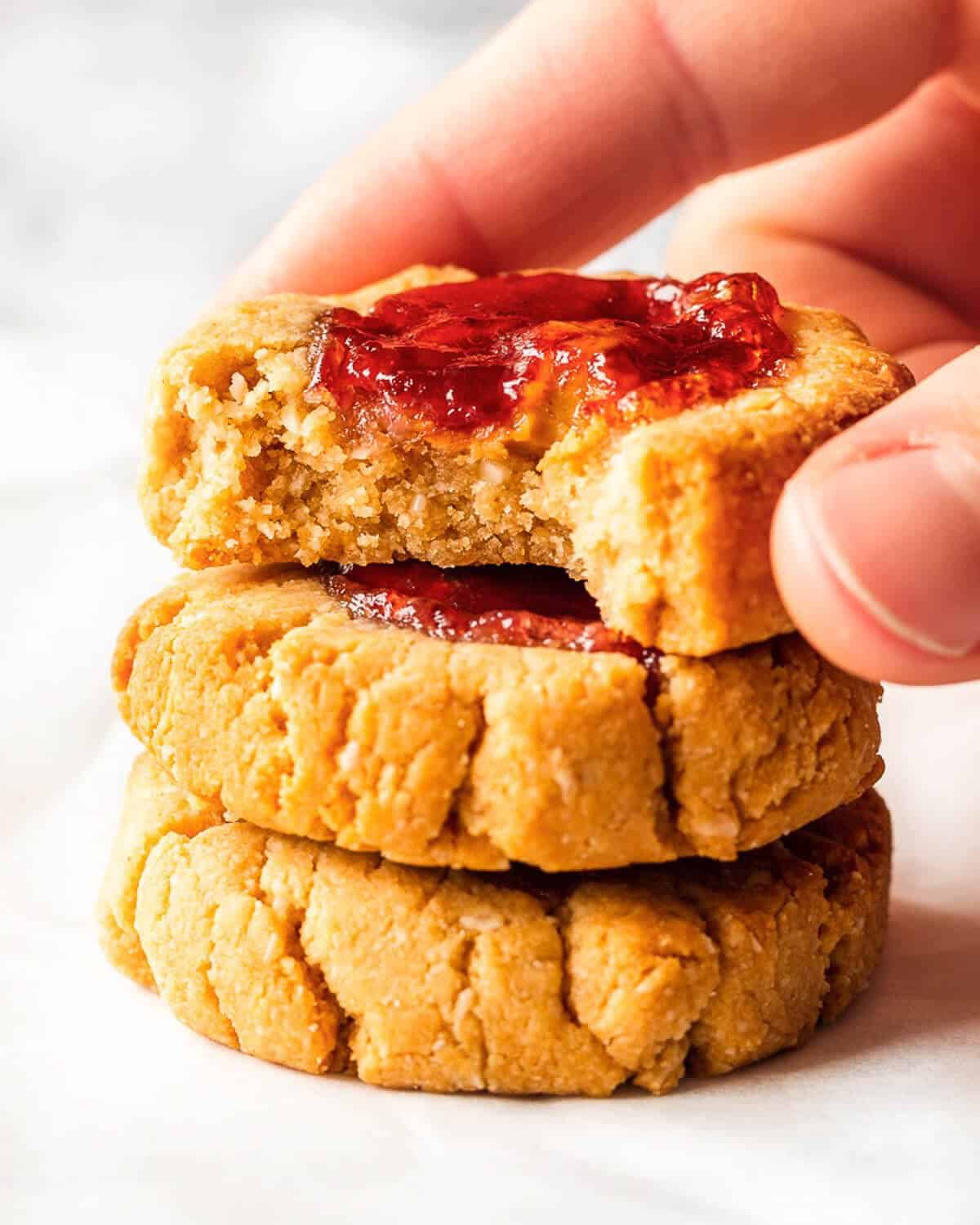 How To Make PB & J Cookies
Jump to Video
These gluten-free thumbprint cookies are very quick and easy to make, but I've even made a recipe video for you. It takes about 5 minutes to put together and only 10 minutes to bake!
Combine the wet ingredients until smooth, add the dry ingredients and fold until it resembles cookie dough. If the mixture is too dry, try adding an extra teaspoon of maple syrup.
Next, measure out 8 even pieces of cookie dough. To make this easier and more precise, I recommend weighing your cookie dough and then dividing that by 8.
Roll the cookie dough into balls, then slightly flatten. Create a well in the centre (you can use your thumb, or use a measuring spoon). The edges of the cookies might split here, but you can use your fingers to push them back together.
Lastly, add about half a teaspoon of peanut butter into the middle of each and then top it off with half a teaspoon of jam. (I specifically mean in this order, I tested both and this way works best!)
Pop it in the oven and – tada! You have healthy peanut butter and jam cookies!
How To Store These PB & J Cookies
I recommend keeping these in the fridge as they seem to stay crunchier this way, if you store them at room temperature they will be a bit softer. Store in a freezer bag or an air-tight container for up to a week.
These cookies freeze really well so you can prepare more than one batch at a time if you like and keep them in a freezer bag or freezer-safe container for up to three months in the freezer. Leave to thaw in the fridge for a few hours before eating.
You might also enjoy these vegan & gluten-free cookies:
BAKING IN GRAMS
All of the recipes I create are tried and tested a few times until it has been perfected. My goal is to develop recipes that are simple to make and easy to follow so that anyone can make them – even if you've never baked before!
One very important thing that will ensure that you get the best results is to measure your ingredients by weight! I recommend purchasing a kitchen scale, they are very affordable and it will honestly change your baking game for good! Not all measuring cups are made equally – for example, a cup of flour to me weighs 120g, but for you, it may be anywhere between 100g and 200g – that's a BIG difference!
If you don't have a kitchen scale yet, you can use this Ingredient Weight Chart as a guideline to convert the ingredients to help you!
Now – dust your apron off and get baking! X
PB & J Cookies
These 6-ingredient PB & J Thumbprint Cookies are so quick, easy and fun to make! They're naturally vegan, gluten-free, oil-free and refined sugar-free and they're healthy too!
Instructions
Preheat your oven to 190°C (170°C fan / 375°F) and prepare a baking tray with Baking Parchment paper.

Start by combining the Peanut Butter, Maple Syrup and Vanilla Extract. Whisk with a fork until smooth.

Add in your Ground Almonds, Salt and Baking Powder and fold until combined – it should look like cookie dough.

Measure out 8 even pieces and roll them into balls. Slightly flatten then create a well in the middle using a spoon or your fingers.

Tidy up the edges of your cookies and then fill each cookie with 1/2 a tsp of Peanut Butter followed by 1/2 a tsp of Jam.

Bake for 10 minutes – they should be a golden colour. Leave to cool.
Notes
Please see the blog post contents for ingredient substitutions, baking tips and storage instructions.
These nutritional values are provided as a guide only and may be different depending on your ingredients and measurements.
Nutrition
Nutrition Facts
PB & J Cookies
Amount per Serving
% Daily Value*
* Percent Daily Values are based on a 2000 calorie diet.
Did you make this?
Leave a rating & leave some feedback in the comments section below! You can also tag me on Instagram @Nourishing.Niki and use the #NourishingNiki