These Bolognese Tacos are going to be your new favourite meal prep meal. They are packed with hidden veggies, protein and melted cheese and are perfect for lunch, dinner or even breakfast!
Are you on the hunt for a scrumptious, wholesome, and utterly mouthwatering recipe to prepare for the upcoming week? Well, your search ends here! These Meal Prep Birria Bolognese Tacos are about to become your new meal prep BFF. Imagine tender tortilla shells embracing a nutritious bolognese sauce, generously infused with an assortment of hidden veggies and melted cheese – because, let's be honest, it's all about that perfect balance! 
Ingredients You'll Need
Vegetables
What I love most about a bolognese is that you can sneak in so many hidden veggies! This definitely is not a traditional Bolognese (my Italian ancestors are shaking their heads at me as we speak) but it's still delicious nevertheless!
Along with the typical onion, carrots, celery and tomato – I also like adding some zucchini! It adds extra texture and volume and of course extra health! I recommend dicing the vegetables finely so that they're "hidden", you can also grate the carrots and zucchini.
The meat
I use a lower-fat Beef Mince, but you could also use lamb mince, turkey mince or even a vegetarian alternative.
Tortillas
You'll need soft shell tortillas for this recipe like corn tortillas or you can make your own healthy tortillas like these One Ingredient Lentil Tortillas.
Cheese
Please don't skip the cheese. Firstly, because it's delicious and secondly, as it melts it acts as a glue to keep the tortilla closed. I prefer cheddar for its sharper flavour, but mozzarella and parmesan also work great! 
Extra Flavour
To enhance the flavour of the bolognese you can add some Worcestershire sauce, herbs and sugar or ketchup for sweetness.
How to make bolognese tacos
I've outlined the steps below, but I've also made a video to show you how it's done!
1. Prepare the Veggies
Begin by finely dicing the onion, carrots, zucchini, and celery. This medley of vegetables not only introduces vibrant colours but also sneaks in essential nutrients, giving your bolognese sauce an extra edge.
2. Saute to Perfection
In a generously sized pan, heat the olive oil. Toss in the diced veggies along with the minced garlic, and sauté until they become soft. The aroma that fills your kitchen at this point is the promise of the deliciousness to come.
3. The Meaty Marvel
Introduce the beef mince into the pan and let it sizzle and brown, infusing the sautéed veggies with its hearty flavour.
4. Harmonize with Flavors
Pour in the tin of chopped tomatoes and beef stock. The tomatoes bring a rich tanginess while the stock imparts a comforting depth. Sprinkle in the dried oregano, and if you're feeling a little adventurous, the optional ketchup. Allow the concoction to simmer for 15-20 minutes, letting the flavours mingle and mature.
5. The Taco Transformation
This is where the magic truly happens. Dip your soft corn tortillas into the simmering bolognese sauce. Place the tortillas, sauce side down, onto a pan heated over medium heat.
6. The Assembly
On one side of each tortilla, layer a generous helping of the bolognese sauce and a sprinkling of grated cheese. Gently fold the tortilla closed. Allow the taco to crisp up for a minute, then flip it over to let the other side crisp up too.
7. The Grand Finale – Meal Prep
As you create these delectable treats, place them into a container, ready to be enjoyed throughout the week. When the time comes, a quick reheat in the microwave or a satisfying crunch in the air fryer is all you need to bring back the taco's glorious crispness and flavours.
And there you have it – your masterpiece of Meal Prep Birria Bolognese Tacos, a delightful embodiment of ease, health, and indulgence. These tacos have the power to make any mealtime an unforgettable experience, whether it's an evening with friends, a solo lunch at work, or a sneaky breakfast indulgence.
Storage Instructions
Cooling Down: Allow your assembled tacos to cool slightly before storing. This helps prevent excess condensation inside the storage container, which can lead to sogginess.
Airtight Containers: Choose airtight containers for storage. These containers prevent moisture from getting in, preserving the crispness of the tortillas and the integrity of the bolognese filling.
Refrigeration: If you plan to consume your tacos within the next few days, store them in the refrigerator. Place them in a single layer, if possible, to avoid squishing or overlapping. They will last 3-4 days.
Freezing (For Longer Storage): If you want to enjoy your tacos beyond a few days, consider freezing them. Wrap each taco individually in plastic wrap or aluminium foil to prevent freezer burn and maintain their quality. They will last 2 months.
Reheating:
Refrigerated Tacos:
Microwave: Reheat in the microwave for 1-2 minutes, checking periodically to ensure they're heated through.
Oven: Place them in a preheated oven at around 350°F (175°C) for 5-8 minutes until heated to your liking.
Stovetop: Reheat in a pan over medium heat, flipping occasionally, until warmed through.
Frozen Tacos:
Defrosting: Allow the tacos to thaw in the refrigerator overnight.
Reheating: Use the same methods as for refrigerated tacos, with slightly longer heating times. Make sure they're heated thoroughly to the centre.
you may also enjoy these easy and healthy recipes:
Hey! If you make this recipe, I would love it if you could leave me some feedback and a rating ⭐⭐⭐⭐⭐ in the comment section at the bottom of the page! Also let me know on Facebook, Instagram or Pinterest! I can't wait to hear your thoughts and see your photos!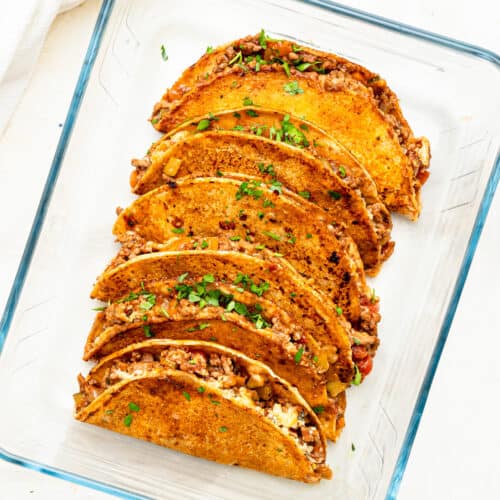 Easy and Healthy Bolognese Tacos
These Bolognese Tacos are going to be your new favourite meal prep meal. They are packed with hidden veggies, protein and melted cheese and are perfect for lunch, dinner or even breakfast!
Ingredients
1

tsbp

Olive Oil or Butter

1

small

Onion

2

Carrots

2

stalks

Celery

1

Zucchini

2

cloves

Garlic

500

g

Mince

1

tin

Chopped Tomatoes

400g

125

ml

Beef Stock

1

tbsp

Dried Oregano

1/4

cup

Ketchup

optional

12

Soft Shell Corn Torillas

120

g

Cheese

cheddar, mozzarella or parmesan
Instructions
1. Finely Dice your veggies.

Heat oil in a large pan then fry your veggies and garlic until soft. 5-8 minutes.

Add mince and cook until brown. 5-8 minutes.

Add tomatoes, stock and oregano and ketchup if using and leave to simmer for 15-20 minutes. Season to taste.

Dip your tortillas in the sauce then place in a pan on medium heat (sauce side down).

Add some bolognese and grated cheese to one side, and fold the tortilla closed. Leave to crispen for a minute then flip over to crispen up the other side. Repeat with remaining tortillas and sauce.

Store in a container and reheat in the microwave or air fryer before serving.
Video
Notes
Read the full blog post when making these Bolognese Tacos for extra tips, storage instructions and ingredient substitutions!
These nutritional values are provided as a guide only and may be different depending on your ingredients and measurements.
Nutrition
Nutrition Facts
Easy and Healthy Bolognese Tacos
Amount per Serving
% Daily Value*
* Percent Daily Values are based on a 2000 calorie diet.
Did you make this?
Leave a rating & leave some feedback in the comments section below! You can also tag me on Instagram @Nourishing.Niki and use the #NourishingNiki