Satisfy your pancake cravings in a flash with our sensational 5-Minute Pancake Mug Cake recipe. Crafted for those time-crunched moments, this microwave marvel is the solution to your culinary desires. With only five simple ingredients, you'll conjure a delectable pancake that's both nourishing and indulgent, fitting seamlessly into your morning routine or as a delightful dessert.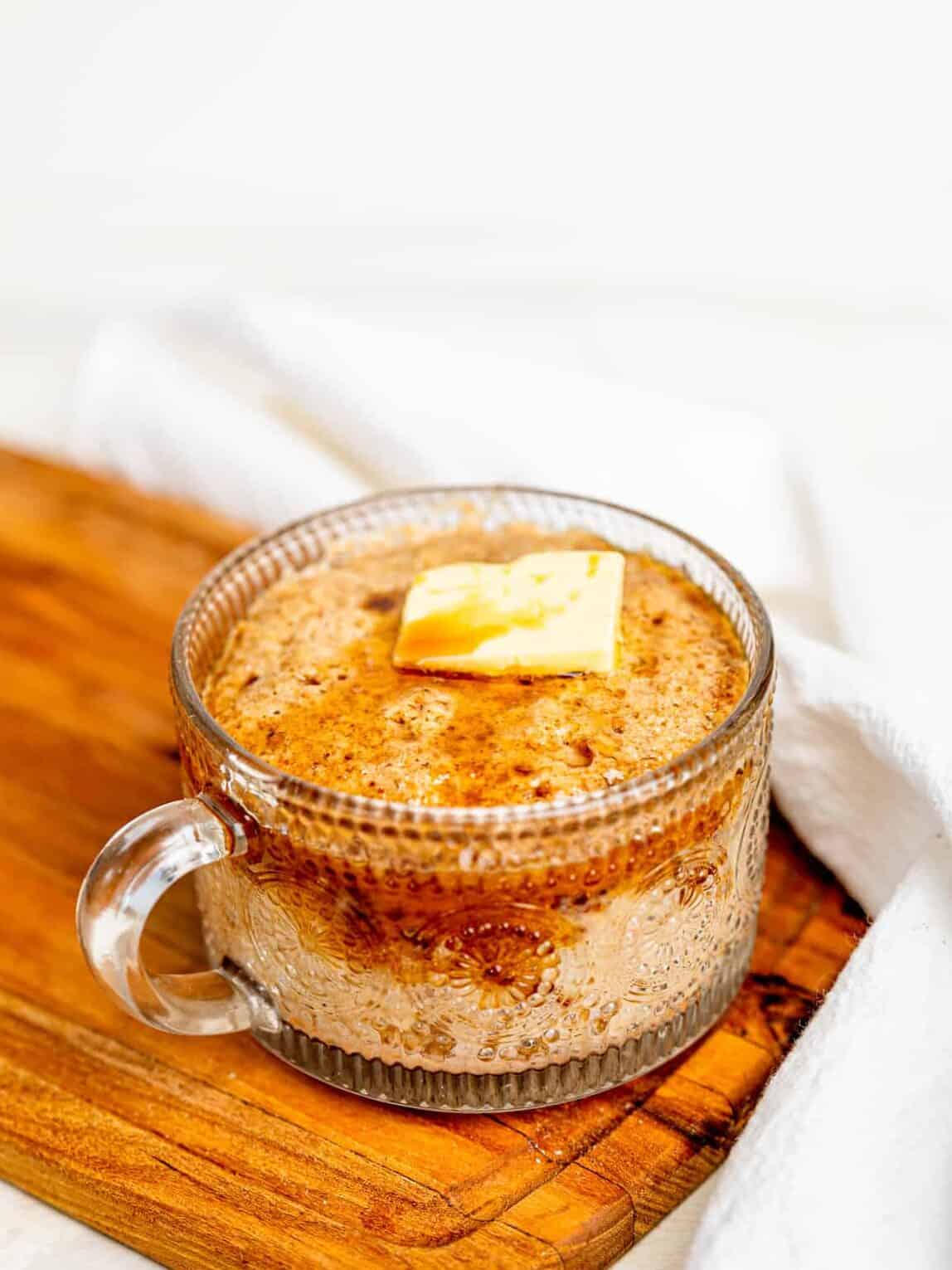 Are you often yearning for the luscious delight of pancakes, yet find yourself entangled in the rush of life? Look no further than our mouthwatering Pancake Mug Cake, ready in under 5 minutes! This recipe's simplicity is its charm, requiring just five straightforward ingredients. An ideal treat for those leisurely mornings, or when time is scarce but your craving for a satisfying, wholesome indulgence isn't.
How to make a pancake in a mug
Simple, Nourishing Ingredients
Prepare to be amazed by the simplicity of the components that construct this culinary masterpiece. Here's what you'll need:
Wholemeal Flour: Infusing a wholesome touch, wholemeal flour introduces nutty flavours and vital dietary fibre, rendering a gratifying and nourishing treat.
Baking Powder: With a mere teaspoon of this magical agent, the mug cake takes on its hallmark fluffy and tender texture, reminiscent of traditional pancakes.
Egg: Not just a binder, the egg contributes a protein punch, elevating the mug cake from a delightful treat to a nutritionally satisfying experience.
Milk: A couple of tablespoons of milk ensure a velvety batter consistency, guaranteeing uniform cooking and the perfect texture.
Liquid Sweetener: Enhancing the mug cake with a gentle touch of sweetness, without resorting to refined sugars, keeping it a guilt-free choice.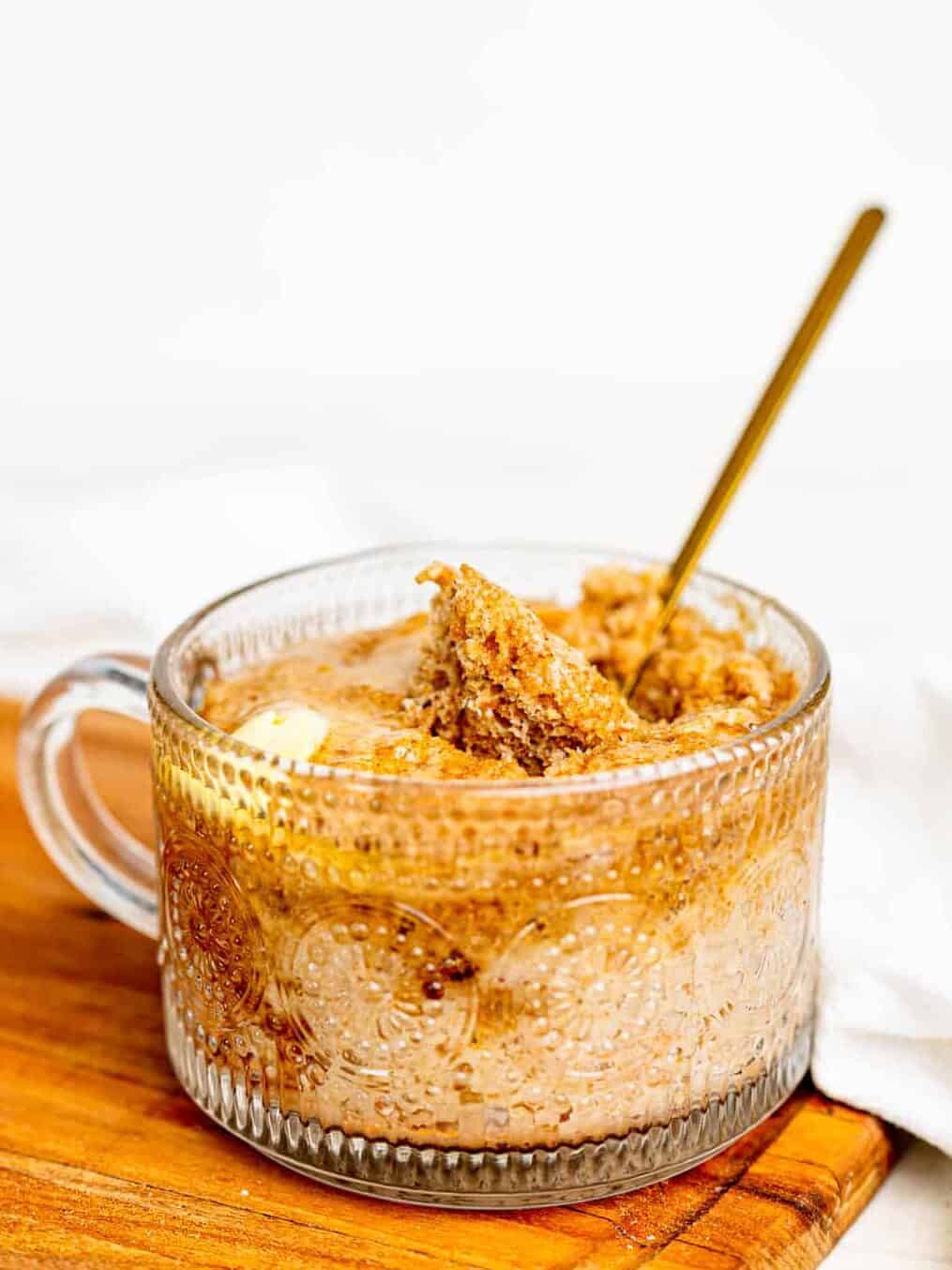 Effortless Preparation in Minutes
Unveil the magic behind the Pancake Mug Cake, not just a treat for your taste buds but a symphony of convenience. Here's the step-by-step:
Combine Dry Ingredients: Start by adding wholemeal flour and baking powder to a microwave-safe mug. Stir them together to establish the base for texture and flavour.
Incorporate Wet Ingredients: Introduce the egg, milk, and liquid sweetener to the mug, uniting with the dry ingredients. A quick blend with a fork or whisk yields a silky, uniform batter, the foundation of this culinary marvel.
Microwave with Precision: The microwave becomes the stage for transformation. Pop the mug inside and set the timer for 1 to 1.5 minutes. Watch closely as the batter undergoes a delightful metamorphosis into a fluffy, pancake-like creation. Be vigilant to prevent spills, adjusting the time according to your microwave's power.
Elevate with Tempting Toppings: As your Pancake Mug Cake emerges, elevate it with the finishing touch. A pat of grass-fed butter melts to perfection, creating a tantalizing contrast against the cake's texture. A drizzle of liquid sweetener enhances the experience, harmonizing with the wholemeal flour's nutty notes.
Simple Storage Strategies
Though best enjoyed fresh, a stash of leftover Pancake Mug Cake or preparation in advance is possible. Embrace these storage instructions for later enjoyment:
Refrigeration: Let leftover mug cake cool and store it in an airtight container in the refrigerator for 1-2 days. A brief microwave reheat restores its softness.
Freezing: Preserve your pancake delight for extended periods. Wrap the cooled cake tightly in plastic or foil, placing it in a sealed freezer bag. It can be stored for up to 1-2 months. Thaw in the refrigerator before reheating in the microwave.
Smart Prep: Simplify storage with individual portions. Pre-mix dry ingredients in small containers, adding wet ingredients when ready to indulge.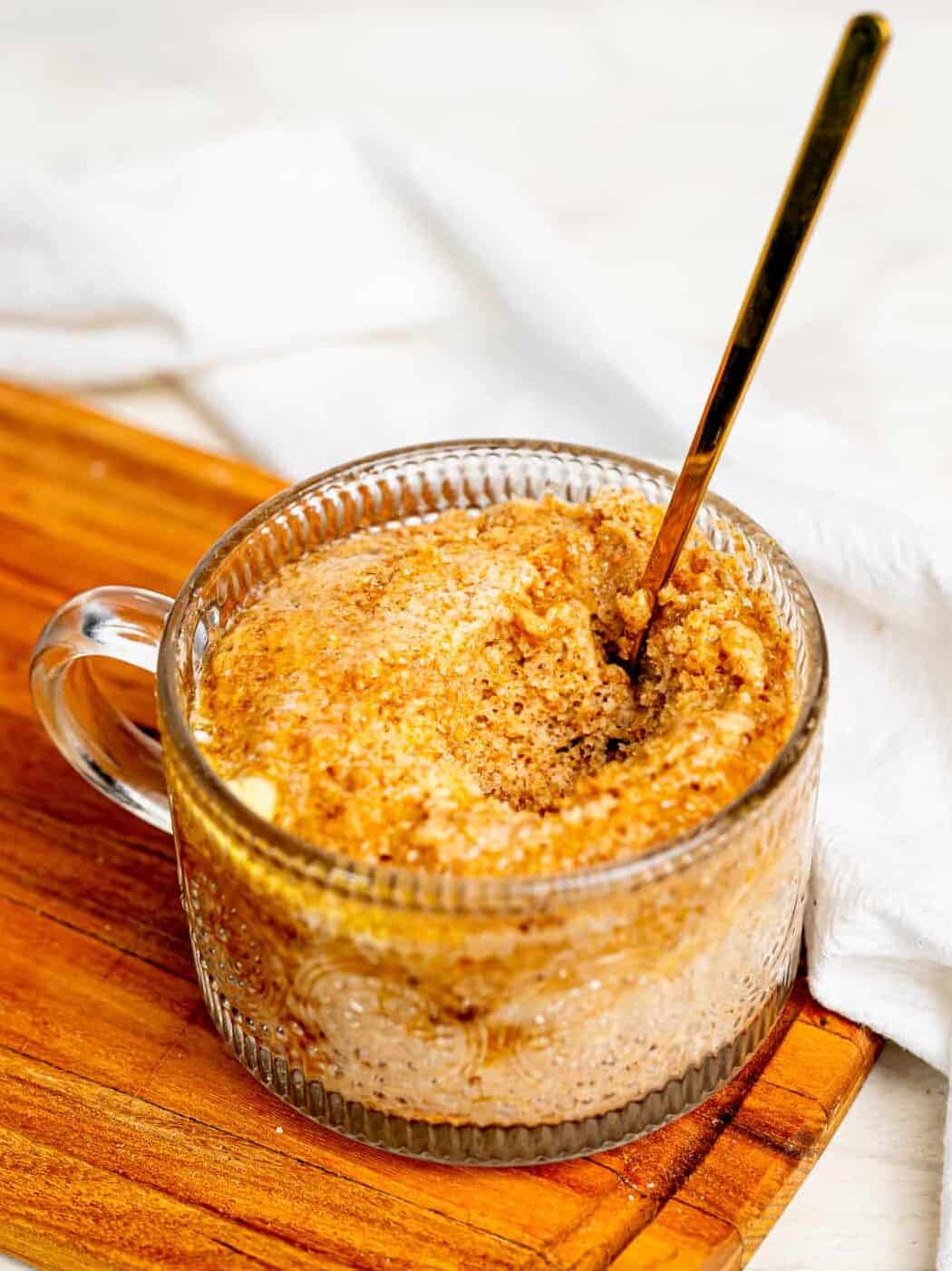 Easy and Healthy Pancake in a Mug
In the whirlwind of modern life, the quest for quick yet healthy meals can be a challenge. Fear not, for the 5-Minute Pancake Mug Cake is here to save the day. With five basic ingredients and minimal effort, the satisfaction of pancake cravings is just moments away. Whether as a morning indulgence or a swift dessert, this mug cake recipe delivers satisfaction without compromise. So, whenever pancake yearnings strike, remember this recipe—a wholesome, speedy, and delectable solution that's a true culinary gem.
More easy and healthy single-serving desserts

Hey! If you make this recipe, I would love it if you could leave me some feedback and a rating ⭐⭐⭐⭐⭐ in the comment section at the bottom of the page! Also let me know on Facebook, Instagram or Pinterest! I can't wait to hear your thoughts and see your photos!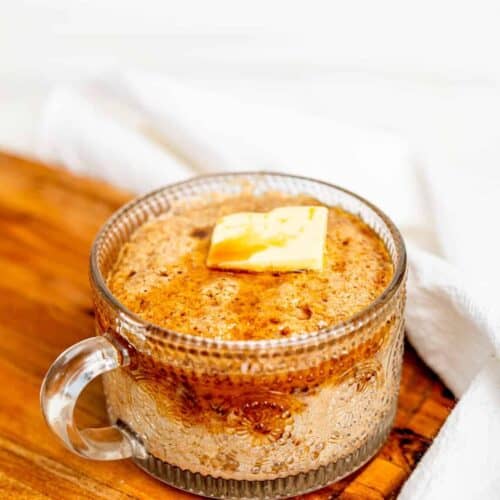 Easy and Healthy Pancake in a Mug
This Microwave Pancake in a Mug is a perfect way to satisfy your pancake cravings in 5 minutes with only 5 ingredients. It's easy, healthy and delicious!
Instructions
Add wholemeal flour and baking powder to your mug and give it a mix.

Add the egg, milk and liquids sweetener and mix until combined

Microwave for 1- 1.5 minutes (keep an eye in it and stop the microwave if it looks like it will bubble over)

Top with some butter and more liquid sweetener.
Notes
Read the full blog post when making this Microwave Pancake in a Mug for extra tips along the way!
These nutritional values are provided as a guide only and may be different depending on your ingredients and measurements.
Nutrition
Nutrition Facts
Easy and Healthy Pancake in a Mug
Amount per Serving
% Daily Value*
* Percent Daily Values are based on a 2000 calorie diet.
Did you make this?
Leave a rating & leave some feedback in the comments section below! You can also tag me on Instagram @Nourishing.Niki and use the #NourishingNiki