Birthdays are special occasions to show our loved ones how much we care. Surprise them with a cute and delicious single-serve birthday cake that combines nourishing breakfast ingredients and contains over 40g of protein. This easy and healthy recipe is perfect for breakfast or as a sweet gesture. With just six ingredients and sprinkles, this single-serve birthday cake is a delightful choice. Whether you want to treat someone else or enjoy a birthday celebration for yourself, this recipe has got you covered!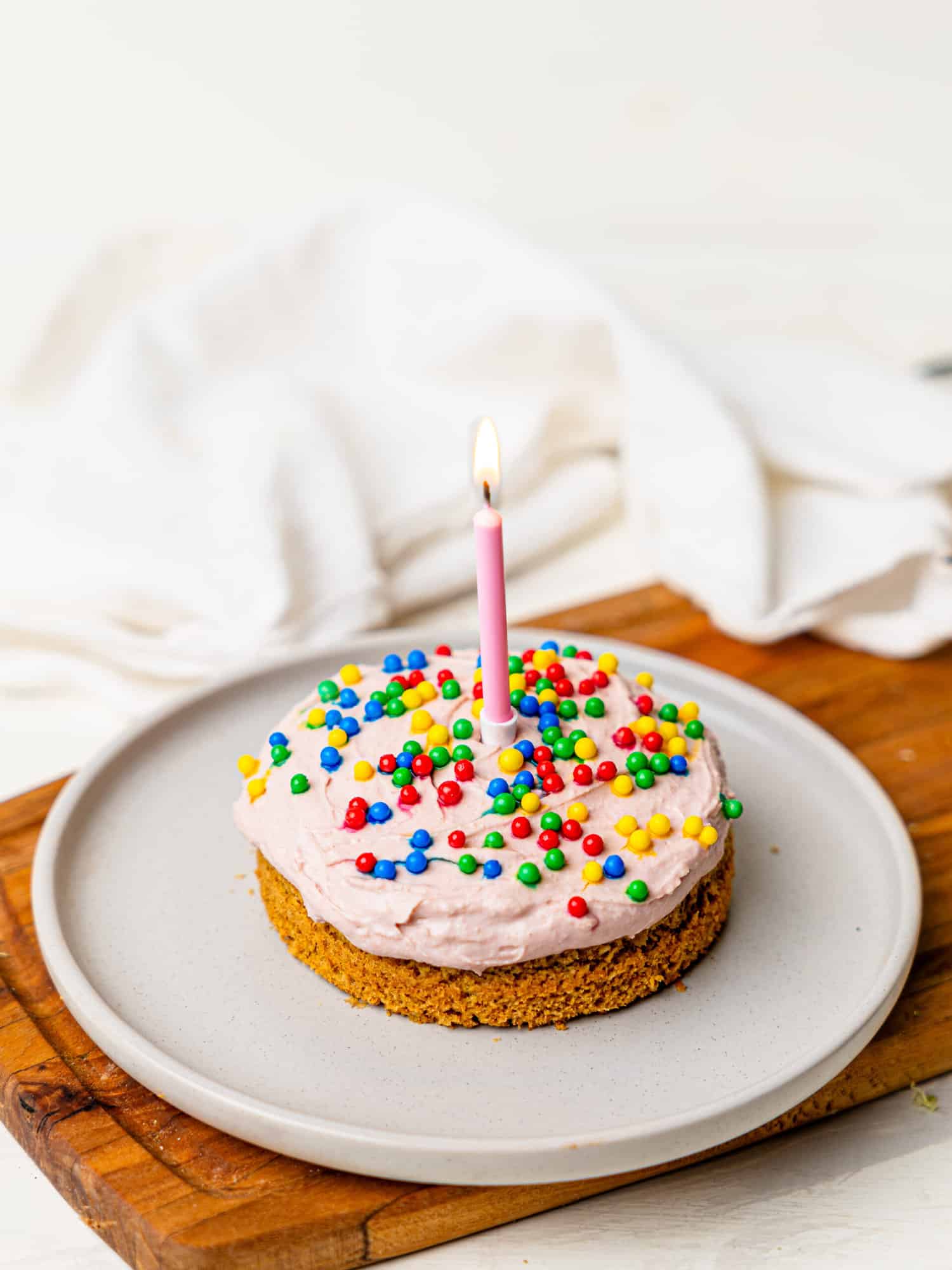 Why you'll love this recipe
Simple and Convenient. This recipe requires only six basic ingredients, most of which you likely already have in your kitchen. With minimal effort, you can create a delicious and satisfying birthday cake that can be enjoyed for breakfast or as a sweet treat.
Nourishing Ingredients. This cake is not only delicious, but it's also nutritious! It's made using 6 healthy ingredients that are even suitable for breakfast! (what better way to start the day than with dessert for breakfast!?)
It's versatile. This single-serve birthday cake is incredibly versatile. Whether you want to surprise someone with a special breakfast treat or indulge in a personal birthday celebration, this recipe fits the bill. It can be enjoyed on its own or customized with your favourite frosting, sprinkles, or additional toppings.
Healthier High-Protein Frosting. The yoghurt-based frosting in this recipe offers a creamy and flavourful topping. By using protein powder, you can enhance the nutritional value and add a hint of flavour to the frosting. This cake contains over 40g of protein!
Celebration in a Miniature Form. The adorable mini cake size adds an element of cuteness and celebration to the recipe. It's an ideal way to make someone feel special on their birthday or even celebrate your own birthday with a personal touch.
Overall, this easy and healthy single-serve birthday cake recipe provides a nourishing option for indulging in a sweet treat on special occasions. With its simplicity, nourishing ingredients, and versatility, it's a delightful choice for anyone looking to create a delicious and memorable birthday experience.
How to make a single-serve birthday cake
Ingredients
The best part about this recipe is its simplicity. You only need six ingredients that are likely already in your kitchen. These nourishing ingredients make the birthday cake suitable for breakfast and dessert. It's amazing what you can create with just a handful of simple, accessible, and wholesome ingredients!
Egg – The humble egg plays a crucial role in baking, adding structure, moisture, and richness to the cake. It's also a great source of protein and essential nutrients like vitamin B12, vitamin D, and selenium. The egg helps create a smooth and fluffy texture, resulting in a light and moist single-serve birthday cake.
Oats – Incorporating oats into the cake adds wholesomeness and nutrition. Oats are a fantastic source of dietary fibre, aiding digestion and promoting a feeling of fullness. They provide a gentle nutty flavour and contribute to the cake's tender texture. By using oats, you're adding valuable vitamins, minerals, and antioxidants to your birthday cake.
Liquid Sweetener – A tablespoon of liquid sweetener adds just the right amount of sweetness to the cake without weighing it down. Choose from a variety of options like honey, maple syrup, or agave nectar, or opt for a sugar-free alternative. Liquid sweeteners enhance the taste and provide a moist texture. They are a healthier alternative to refined sugar, retaining more natural nutrients and having a lower glycemic index.
Yoghurt – Opt for a thicker yoghurt like Greek-style or coconut yoghurt, as it provides a luxurious texture and holds up well as a frosting. Yoghurt is an excellent source of probiotics, which can promote a healthy gut and strengthen the immune system. It also offers calcium, protein, and vitamins, making this frosting not only delicious but also nutritious.
Protein Powder – To boost the nutritional value of the frosting and add a hint of flavour, protein powder is incorporated. Choose a protein powder of your choice; in this recipe, strawberry-flavoured protein powder is used. Protein powder adds extra protein to the frosting, making it a satiating and energizing addition.
Sprinkles – Sprinkles are the perfect finishing touch to any birthday cake. They add a pop of colour, fun, and a touch of nostalgia. It's not a birthday cake without sprinkles, in my professional opinion.
By combining these thoughtfully chosen ingredients, you can create a single-serve birthday cake that not only tastes delicious but also offers nourishing benefits. The combination of eggs, oats, liquid sweetener, and baking powder ensures a satisfying and tender cake base. The yoghurt-based frosting with added protein powder adds creaminess and nutritional value, while the colourful sprinkles add a touch of festivity and whimsy.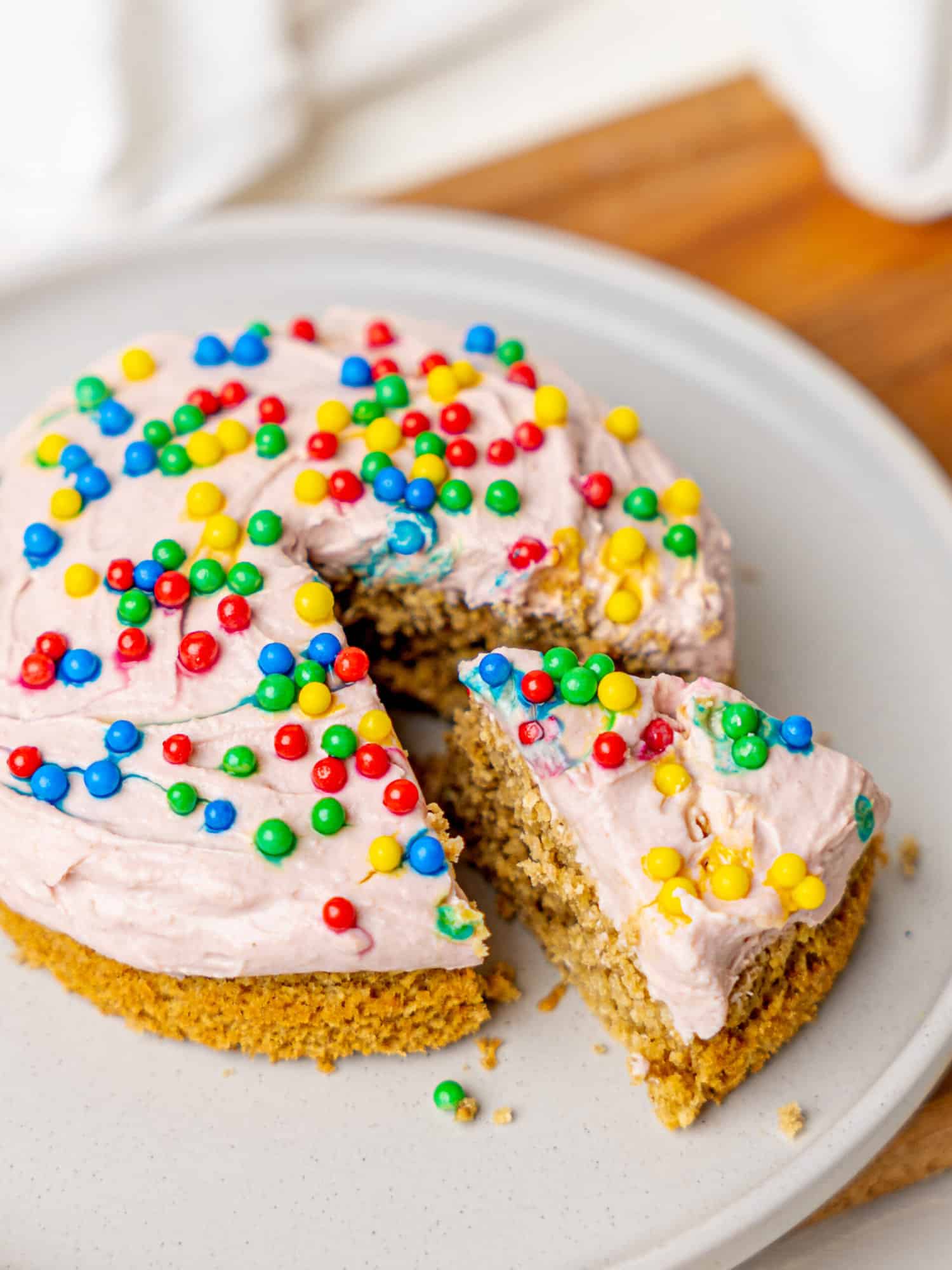 Baking Instructions
To begin making the single-serve birthday cake, start by preheating your oven. Set it to 180°C (or 160°C for a fan oven) to ensure the ideal baking temperature. While the oven is preheating, take a mini cake tin or ramekin and lightly grease it with cooking spray or a small amount of oil. This step is essential to prevent the cake from sticking to the tin during baking.
Next, gather your ingredients and prepare the cake batter. In a blender, combine the egg, oats, baking powder, and liquid sweetener. Blend the mixture until it becomes smooth and well combined. If you don't have a blender, you can use oat flour instead of whole oats and simply whisk together the ingredients in a bowl. Once the batter is ready, pour it into the greased mini cake tin or ramekin, ensuring that it is evenly distributed. Now it's time to bake the cake.
Place the cake tin or ramekin in the preheated oven and let it bake for approximately 12 minutes. Alternatively, if you prefer, you can use an air fryer for a quicker cooking time. In an air fryer, the cake should cook for approximately 8 minutes, but keep a close eye on it as cooking times may vary. The cake is ready when it turns a beautiful golden brown and a toothpick inserted into the center comes out clean.
While the cake is baking, you can prepare the frosting. In a bowl, combine the yoghurt and protein powder, adjusting the quantities as needed to achieve the desired consistency. Aim for a smooth and creamy texture that will be easy to spread over the cake once it has cooled. After the cake has finished baking, allow it to cool before removing it from the tin or ramekin. Once cooled, carefully transfer the cake onto a serving plate.
Now it's time to generously spread the yoghurt and protein powder frosting over the top of the cake. Use a spatula or the back of a spoon to create a smooth surface and ensure an even layer of frosting. To add a final touch of celebratory flair, let your creativity shine by decorating the frosted cake with colourful sprinkles. Now, step back and admire your creation. This delightful treat is ready to be enjoyed and shared with someone special or savoured all by yourself.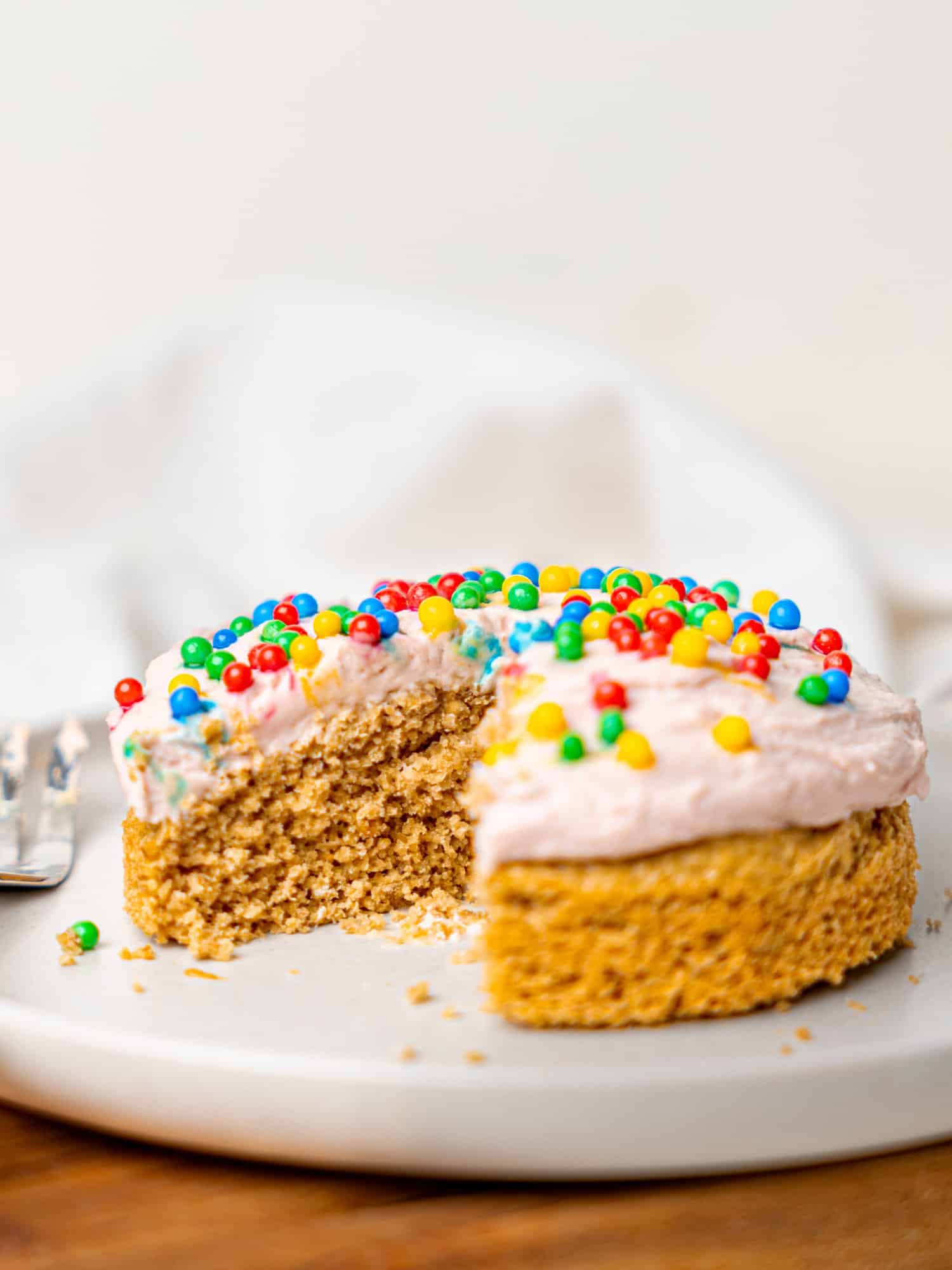 How to store birthday cake
If for some reason you don't finish this cake in one go (???) you can store the leftovers in an airtight container in the refrigerator for up to 4 days. Just bear in mind that the texture may become slightly less moist over time.
Before serving, allow the refrigerated cake to come to room temperature for about 15-20 minutes to restore its original texture and enhance the flavour.
More single-serve desserts you need to make:

Hey! If you make this recipe, I would love it if you could leave me some feedback and a rating ⭐⭐⭐⭐⭐ in the comment section at the bottom of the page! Also let me know on Facebook, Instagram or Pinterest! I can't wait to hear your thoughts and see your photos!
Easy & Healthy Single-Serve Birthday Cake
Celebrate birthdays with a cute and delicious single-serve birthday cake. This easy and healthy recipe combines nourishing breakfast ingredients to create a delightful treat suitable for breakfast or dessert. Top it off with a high-protein frosting and colourful sprinkles.
Ingredients
Frosting
125

g

Yoghurt

Greek-style or Coconut

20

g

Protein Powder

any flavour you like
Instructions
Preheat oven to 180°C (or 160°C for a fan oven) and grease a mini cake tin or ramekin to prevent sticking.

Blend egg, oats, baking powder, and liquid sweetener until smooth and combined.

Pour batter into a greased tin or ramekin, or use an air fryer for 8 minutes as an alternative.

Bake in preheated oven for about 12 minutes until golden brown and toothpick comes out clean.

While cake bakes, combine yoghurt and protein powder for frosting, adjusting quantities for desired consistency.

Once cooled, remove cake from tin or ramekin and place on a serving plate.

Generously spread yoghurt and protein powder frosting over the cake using a spatula or spoon.

Decorate the frosted cake with colourful sprinkles for a festive touch.
Notes
Read the full blog post when making single-serve birthday cake for extra tips along the way!
These nutritional values are provided as a guide only and may be different depending on your ingredients and measurements.
Nutrition
Nutrition Facts
Easy & Healthy Single-Serve Birthday Cake
Amount per Serving
% Daily Value*
* Percent Daily Values are based on a 2000 calorie diet.
Did you make this?
Leave a rating & leave some feedback in the comments section below! You can also tag me on Instagram @Nourishing.Niki and use the #NourishingNiki