This Plum and Honey Cake is easy, healthy, and utterly delicious. It's a cake crafted from breakfast ingredients, all mixed in one bowl for simplicity. Not only is it visually appealing, but it's also destined to become a beloved addition to your meal prep routine. Enjoy it for breakfast with Greek yoghurt and honey, or savour it alongside your afternoon tea or as a delightful dessert.
This Plum and Honey Cake demands a spot on your must-try list. With its uncomplicated preparation, nutritious ingredients, and irresistible flavours, this cake is a masterpiece that will redefine your relationship with breakfast.
Let's face it – early mornings aren't the ideal time to wrestle with a complicated recipe. That's where this cake truly shines. It's perfect for meal prepping and fits seamlessly into your weekly routine, whether as a hearty breakfast or a satisfying snack. Streamlining the process, this recipe comes together in a single bowl, saving you precious time on both preparation and cleanup. A true win-win scenario! The batter effortlessly melds into a smooth, velvety base that's ready to embrace the succulent plum slices.
The Essential Ingredients
Delve into the elements that contribute to the magic of this culinary creation:
Milk and Vinegar: This dynamic duo works in tandem to lend the cake a light, airy texture while ensuring it remains moist.
Greek Yogurt: Beyond its creaminess, it adds a delightful tang and a generous dose of protein to the mix.
Honey: Nature's liquid gold imparts a gentle sweetness that complements the plums' natural flavours.
Olive Oil: This heart-healthy fat adds a subtle richness to the cake's profile.
Oat Flour: Crafted from blended oats, it brings a nutty essence and caters to those mindful of gluten. You can buy oat flour online or you can make your own by blending oats into a fine powder.
Baking Powder and Baking Soda: These leavening agents are the secret behind the cake's enchanting rise.
Plums: While this recipe features plums, feel free to experiment with various stone fruits you have on hand!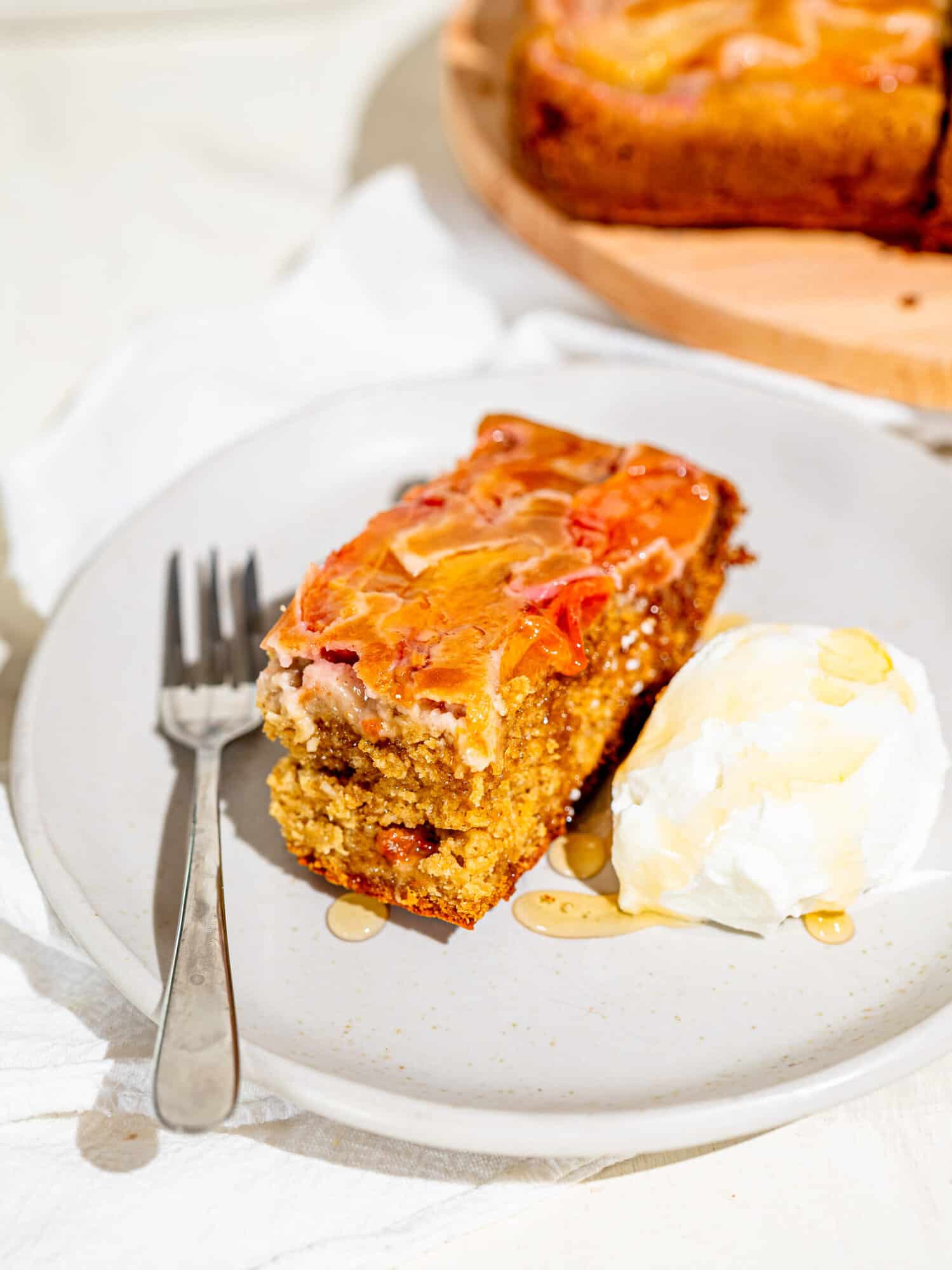 Ingredient Substitutions
Milk: I use Cow's Milk, but you can use any milk you prefer. For dairy-free, I recommend Soy Milk if possible.
Vinegar: White or Apple Cider Vinegar works best, or you can use double the amount of lemon juice.
Greek Yoghurt: Try to use a thick yoghurt so any Greek-style yoghurt or Coconut Yoghurt for dairy-free.
Honey: Whilst this is a honey cake, you may want to make a vegan version, so you can use maple syrup, agave or date syrup.
Olive Oil: You can use any neutral-flavoured oil or melted coconut oil.
Oat Flour: I have not tried this recipe with any other type of flour, but you should be able to use an equal amount of All-Purpose or Wholemeal Flour.
Plums: This is a plum cake, but you can use any type of stone fruit like apricots, peaches or nectarines or even sliced apples.
How to make plum and honey cake
Now, let's walk through the steps that transform these simple ingredients into a stunning cake that will leave you craving for more. I've also got a video below showing you how to make this beauty.
Step 1: Preheat your oven to 180°C (355°F / 160°C fan) and line a 20cm square baking tin with parchment paper.
Step 2: Slice your plums in half, remove the pits, and then slice them into wedges. Arrange them in a captivating pattern at the bottom of your baking tin.
Step 3: In a mixing bowl, whisk together the milk, vinegar, Greek yoghurt, honey, and olive oil until the mixture is smooth and well combined.
Step 4: Add the oat flour, baking powder, and baking soda to the wet mixture. Gently whisk until you have a harmonious batter that's ready to shine.
Step 5: Pour the batter over the plum slices, ensuring an even distribution.
Step 6: Pop your creation into the preheated oven and let it bake for 22-25 minutes until it turns a glorious golden brown.
Step 7: Once baked to perfection, allow your cake to cool in the tin. Then, with a sense of anticipation, flip it over to reveal the stunning plum mosaic. Peel off the parchment paper, slice into 8 generous pieces, and relish each delightful bite.
Storage Instructions
Refrigeration: Leave the cake to cool completely before placing it in an airtight container. Keep in the fridge for up to 5 days. You can enjoy it cold or heat it in the microwave if you like.
Freezing: For longer-term storage, consider freezing the cake. Wrap individual slices tightly in plastic wrap or aluminium foil, then place them in a resealable freezer-safe bag. The cake can be stored in the freezer for up to 2-3 months.
Thawing: When you're ready to enjoy your stored cake slices, simply remove them from the refrigerator or freezer. If frozen, let them thaw in the refrigerator or at room temperature. You can even give them a quick warm-up in the microwave if desired.
more easy and healthy meal prep breakfast recipes:

Hey! If you make this recipe, I would love it if you could leave me some feedback and a rating ⭐⭐⭐⭐⭐ in the comment section at the bottom of the page! Also let me know on Facebook, Instagram or Pinterest! I can't wait to hear your thoughts and see your photos!
Easy and Healthy Plum and Honey Breakfast Cake
Make your mornings easier with this Plum and Honey Cake. It's a perfect recipe to meal prep for the week, it's easy to make and is made with healthy breakfast ingredients like oats, Greek yoghurt and honey. Name a better way to start your day!
Ingredients
125

ml

Milk

1/2 cup

1

tbsp

Vinegar

White or Apple Cider Vinegar

125

g

Greek Yoghurt

1/2 cup

120

g

Honey

1/3 cup

2

tbsp

Olive Oil

or melted coconut oil

240

g

Oat Flour

2 cups

2

tsp

Baking Powder

1/2

tsp

Bicarbonate of Soda

(baking soda)

10-12

small Plums or 6-8 large Plums
Instructions
1. Preheat oven to 180°C (355°F / 160°C fan). Line a 20cm square baking tin with parchment paper.

Slice plums in half, remove pit then slice into wedges. Lay them flesh side down in your baking tin.

Add wet ingredients to a bowl and whisk until smooth.

Add dry ingredients and whisk till combined.

Transfer the batter onto the plums and spread into an even layer.

Bake for 22-25 minutes till golden brown.

Leave to cool in tin, then flip over and peel off the parchment paper. Slice into 8 pieces and enjoy!
Video
Notes
NOTE: Whilst I do provide the US cup measurements for the recipe, I always recommend using a kitchen weighing scale and using the weighted measurements instead. This will result in a more accurate process and your cake will come out perfectly.
You can slice this baby into 8 bars or slice it into 4 large squares for a more filling breakfast!
See the blog post contents for Ingredient Substitutions and more helpful tips along the way.
These nutritional values are provided as a guide only and may be different depending on your ingredients and measurements.
Nutrition
Nutrition Facts
Easy and Healthy Plum and Honey Breakfast Cake
Amount per Serving
% Daily Value*
* Percent Daily Values are based on a 2000 calorie diet.
Did you make this?
Leave a rating & leave some feedback in the comments section below! You can also tag me on Instagram @Nourishing.Niki and use the #NourishingNiki