This Healthy Chocolate Cake is so easy to make! It's perfect to make ahead and have for dessert (or breakfast) throughout the week. It's gluten-free, dairy-free, oil-free, refined sugar-free and can be made vegan too!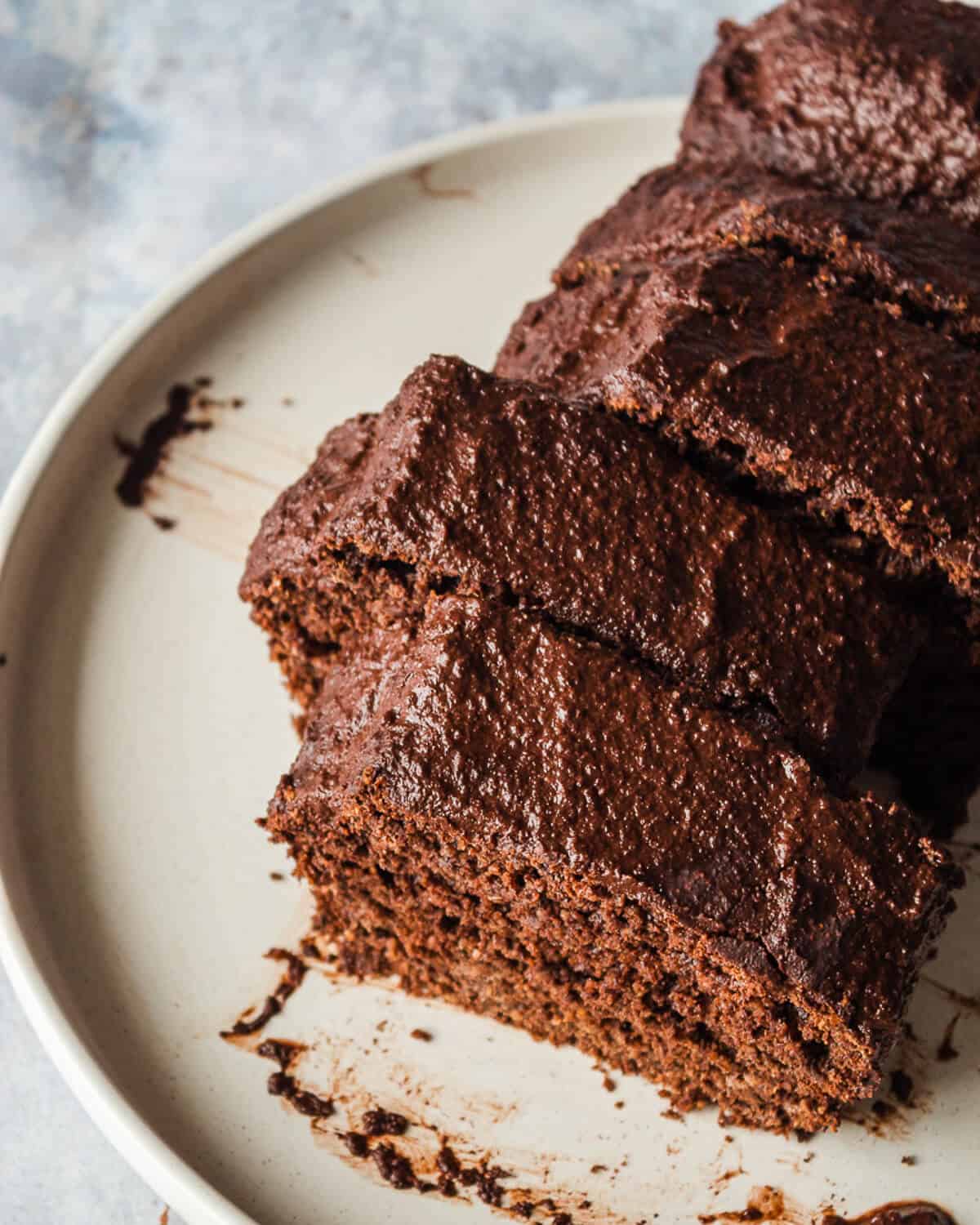 We all love chocolate cake (apart from my 7-year-old nephew, who strangely despises chocolate). You can't really go wrong with it. In my opinion, it's always a good idea and I always feel like having chocolate cake.
If you're thinking: "Healthy Chocolate Cake? That can't be healthy, and if it is – it's probably NASTY!" – WELL my friend, I'm back again to prove you wrong.
This Healthy Chocolate Cake is basically made with breakfast ingredients. I'm talking Oat Flour, Cocoa Powder, Milk and Apples (among a couple of other pantry ingredients). PLEASE DON'T CLICK OFF THIS RECIPE! I promise it's still incredibly decadent and delicious.
Of course, there is a bit of actual chocolate in there too, because balance is key to a healthy diet of course. The added dark chocolate provides a lovely surprise in almost every mouthful.
So if you're anything like me and would love to have cake for breakfast – your prayers have been heard and answered.
I bring you: Healthy Chocolate Cake that's a socially acceptable breakfast. Pop it in the air-fryer or microwave and top it off with some vegan yoghurt and Bob's your Uncle!
You can also try my Healthy Chocolate Orange Fudge Cake.
Ingredients & Substitutions
Oat Flour: As I've created this healthy chocolate cake to be socially acceptable for breakfast, I've used an ingredient that is the World's most iconic breakfast food: Oats. You can either buy Oat flour from your health foods store or you can make your own by simply blending oats into a fine powder – which is what I do.
Cocoa Powder: Cocoa Powder is naturally anti-inflammatory and is actually very good for you! You can use Raw Cacao Powder instead if you prefer.
Baking Powder and Baking Soda: you will need BOTH of these ingredients in this cake, as the baking soda reacts with the acidity in the cocoa powder and the baking powder provides the raising agent making your cake nice and fluffy!
Salt: this is simply a MUST in any chocolate baked goods, it adds flavour and also enhances the chocolate flavour. Salt is also good for you as it balances your electrolytes and improves your heart health (in moderation – of course!)
Apple Sauce: this is what adds moisture to the cake without any use of oil. It also adds natural sweetness without using too much added sugar. Just make sure your apple sauce only contains apples, no sugar. You can buy this from your health foods store or you can make your own. Bananas also work well if you don't have apple sauce.
Egg: this adds protein to the cake which contributes to the structure of the cake (just as protein adds to the structure of our bodies!). If you want to make this cake vegan, you can use vegan soy yoghurt instead!
Coconut Sugar: this adds a little extra sweetness, but don't worry – coconut sugar is an unrefined sugar, which means it is better for you than regular cane sugar. You can use sweetener instead if you'd prefer.
Milk: I like to keep my cakes dairy-free at the moment so I use Oat Milk, but you can use any dairy-free alternative or cow's milk.
Instant Coffee: this is optional, it adds to the flavour of the cake and provides you with the caffeine kick many of us need in the morning!
Dark Chocolate: this is also optional (but not really). Dark Chocolate is also good for you as it's made from cocoa. Try to use dark chocolate with a high cocoa volume as this means there is less sugar. Most dark chocolate is also vegan (check the packaging).
How To Make Healthy Chocolate Cake
Jump to Video
This healthy chocolate cake is truly very simple, but I've made a recipe video for you to help!
You're just going to combine the dry ingredients and the wet ingredients separately, mix them together and add in chopped chocolate. Add the cake batter to a loaf tin lined with baking parchment paper (for easy removal from the tin) and bake.
For the chocolate frosting, you need to combine some left-over apple sauce, cocoa powder and a touch of maple syrup or you can make this Healthy Chocolate Frosting (made with avocado!).
Another option for a healthy chocolate frosting is to combine chocolate protein powder with yoghurt or milk. The quantities of each of these ingredients will vary according to what you are using but just play around until you get your desired consistency. This is the vegan chocolate protein powder I use – you can use my code KITS5 for a discount (not an affiliate link).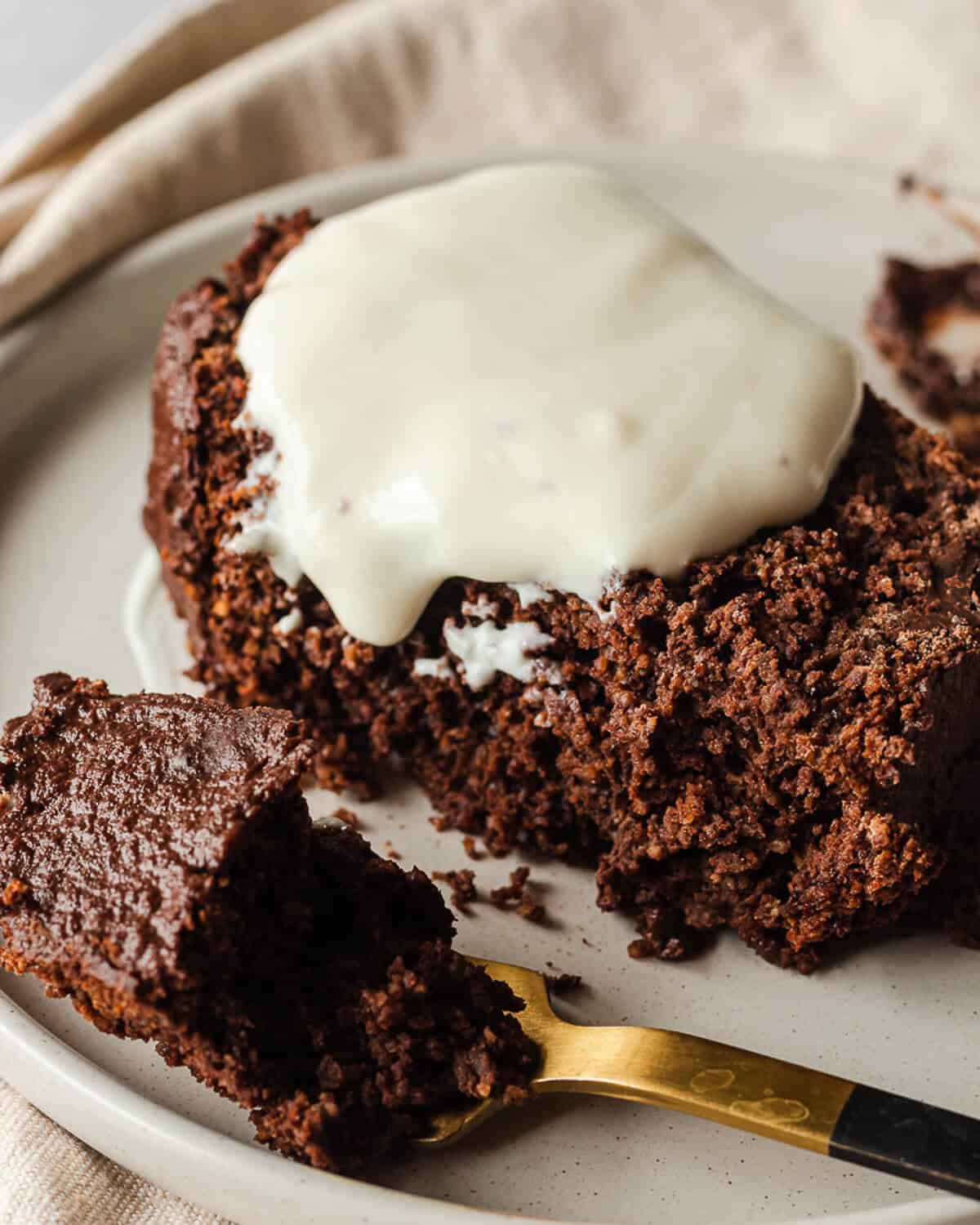 How To Store Healthy Chocolate Cake
I like to slice my loaf into 6 pieces and have it as breakfast and/or dessert throughout the week. I like to put it in the air-fryer or microwave to heat up and add some vegan yoghurt!
Keep it in the fridge in an air-tight container for up to a week.
To freeze: individually wrap each slice in parchment paper and package it into freezer bags. Leave to thaw for a few hours in the fridge.
Looking For Some More Easy And Healthy Breakfast Recipes?
BAKING IN GRAMS
All of the recipes I create are tried and tested a few times until it has been perfected. My goal is to develop recipes that are simple to make and easy to follow so that anyone can make them – even if you've never baked before!
One very important thing that will ensure that you get the best results is to measure your ingredients by weight! I recommend purchasing a kitchen scale, they are very affordable and it will honestly change your baking game for good! Not all measuring cups are made equally – for example, a cup of flour to me weighs 120g, but for you, it may be anywhere between 100g and 200g – that's a BIG difference!
If you don't have a kitchen scale yet, you can use this Ingredient Weight Chart as a guideline to convert the ingredients to help you!
Now – dust your apron off and get baking! X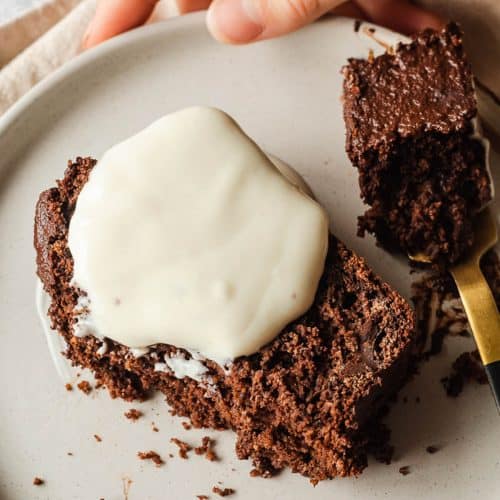 Healthy Chocolate Cake
This Healthy Chocolate Cake is so easy to make! It's perfect to make ahead and have for dessert (or breakfast) throughout the week. It's gluten-free, dairy-free, oil-free, refined sugar-free and can be made vegan too!
Ingredients
Healthy Chocolate Frosting:
Instructions
Preheat your oven to 180°C (160°C fan / 350°F) and prepare a loaf tin (mine is 20cm x 10cm) with baking parchment paper.

Combine the Oat flour, Cocoa Powder, Baking Powder, Baking Soda and Salt in a large mixing bowl.

In a separate mixing bowl add the Apple Sauce, Egg (or Vegan Yoghurt), Coconut Sugar, Milk and Coffee and whisk until combined.

Add the wet ingredients to the dry ingredients and mix until combined then add in your chopped chocolate.

Transfer the cake batter to your loaf tin and bake for 45-50 minutes.

Once cooked, leave to cool for 10 minutes in the tin and then transfer to a wired rack to completely cool.

Mix together the ingredients for your frosting and coat your cake.
Notes
Please see the blog post contents for ingredient substitutions, baking tips and storage instructions.
These nutritional values are provided as a guide only and may be different depending on your ingredients and measurements.
Nutrition
Nutrition Facts
Healthy Chocolate Cake
Amount per Serving
% Daily Value*
* Percent Daily Values are based on a 2000 calorie diet.
Did you make this?
Leave a rating & leave some feedback in the comments section below! You can also tag me on Instagram @Nourishing.Niki and use the #NourishingNiki