Indulging in a sweet treat doesn't mean compromising your health goals. If you're looking for a delicious and guilt-free snack, these Easy & Healthy Snickers Energy Balls are here to save the day! Made with simple and nutritious ingredients, these energy balls are gluten-free, refined sugar-free, and vegan. Imagine the delightful combination of dates, peanut butter cookie dough, and a rich dark chocolate coating. Are you ready to dive into this easy and delightful recipe? Let's get started!
With just a handful of ingredients and a few simple steps, you can create these Easy & Healthy Snickers Energy Balls that are sure to satisfy your sweet cravings whilst still nourishing your body. The combination of dates, peanut butter cookie dough, and dark chocolate creates a flavour explosion that is both indulgent and nourishing.
Not only are these energy balls delicious, but they're also packed with wholesome goodness. Oat flour gives them a hearty texture, and the peanut butter adds a satisfying crunch. Say goodbye to refined sugars because the natural sweetness of the dates and liquid sweetener has got you covered. And that dark chocolate coating? It adds a touch of decadence without compromising your health goals.
Whether you need a midday pick-me-up, a pre-workout snack, or a guilt-free dessert, these energy balls will quickly become your favourite treat. Plus, they're not only easy and quick to make, but they're also totally customizable. Feel free to get creative by trying different nut butter, adding chopped nuts for extra texture, or even sprinkling some sea salt on top for a salty-sweet twist.
So, grab your ingredients, get creative, and whip up a batch of these Easy & Healthy Snickers Energy Balls. Your taste buds and body will thank you for this delightful and nutritious treat.
the health benefits behind the ingredients
Now let's talk about the health benefits of these amazing ingredients.
Dates
Dates are not only a natural sweetener, but they also come with a bunch of health benefits. They're packed with essential minerals like potassium, magnesium, and copper, which support heart health and help keep your nerves in check. Plus, they're a great source of fibre, promoting good digestion and keeping you feeling satisfied.
Oat Flour
Forget regular flour and say hello to oat flour! Made by blending oats, this nutritious alternative is rich in dietary fibre. It helps regulate blood sugar levels, keeps your digestive system happy, and leaves you feeling full and content. And let's not forget about beta-glucan, a type of soluble fibre found in oats, which has been linked to improved heart health and reduced cholesterol levels.
Peanut Butter
Ah, peanut butter, the holy grail of tasty spreads. It's not just a treat for your taste buds; it's a protein-packed superstar. Loaded with healthy fats and dietary fibre, peanut butter gives you that satisfying crunch while keeping you feeling full and helping with muscle repair and growth. Smooth or crunchy, take your pick!
Liquid Sweetener
Say goodbye to refined sugars and hello to liquid sweeteners like maple syrup or agave nectar. They give you that sweetness without the negative effects of processed sugars. While they still contain calories, these natural sweeteners offer some beneficial nutrients like antioxidants and trace minerals. The best part? We only need a tiny bit for these energy balls since the dates already bring plenty of sweetness to the table!
Dark Chocolate
Who would've thought that dark chocolate could be good for you? Well, with its high cocoa content, it's a treat that comes with surprising health benefits. It's rich in antioxidants, especially flavonoids, which can help reduce inflammation and protect against oxidative stress. And that's not all! Moderation is key here, but dark chocolate has been associated with improved heart health, lower blood pressure, and even enhanced cognitive function. So go ahead, and opt for dark chocolate with a high percentage of cocoa and minimal added sugars for maximum health benefits.
Now that we've covered all the good stuff, let's move on to the recipe and get these Snickers Energy Balls rolling!
how to make healthy Snickers energy balls
step 1: preparing the dates
First things first, let's prepare those dates. Cut them in half and remove the pits. We want those dates ready to shine in our recipe!
step 2: mixing the ingredients
Grab a mixing bowl and combine the oat flour, peanut butter, liquid sweetener, and milk. Start with 2 tablespoons of milk and gradually add more if needed. Mix everything until you get a sticky cookie dough texture. This is the base of our Snickers Energy Balls, and it's going to be oh-so-delicious and nutritious.
step 3: wrapping the dates
Once your dough is ready, divide it into 8 equal pieces. Take each portion and wrap it around half of a date, making sure the date is fully covered by the dough. It's like giving those naturally sweet and chewy dates a cosy peanut butter hug.
step 4: the chocolate coating
Now for the grand finale: the chocolate coating! Melt your chocolate and coconut oil together. You can do this in the microwave, using short bursts, or go for the double boiler method if you're feeling fancy.
Once your chocolate mixture is smooth and dreamy, drop each dough-wrapped date into the melted chocolate, making sure to coat them entirely. Then, place them on a parchment paper-lined surface or tray. This is where the magic happens, as the chocolate sets and becomes all glossy and irresistible.
step 5: patience, my friend
Pop those energy balls in the refrigerator and let them chill until the chocolate has hardened. It usually takes about 30 minutes. This step ensures that our Snickers Energy Balls have that perfect firm texture and are ready to be devoured.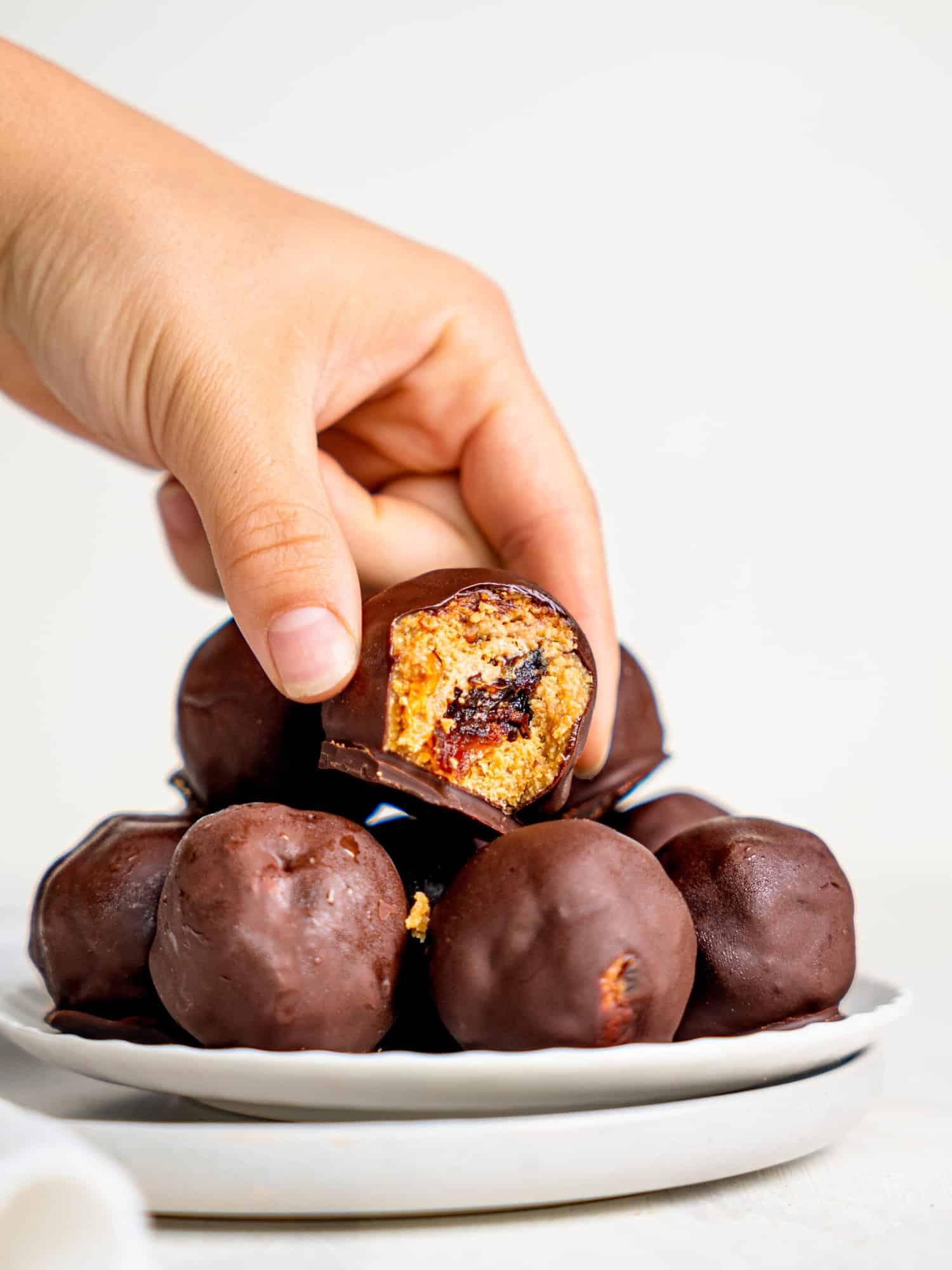 Storing the Snickers Energy Balls
Refrigeration
Place the energy balls in an airtight container or sealable bag. Store them in the refrigerator to keep them fresh and maintain their texture. The cool temperature of the refrigerator helps to preserve the quality of the ingredients.
Shelf Life
The Snickers Energy Balls can typically be stored in the refrigerator for up to two weeks, but they are always best within the first few days. It's essential to check for any signs of spoilage or changes in taste or texture before consuming them.
Freezing
If you want to extend the shelf life further, you can also freeze the energy balls. Place them in a freezer-safe container or bag, ensuring they are properly sealed to prevent freezer burn. The energy balls can be stored in the freezer for up to three months.
Thawing
When you're ready to enjoy the energy balls, remove them from the freezer and allow them to thaw in the refrigerator. This gradual thawing process helps retain their texture and flavour. Once thawed, they can be enjoyed immediately.
you may also enjoy these healthy treats

Hey! If you make this recipe, I would love it if you could leave me some feedback and a rating ⭐⭐⭐⭐⭐ in the comment section at the bottom of the page! Also let me know on Facebook, Instagram or Pinterest! I can't wait to hear your thoughts and see your photos!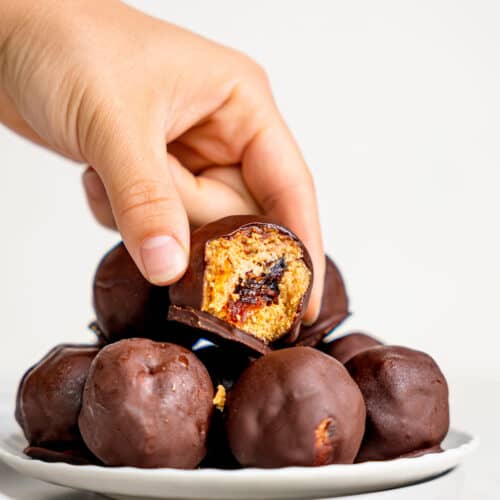 Easy & Healthy Snickers Energy Balls
Indulge in these Easy & Healthy Snickers Energy Balls that are gluten-free, refined sugar-free, and vegan. Packed with wholesome ingredients like dates, peanut butter, and dark chocolate, these energy balls are a delicious and nutritious treat.
Instructions
Begin by cutting the dates in half and removing the pits. Set them aside.

In a mixing bowl, combine the oat flour, crunchy peanut butter, liquid sweetener, and start with 2 tablespoons of milk. Mix well until all the ingredients are thoroughly combined. The mixture should have a sticky cookie dough-like texture. If needed, add additional milk, one tablespoon at a time, until the desired consistency is achieved.

Divide the dough into 8 equal portions. Take one portion and wrap it around half of a date, gently pressing and shaping it to cover the date completely. Repeat this step for the remaining portions and dates.

In a microwave-safe bowl or using a double boiler, melt the dark chocolate and coconut oil together until smooth and well combined.

Take each energy ball and dip it into the melted chocolate, ensuring it is fully coated. Use a fork or spoon to remove any excess chocolate, allowing it to drip off.

Place the coated energy balls on a parchment paper-lined tray or plate. Repeat this process for all the balls.

Once all the energy balls are coated, transfer the tray or plate to the refrigerator. Allow them to chill until the chocolate has hardened, typically for about 30 minutes.

After the chilling period, your Easy & Healthy Snickers Energy Balls are ready to be enjoyed! These delectable treats can be eaten right away or stored in an airtight container in the refrigerator for a convenient grab-and-go snack.
Notes
Read the full blog post when making these Easy & Healthy Snickers Energy Balls for extra tips along the way!
These nutritional values are provided as a guide only and may be different depending on your ingredients and measurements.
Nutrition
Nutrition Facts
Easy & Healthy Snickers Energy Balls
Amount per Serving
% Daily Value*
* Percent Daily Values are based on a 2000 calorie diet.
Did you make this?
Leave a rating & leave some feedback in the comments section below! You can also tag me on Instagram @Nourishing.Niki and use the #NourishingNiki