These healthy banana brownies are stupidly easy and made with nourishing ingredients – yet they're still chocolatey, fudgy and sweet, everything a brownie should be! They're gluten-free, dairy-free, oil-free and can be made low-fat, vegan and refined sugar-free, they're perfect for anyone!
Why you need these Banana brownies in your life:
There are so many great things about these brownies, that it shouldn't take too much convincing for you to make it, but I'll tell you why you should anyway:
Firstly, it's a great way to use up any brown bananas you may have, you don't have to resort to making banana bread every time!
They're made with nourishing ingredients and are filled with good carbs, protein and healthy fats and you can have them for breakfast!
These flourless banana brownies are made with oat flour which is very affordable and much more nutritious than processed white flour.
They don't contain any refined sugar as the sweetness comes from ripe bananas and coconut sugar!
Lastly, they're absolutely delicious, chocolatey, fudgy and gooey all in one!
Ingredients
These flourless banana brownies are made with natural, nourishing ingredients that you probably already have in your kitchen!
Bananas – Obviously these are "banana brownies", so you'll definitely be needing a few bananas. I recommend using very ripe bananas (they should be borderline brown!), the riper they are, the sweeter your brownies will be! If you don't like bananas you could try my Sweet Potato Brownies.
Eggs – Eggs add protein and structure to the brownies and act as a binder for the other ingredients.
Coconut Yoghurt – This makes the brownies ultra gooey without having to add any oil or butter!
Vanilla Extract – This adds extra flavour, but also enhances the other flavours in these brownies. If you don't have any you can omit it. I always recommend using vanilla EXTRACT and not ESSENCE.
Coconut Sugar – To add a bit more sweetness to the brownies whilst still keeping them refined sugar-free I recommend using coconut sugar.
Oat Flour – As mentioned, these brownies are flourless. Oat Flour doesn't count in my opinion, because it's actually just blended oats. You could buy oat flour from most health food stores or make your own by simply blending oats into a fine powder.
Cocoa Powder – Cocoa Powder is naturally anti-inflammatory and is actually very good for you!
Dark Chocolate – This is optional (but not really). Dark Chocolate is also good for you as it's made from cocoa. Try to use dark chocolate with a high cocoa volume as this means there is less sugar. Most dark chocolate is also vegan (check the packaging). You can use chocolate chips or chop up your favourite chocolate bar.
Substitutions
Eggs
If you want to make these banana brownies vegan, simply use some vegan soy yoghurt instead. As soy yoghurt is high in protein, it's a good substitute for the eggs as it provides the brownies with structure as well as moisture!
Coconut Yoghurt
You can use any thick yoghurt, Greek yoghurt or a vegan alternative works well! If you're using soy yoghurt instead of eggs in these brownies you use soy yoghurt instead of coconut yoghurt so that you don't have to buy two different types of yoghurt.
Coconut Sugar
Any granulated sugar or sweetener will work here.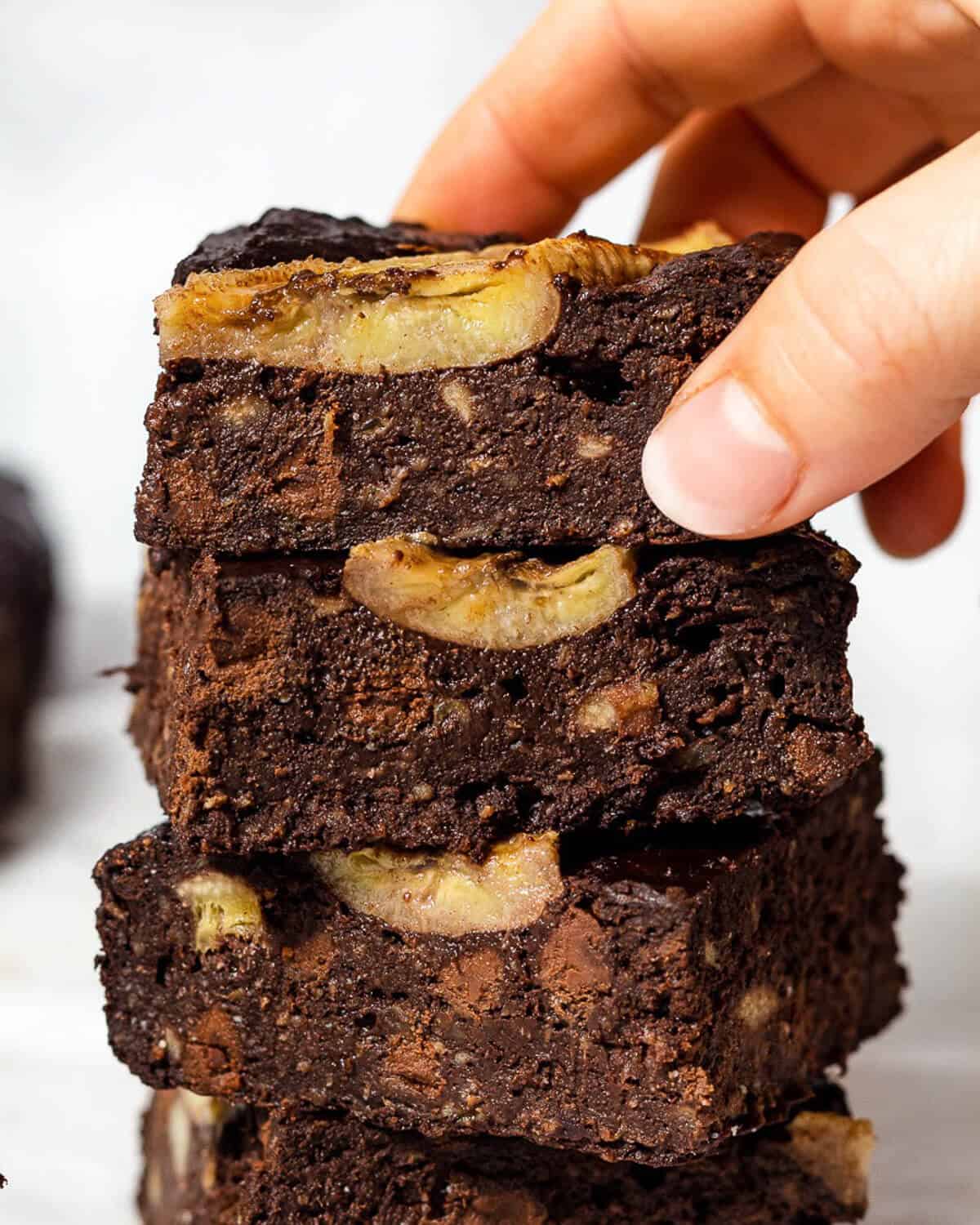 Step-by-step instructions
These fudgy banana brownies are honestly so easy to make. All you need to do is combine all the ingredients in one bowl, pour them into a baking tin and bake! It doesn't get any easier than that.
I've made a recipe, however, just to prove to you how easy it truly is.
Jump to Video
I'll walk you through the process too:
Step 1: Add your bananas to a mixing bowl and mash them up. The riper they are the easier they will be to mash up. Once mashed, add in the rest of your wet ingredients and whisk until combined.
Step 2: Add in your oat flour and cocoa powder and mix it up.
Step 3: Add in your chocolate.
Step 4: Pour the brownie batter into a baking tin lined with parchment paper. I use two sheets going across each other and make sure they are hanging over the edges of the tin – this makes it really easy to remove the brownies from the tin. My baking tin is 20cm x 20cm, but if yours is bigger that's okay too, it just means you won't have to bake them for as long and you will just have thinner brownies.
Step 5: Add some sliced bananas on top of the brownies to make them extra special (they caramelise in the oven which is just absolutely BEAUTIFUL.)
Step 6: Bake.
The hardest part of this recipe is waiting for the brownies to cool before slicing.
FAQ
How do I slice banana brownies?
I recommend leaving the brownies to cool completely before slicing with a clean, sharp knife. If you cut these brownies whilst they're still warm, they probably won't be very pretty. But if you don't care about the aesthetics and can't wait to tuck in (I don't blame you – they smell incredible!) you could eat them right away (out of the baking tin with a fork?)

Can I make these brownies vegan?
You most certainly can – simply use a vegan yoghurt (like coconut yoghurt or soy yoghurt), replace the eggs with 1/2 a cup more yoghurt and use vegan chocolate!
Can I make low-fat banana brownies?
Yes! You can use Low-Fat Greek or Soy yoghurt instead of Coconut Yoghurt which will replace the fats with protein!
How to store healthy banana brownies
I recommend keeping these in the fridge – they last up to a week. Keep them in an air-tight container or in a freezer bag. These brownies are a bit sticky, so I recommend putting some parchment paper in the bottom of the container.
You can also freeze them for up to three months, and place them in a freezer bag or freezer-safe container. Once you're ready to serve them, leave them to thaw for a couple of hours in the fridge.
Serving Suggestions
These gluten-free banana brownies are perfect served on their own straight from the fridge, but if you're feeling like something EXTRA special you could try serving it warm with some ice cream! Pop the brownie in the microwave for around 30 seconds and top with a generous scoop of ice cream!
These brownies are great as a snack or dessert and they're a perfectly acceptable breakfast, too!
Love Chocolate? Try these next:
More Healthy Brownie Recipes to try:
BAKING IN GRAMS
All of the recipes I create are tried and tested a few times until it has been perfected. My goal is to develop recipes that are simple to make and easy to follow so that anyone can make them – even if you've never baked before!
One very important thing that will ensure that you get the best results is to measure your ingredients by weight! I recommend purchasing a kitchen scale, they are very affordable and it will honestly change your baking game for good! Not all measuring cups are made equally – for example, a cup of flour to me weighs 120g, but for you, it may be anywhere between 100g and 200g – that's a BIG difference!
If you don't have a kitchen scale yet, you can use this Ingredient Weight Chart as a guideline to convert the ingredients to help you!
Now – dust your apron off and get baking! X
Hey! If you make this recipe, I would love it if you could leave me some feedback and a rating ⭐⭐⭐⭐⭐ in the comment section at the bottom of the page! Also let me know on Facebook, Instagram or Pinterest! I can't wait to hear your thoughts and see your photos!
Healthy Banana Brownies (with oat flour)
These healthy banana brownies are stupidly easy and made with nourishing ingredients – yet they're still chocolatey, fudgy and sweet, everything a brownie should be! They're gluten-free, dairy-free, oil-free and can be made low-fat, vegan and refined sugar-free, they're perfect for anyone!
Equipment
Fork

20cm x 20cm Baking Tin

see notes
Ingredients
3

Ripe Bananas

around 300g

2

Large Eggs

or 1/2 cup vegan yoghurt

125

g

Coconut Yoghurt

or any thick yoghurt

2

tsp

Vanilla Extract

80

g

Coconut Sugar

60

g

Oat Flour

blended oats

90

g

Cocoa Powder

80

g

Dark Chocolate

1-2 Bananas for the top

optional
Instructions
Preheat your oven to 180°C / 350°F / 160°C fan and prepare a baking tin with parchment paper.

Start by mashing your bananas with a fork or potato masher then add in your eggs, yoghurt, vanilla and sugar. Mix until combined.

Add in your oat flour and cocoa powder and mix it all up. Fold in your chopped chocolate.

Pour the brownie batter into your baking tin and add some sliced banana on top.

Bake for 25-30 minutes until the top looks cooked. It should still be quite soft. Bake it for longer if you want the brownies less gooey.

Leave the brownies to cool completely in the tin before removing and slicing into 9 squares.
Notes
If your baking tin is bigger than 20cm x 20cm: Bake for 20 minutes and then check for doneness.
If your baking tin is smaller than 20cm x 20cm: Bake for 30 minutes and then check for doneness.
See blog post content for ingredient substitutions.
These nutritional values are provided as a guide only and may be different depending on your ingredients and measurements.
Nutrition
Nutrition Facts
Healthy Banana Brownies (with oat flour)
Amount per Serving
% Daily Value*
* Percent Daily Values are based on a 2000 calorie diet.
Did you make this?
Leave a rating & leave some feedback in the comments section below! You can also tag me on Instagram @Nourishing.Niki and use the #NourishingNiki