These Brownie Batter Bites are the perfect way to satisfy your chocolate cravings whilst still nourishing your body. They're super easy to make, are gluten-free, refined sugar-free and optionally vegan too. The best part is that you only need 5 ingredients that you probably already have in your kitchen.
If you're a chocolate enthusiast looking for a guilt-free treat that not only satisfies your sweet tooth but also nourishes your body, look no further than these scrumptious Brownie Batter Bites. Crafted to perfection, these bites are a delightful blend of flavours and textures that will leave you craving more. What's even better? They're incredibly easy to make, require only five simple ingredients, and cater to various dietary preferences, being gluten-free, refined sugar-free, and optionally vegan. So, let's dive into the world of healthier indulgence!
how to make easy and healthy brownie batter bites
In a world where complex recipes can sometimes be overwhelming, these Brownie Batter Bites come as a breath of fresh air. With just five basic ingredients that you probably already have in your kitchen, you can create a treat that's as delightful as it is nutritious.
Ingredients
Pitted Dates: Dates are nature's caramel – sweet, sticky, and full of fiber. They not only add natural sweetness to the bites but also contribute to their fudgy texture.
Milk: A splash of milk helps create a smooth puree out of the dates, binding the ingredients together while adding a touch of creaminess. Use a dairy-free alternative to make these brownie batter bites vegan!
Nut Butter: Nut butter is not only a great source of healthy fats but also provides richness and depth of flavour to the bites. Choose your favourite variety, be it almond, peanut, or cashew.
Cocoa Powder: The star of the show, cocoa powder brings that rich chocolatey taste we all love. It's packed with antioxidants and adds the signature brownie flavour to these bites. You can also use cacao powder.
Choc Chips: Chocolate chips are the cherry on top, enhancing the chocolate experience with bursts of extra sweetness and texture. Use dark chocolate chips for extra health!
The super simple process:
The beauty of these Brownie Batter Bites is not just in their taste, but also in the simplicity of their creation. In just a few easy steps, you can transform these five ingredients into bite-sized wonders that will leave you and your loved ones craving more.
Step 1: Soak and Blend the Dates
Begin by covering the pitted dates with boiling water, allowing them to soak for about 5 minutes. This softens the dates and makes them easier to blend. After draining the water, transfer the dates to a blender along with the milk. Blend until you achieve a smooth and velvety puree. If you prefer a more rustic touch, you can also mash the dates with a fork until they form a paste-like consistency.
Step 2: Incorporate the Nut Butter, Cocoa, and Chocolate Chips
Once you've achieved the perfect date puree, transfer it to a mixing bowl. Add in the nut butter, cocoa powder, and those delightful choc chips. Now comes the fun part – folding! Gently fold the mixture until all the ingredients are beautifully combined. You'll start to notice the mixture taking on that familiar brownie batter appearance, and the aroma will be simply irresistible. If the mixture seems too dry, add in a teaspoon more milk at a time. If it's too wet, add an extra dusting of cocoa powder.
Step 3: Roll into Irresistible Bites
With your brownie batter ready, it's time to shape it into delectable bites. You have the freedom to decide the size of your bites; however, aiming for around 12 bites is a great starting point. Scoop up a portion of the mixture and roll it between your palms to create evenly sized balls. You can use damp hands to do this, to prevent the mixture from sticking to your hands.
For an extra touch:
You can roll these brownie batter bites in some cocoa powder so that they resemble truffles OR roll them in some melted chocolate for an extra indulgent touch.
And just like that, you've created a batch of indulgent yet nourishing Brownie Batter Bites that are ready to be savoured. These bites are the perfect example of how simple, whole ingredients can come together to create something truly spectacular. Whether you're enjoying them as an afternoon pick-me-up, a post-dinner dessert, or sharing them with friends and family, these bites are bound to be a hit.
Storing Your Brownie Batter Bites
Ensuring the delectable taste and texture of your Brownie Batter Bites remain intact is essential to make the most of your kitchen efforts. With their wholesome ingredients and rich flavours, these treats deserve to be savoured over time. Here's your essential guide to storing your Brownie Batter Bites effectively:
Refrigeration:
Using the refrigerator is a dependable method to maintain freshness for a moderate period. Follow these steps for optimal results:
Arrangement: After rolling the mixture into bites, place them on parchment paper-lined trays. Ensure the bites don't touch each other to prevent sticking.
Protection: Cover the trays with plastic wrap or place them in airtight containers. This shields the bites from moisture and fridge odours.
Storage: Keep the wrapped bites in the refrigerator. They'll stay fresh for 1-2 weeks without quality compromise.
Freezing:
For longer storage, freezing your Brownie Batter Bites is excellent. It preserves freshness for future indulgence. Here's how:
Flash Freeze: Lay bites on parchment paper-lined baking sheets, ensuring they don't touch. Freeze them for a couple of hours to prevent sticking.
Airtight Packaging: Move partially frozen bites to airtight, freezer-safe containers or bags. Consider parchment paper between layers for shape.
Label and Date: Label containers or bags with preparation dates for tracking.
Freezing: Store in the freezer; they'll be good for 2-3 months without significant quality loss.
Thawing and Enjoying:
When you're ready to enjoy your frozen Brownie Batter Bites, consider these methods:
Overnight Thawing: Move desired bites from the freezer to the fridge the night before indulging. Gradual thawing preserves their texture.
Quick Thawing: Allow bites to thaw at room temperature for 15-30 minutes when craving an impromptu treat.
Enjoy from the Freezer: Surprisingly, these bites can be savoured directly from the freezer. The fudgy texture becomes extra chewy, creating a unique experience.
more easy and healthy snacks to try

Hey! If you make this recipe, I would love it if you could leave me some feedback and a rating ⭐⭐⭐⭐⭐ in the comment section at the bottom of the page! Also let me know on Facebook, Instagram or Pinterest! I can't wait to hear your thoughts and see your photos!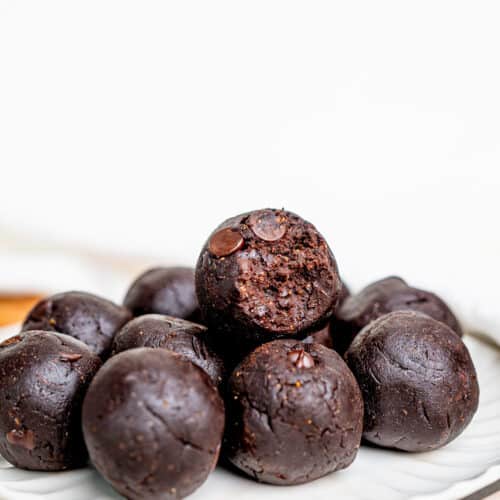 Easy and Healthy Brownie Batter Bites
These Brownie Batter Bites are the perfect way to satisfy your chocolate cravings whilst still nourishing your body. They're super easy to make, are gluten-free, refined sugar-free and optionally vegan too. The best part is that you only need 5 ingredients that you probably already have in your kitchen.
Ingredients
120

g

Pitted Dates

2

tbsp

Milk

60

g

Nut Butter

60

g

Cocoa Powder

30

g

Dark Chocolate Chips
Instructions
Cover the dates with boiling water and leave to soak for 5 minutes.

Drain and add to a blender with the milk and blend into a puree OR mash with a fork to turn into date paste.

Transfer to a bowl and add the nut butter, cocoa and chocolate chips. Fold to combine.

Divide into 12 pieces and roll into balls.
Notes
Read the full blog post when making these Brownie Batter Bites for extra tips along the way!
These nutritional values are provided as a guide only and may be different depending on your ingredients and measurements.
Nutrition
Nutrition Facts
Easy and Healthy Brownie Batter Bites
Amount per Serving
% Daily Value*
* Percent Daily Values are based on a 2000 calorie diet.
Did you make this?
Leave a rating & leave some feedback in the comments section below! You can also tag me on Instagram @Nourishing.Niki and use the #NourishingNiki