This Healthy Tiramisu recipe is made with nourishing ingredients making it perfect for breakfast or dessert! It's easy to make and ready in 15 minutes. It can easily be made vegan and gluten-free too and requires no oil or refined sugar!
Tiramisu has to be one of my favourite desserts of all time. There's just something special about the layers of soft and moist coffee-soaked cake, sweet and creamy vanilla filling with the contrast of rich and deliciously bitter flavour of cocoa powder. The contrast of flavours and textures just works as an actual dream.
I must warn you though this is not a traditional Italian Tiramisu (I have to disclaim this so as to not offend the Italians in my family).
Me being my, I obviously had to "healthify" and "easify" my favourite dessert to make it fit for breakfast (who doesn't love dessert for breakfast!?). So in this Healthy Tiramisu recipe instead of the traditional coffee-soaked ladyfingers, I made an oat-flour based cake using just four ingredients and then poured on some black coffee. Instead of the traditional egg-sugar-mascarpone cream, I combined some yoghurt and vanilla protein powder. This is all finished off with a generous dusting of cocoa powder.
This recipe is created as a single-serve portion, but I do give instructions to make a larger batch further down in the post.
Ingredients & Substitutions
Oat Flour: You can either buy Oat Flour from your local Health Food Store, or you can make your own by simply blending oats until it's a fine powder – which is what I do. If you want to use a different type of flour you could try this Single-Serve Tiramisu where I use Buckwheat Flour.
Baking Powder: this makes the cake rise to make it nice and fluffy. The cake does not contain any acidic ingredients, so you cannot replace the baking powder with baking soda.
Maple Syrup: To add a touch of sweetness without adding refined sugar I like to use maple syrup. You could use honey or agave syrup if you prefer or you can use coconut sugar or sweetener, however, you may need a tiny bit more milk (see the recipe video for the consistency of the "cake batter".
Milk: You can use any plant-based milk alternative to make this recipe vegan, I like oat milk the best. I have also used water before!
Black Coffee: You can use a double shot of coffee, or 1 tsp instant coffee + 3 tbsp boiling water.
Thick Yoghurt: You can use Greek yoghurt, coconut yoghurt, almond yoghurt or soy yoghurt. I use Soy Greek-style yoghurt as it's really thick and creamy!
Vanilla Protein Powder: To add a touch of sweetness and extra protein to the filling, add just a bit of vanilla protein powder. If you'd rather not use protein powder you can use vanilla-flavoured yoghurt or just omit this completely instead.
Cocoa Powder: I just use regular baking cocoa powder, but you could use Cacao Powder or even Hot Chocolate Powder.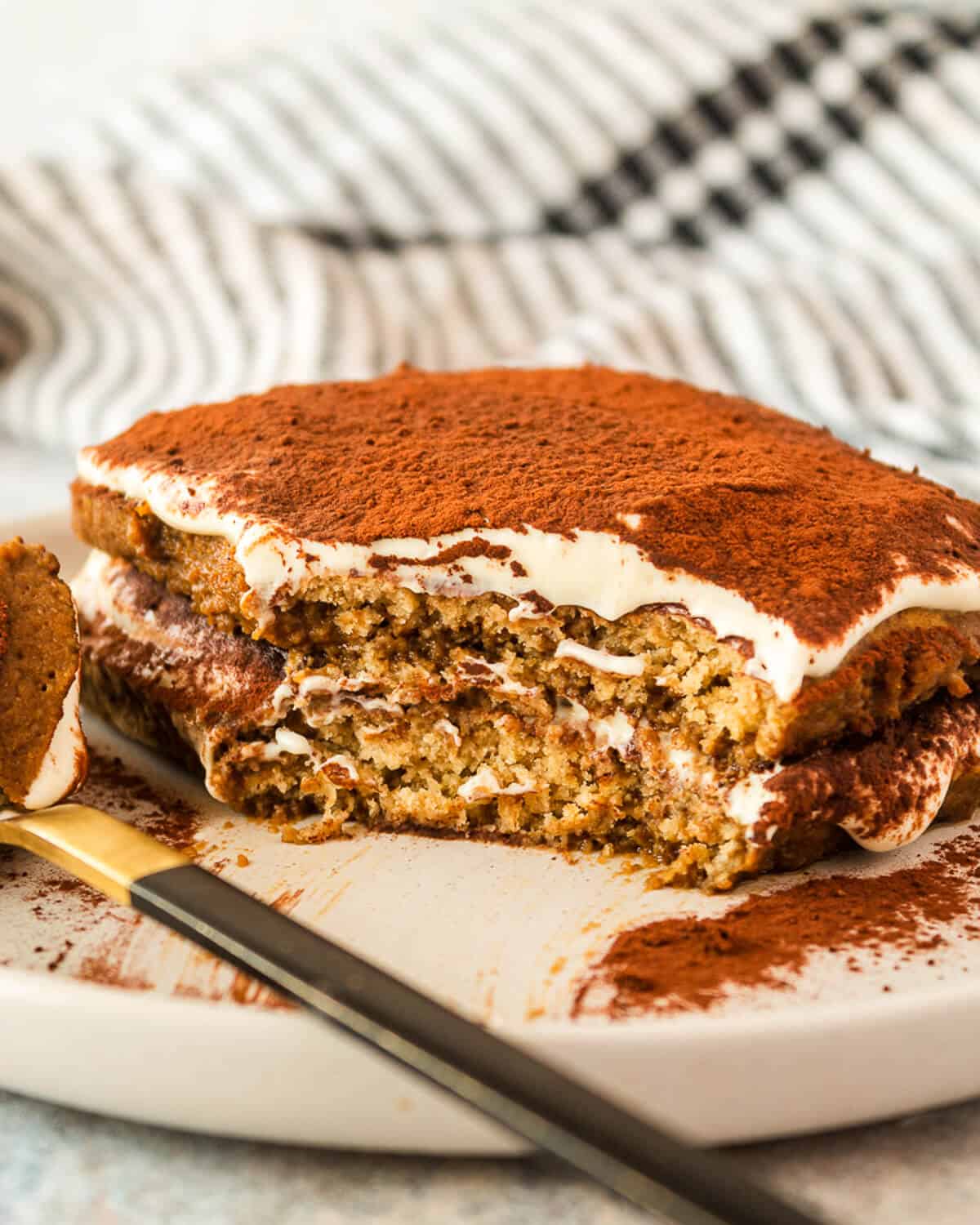 How To Make Healthy Tiramisu
This Healthy Tiramisu is rather simple to make, but I've made a video showing you exactly how to do it!
Jump to Video
All you're going to do is combine the ingredients for the cake until combined, then pour it into a loaf tin and spread it out into a thin, flat layer. Make sure to use some baking parchment paper so that it's easy to remove from the tin. Once baked, pour your coffee over the top (whilst still in the tin) and leave so that the coffee gets soaked into the cake – this should only take a minute. Then carefully remove the cake from the tin (careful – it's fragile!) and slice it in half to make two smaller pieces. Prepare your yoghurt filling ready for layering. Spread half of the yoghurt onto one piece of cake, dust on some cocoa powder then add the second bit of cake, the rest of the yoghurt and finish off with some more cocoa powder.
As mentioned – this recipe is made for one person BUT you can make a larger batch by simply using a larger baking dish and multiplying the ingredients by the number of portions you desire.
1 portion: use a loaf tin – approximately 20cm x 10cm
2 portions: use a square tin – approximately 20cm x 20cm
3 portions: use a large rectangular tin – approximately 20cm x 30cm
You may have to bake the cake for a bit longer if using a bigger tin, you'll know the cake is ready when it's cooked in the middle, it should be solid – not squishy!
Storing
This recipe is designed to be consumed immediately (and why would you not want to?) BUT if you do want to prepare a whole batch throughout the week – I won't be surprised. You can do so by baking the cake then soaking it in coffee and storing the cake in an air-tight container in the fridge for up to a week. You can also prepare the yoghurt filling ahead of time, store it in a container in the fridge alongside your cake and then assemble the cake as per usual just before serving.
Here are some more healthy sweet breakfast recipes:
BAKING IN GRAMS
All of the recipes I create are tried and tested a few times until it has been perfected. My goal is to develop recipes that are simple to make and easy to follow so that anyone can make them – even if you've never baked before!
One very important thing that will ensure that you get the best results is to measure your ingredients by weight! I recommend purchasing a kitchen scale, they are very affordable and it will honestly change your baking game for good! Not all measuring cups are made equally – for example, a cup of flour to me weighs 120g, but for you, it may be anywhere between 100g and 200g – that's a BIG difference!
If you don't have a kitchen scale yet, you can use this Ingredient Weight Chart as a guideline to convert the ingredients to help you!
Now – dust your apron off and get baking! X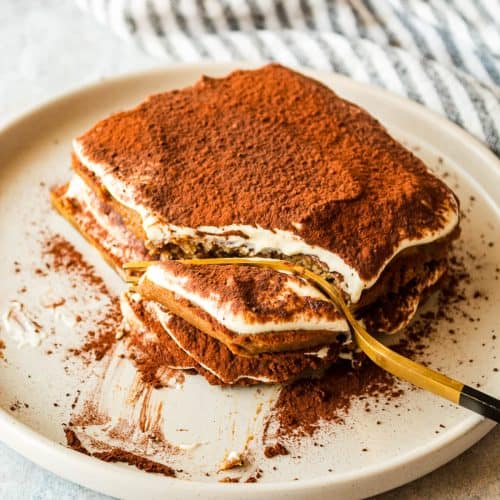 The EASIEST Healthy Tiramisu
This Healthy Tiramisu recipe is made with nourishing ingredients and is just perfect for breakfast! It's easy to make and ready in 15 minutes. It can easily be made vegan and gluten-free too and requires no oil or refined sugar!
Instructions
Preheat your oven to 180°C (160°C fan / 350°F) and prepare a loaf tin with baking parchment paper (see video).

Combine the Oat Flour, Baking Powder, Syrup and Milk in a small mixing bowl. Transfer the mixture into the loaf tin. Bake for 10 minutes.

Combine your Yoghurt and Protein Powder (if using) and mix until smooth.

Once baked, pour the coffee over the cake and leave to soak for about a minute. Carefully remove the cake from the tin.

Slice the cake in half, spread half of the Yoghurt on top and dust with Cocoa powder. Add the second piece of cake on top and repeat the Yoghurt and Cocoa process.
Notes
If you want to skip the vanilla protein powder, you can use vanilla yoghurt instead.
For the black coffee, combine 1 tsp instant coffee with 3 tbsp hot water or use a double espresso.
Please watch the recipe video above and read the blog post content for ingredient substitutes!
If you want to make more than one portion or meal prep:
2 portions: use a square tin – approximately 20cm x 20cm
3 portions: use a large rectangular tin – approximately 20cm x 30cm
These nutritional values are provided as a guide only and may be different depending on your ingredients and measurements.
Nutrition
Nutrition Facts
The EASIEST Healthy Tiramisu
Amount per Serving
% Daily Value*
* Percent Daily Values are based on a 2000 calorie diet.
Did you make this?
Leave a rating & leave some feedback in the comments section below! You can also tag me on Instagram @Nourishing.Niki and use the #NourishingNiki