If you love matcha, you need to try these matcha brownies with white chocolate! They're healthier than a traditional brownie, made with only seven nourishing ingredients, yet they're still deliciously sweet and fudgy as a brownie should be! They're dairy-free, vegan and nut-free and can be made gluten-free, making them perfect for just about anyone to have!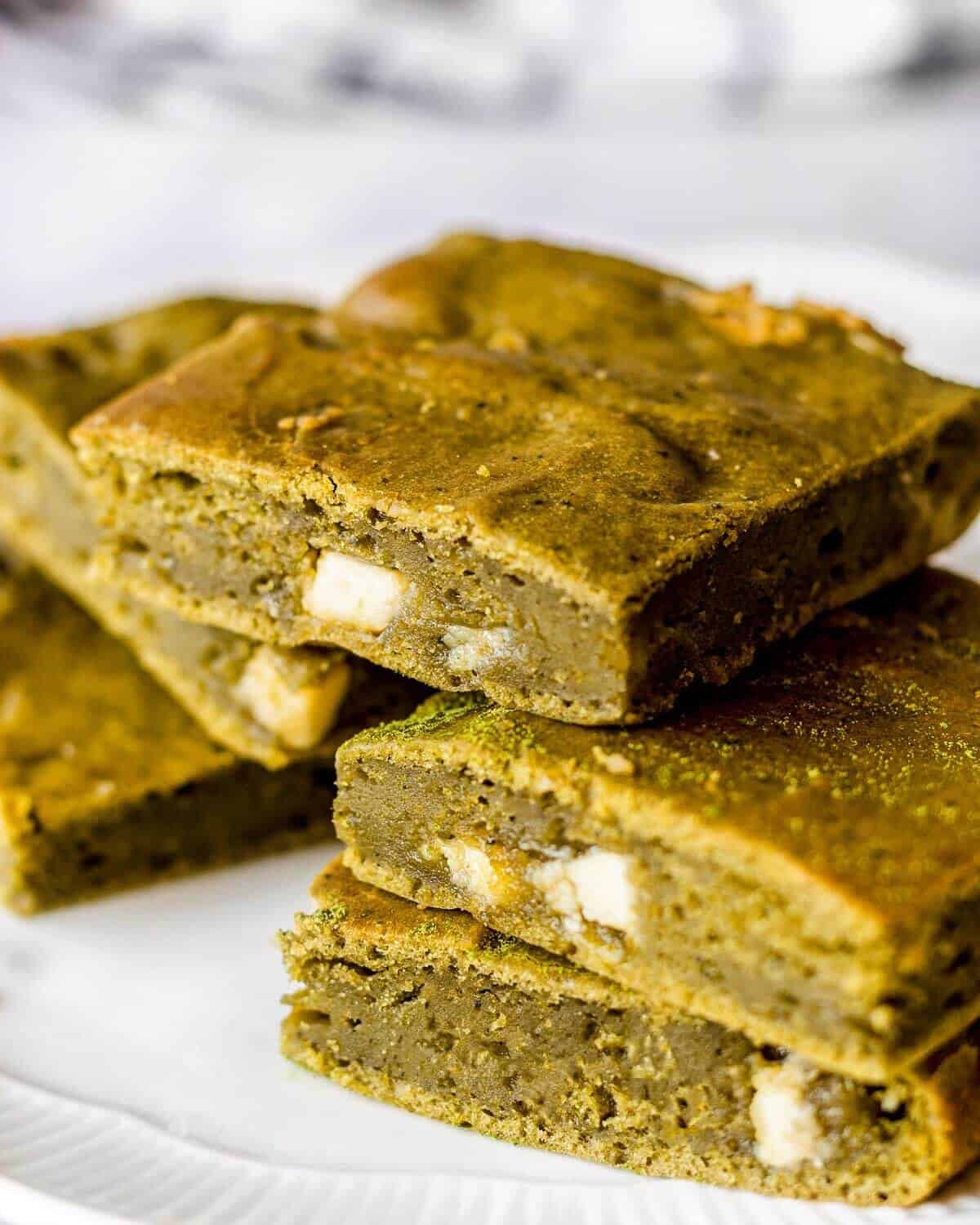 Why you need these matcha brownies in your life
Over the past few years, matcha has become a very trendy ingredient. It's most commonly made into matcha tea or matcha lattes, but as it's become more of a mainstream ingredient it has also found its way into thousands of recipes. From cheesecakes to layered cakes and of course – matcha brownies!
So yes, there are quite a few matcha recipes to choose from, but here is why you should make these matcha white chocolate brownies:
They're dairy-free, egg-free, nut-free and they can be gluten-free and soy-free too! They're also low in sugar and can be diabetic-friendly too! This makes it a perfect dessert to take to a party where you're not sure about allergies.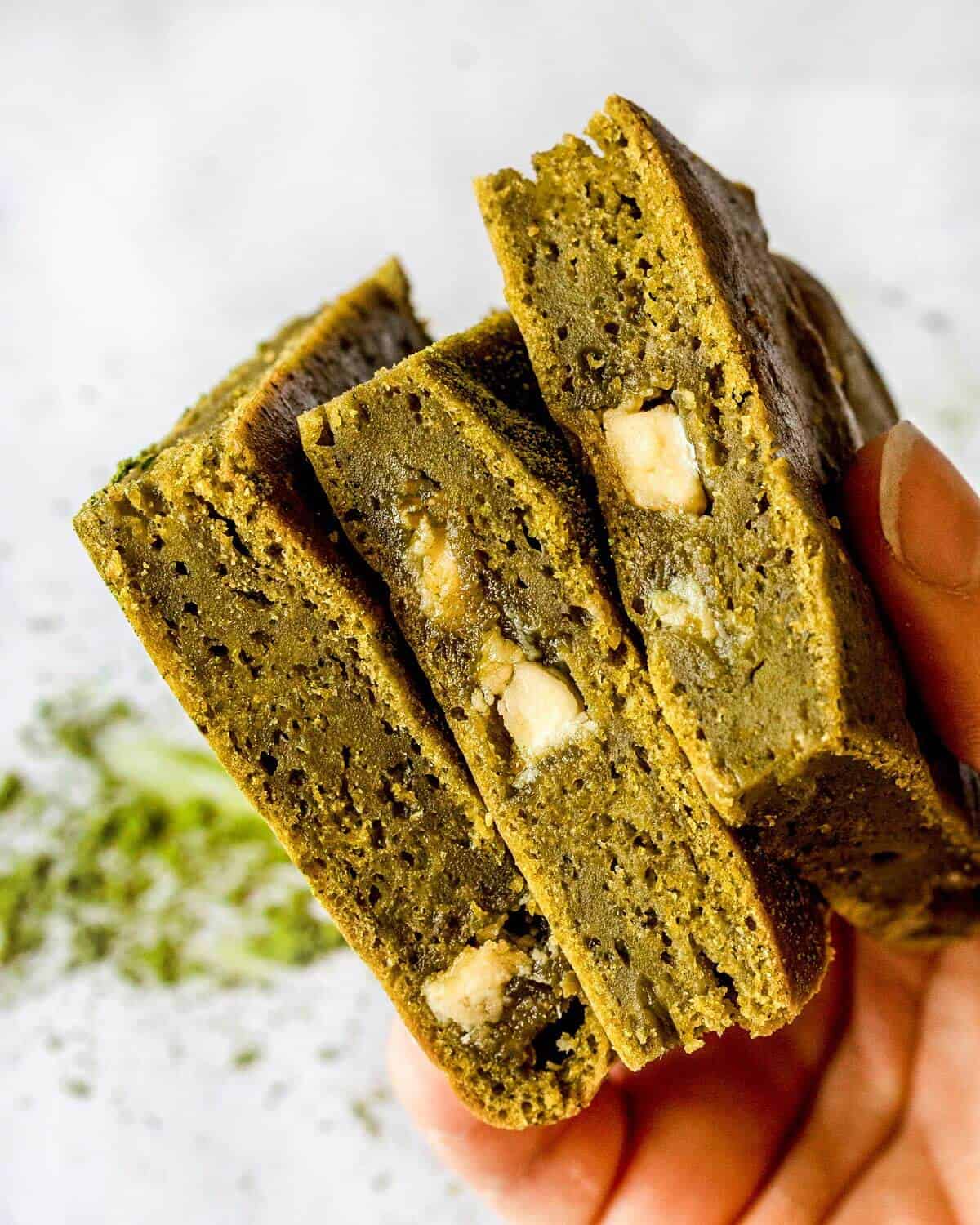 They're healthier than most matcha brownies as they don't contain tons of sugar and butter – in fact, they don't contain any oil! As matcha contains many health benefits, it's a bit silly to use in unhealthy brownies! These brownies definitely are not 100% healthy, they still contain white chocolate and processed white flour, but they don't contain any oil or added processed sugar. The key to being healthy is balance, after all.
Although healthier than traditional brownies, they're still incredibly decadent and delicious!
These green brownies are also a fun dessert for children as the green colour is rather fun and brain-tickling! They may look green, but they certainly do not taste green! Just bear in mind that there is some caffeine in matcha green tea!
Ingredients
If you've been here before, you KNOW I'm a big fan of recipes made with minimal ingredients that are also nourishing. Well, these healthy matcha brownies are no exception!
You only need seven ingredients (does a little dance).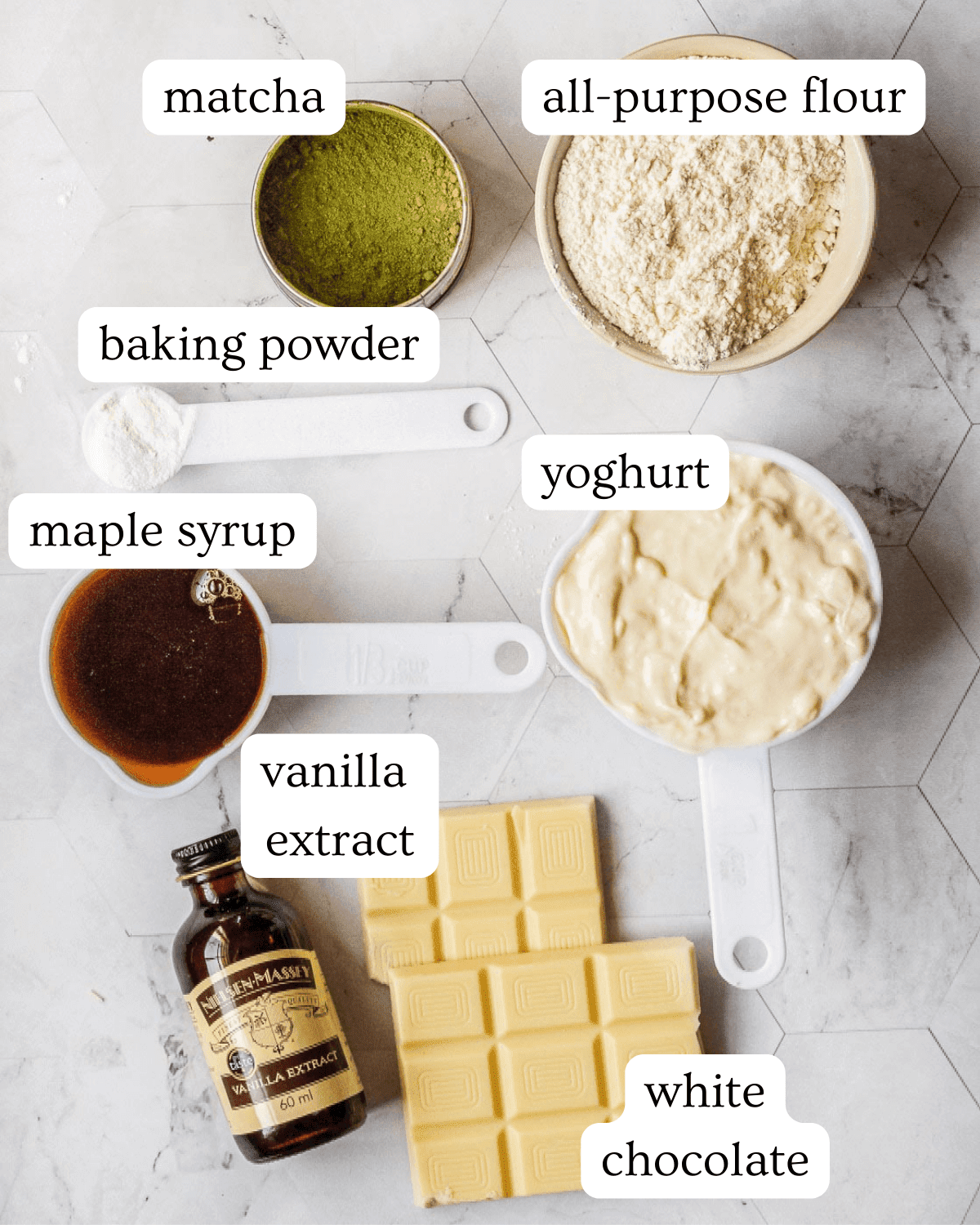 All-Purpose Flour – Also known as plain flour, or cake flour depending on where you are in the world. You can use gluten-free all-purpose flour if you want it to be gluten-free. Some gluten-free flours are a bit "gummy" though, so bear that in mind. To make these even more nourishing, you can use oat flour, while the texture will be completely different, they are really good!
Matcha Green Tea Powder – These are matcha brownies, after all. This is the matcha powder I use (you can use code KITS5 to save some money if you like – this is not an affiliate link).
White Chocolate – Without chocolate, these would not be brownies! The rest of the ingredients are healthy, but it's important to have balance in your diet, so a bit of chocolate won't hurt! Make sure to use vegan chocolate if you need to.
Maple Syrup – Or agave, honey or any liquid sweetener.
Yoghurt – In these vegan matcha brownies, the yoghurt replaces the oil and eggs that are typically found in brownies making them healthier and lower in calories! I use Soy Yoghurt, but you can use coconut yoghurt if you're concerned about allergies. If you don't need these brownies to be dairy-free or vegan you can use Greek Yoghurt.
Vanilla Extract – This adds flavour to the brownies and also enhances the matcha flavour!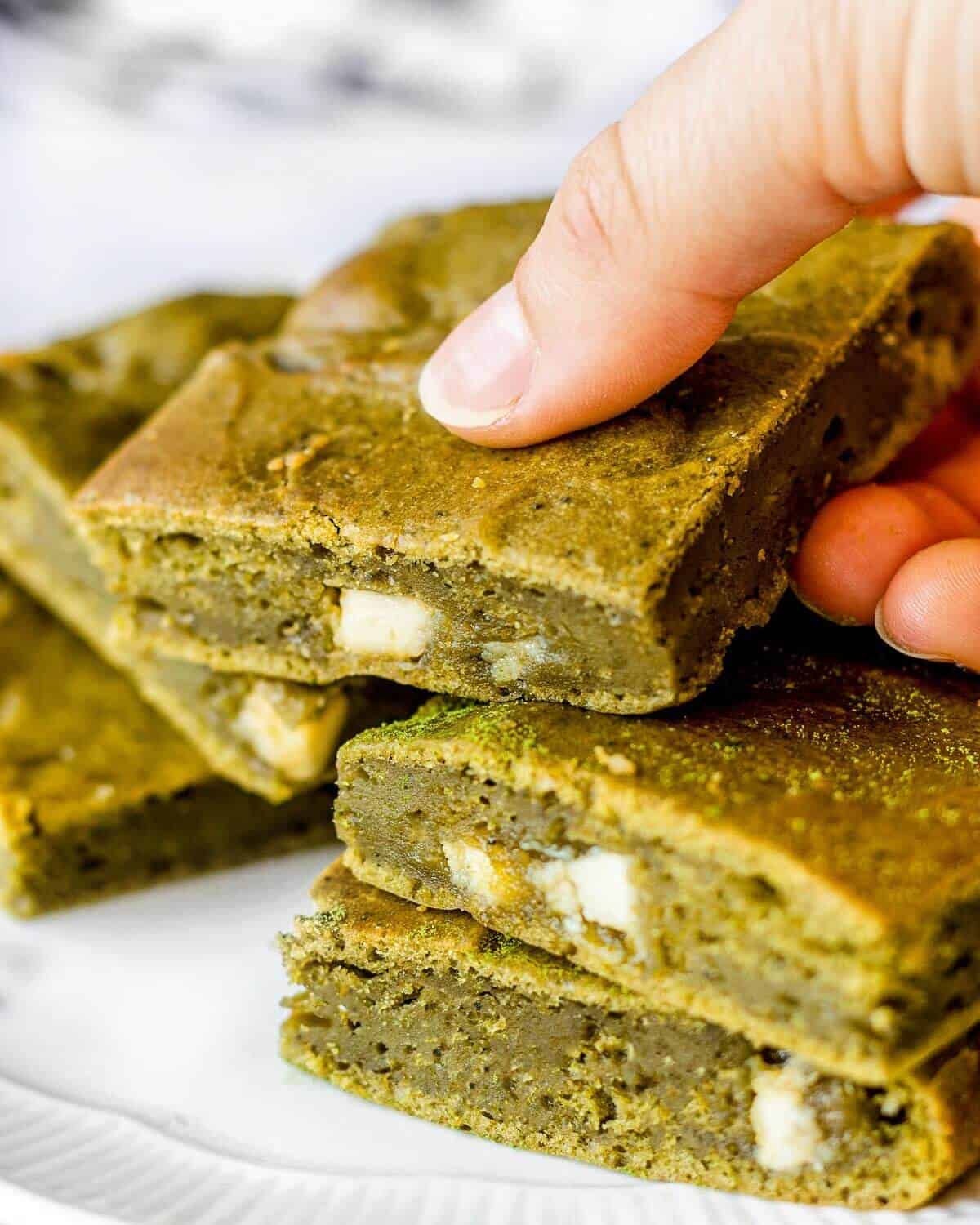 How to make Vegan Matcha Brownies
These brownies are really very quick and easy to make! I will outline the steps here, but see the recipe card at the bottom of this page for the instructions as well as a recipe video!
Step 1. Combine your flour, baking powder and matcha powder. 
Step 2. Melt your white chocolate.
Step 3. Add your syrup, yoghurt and vanilla to the melted chocolate and mix until fully combined.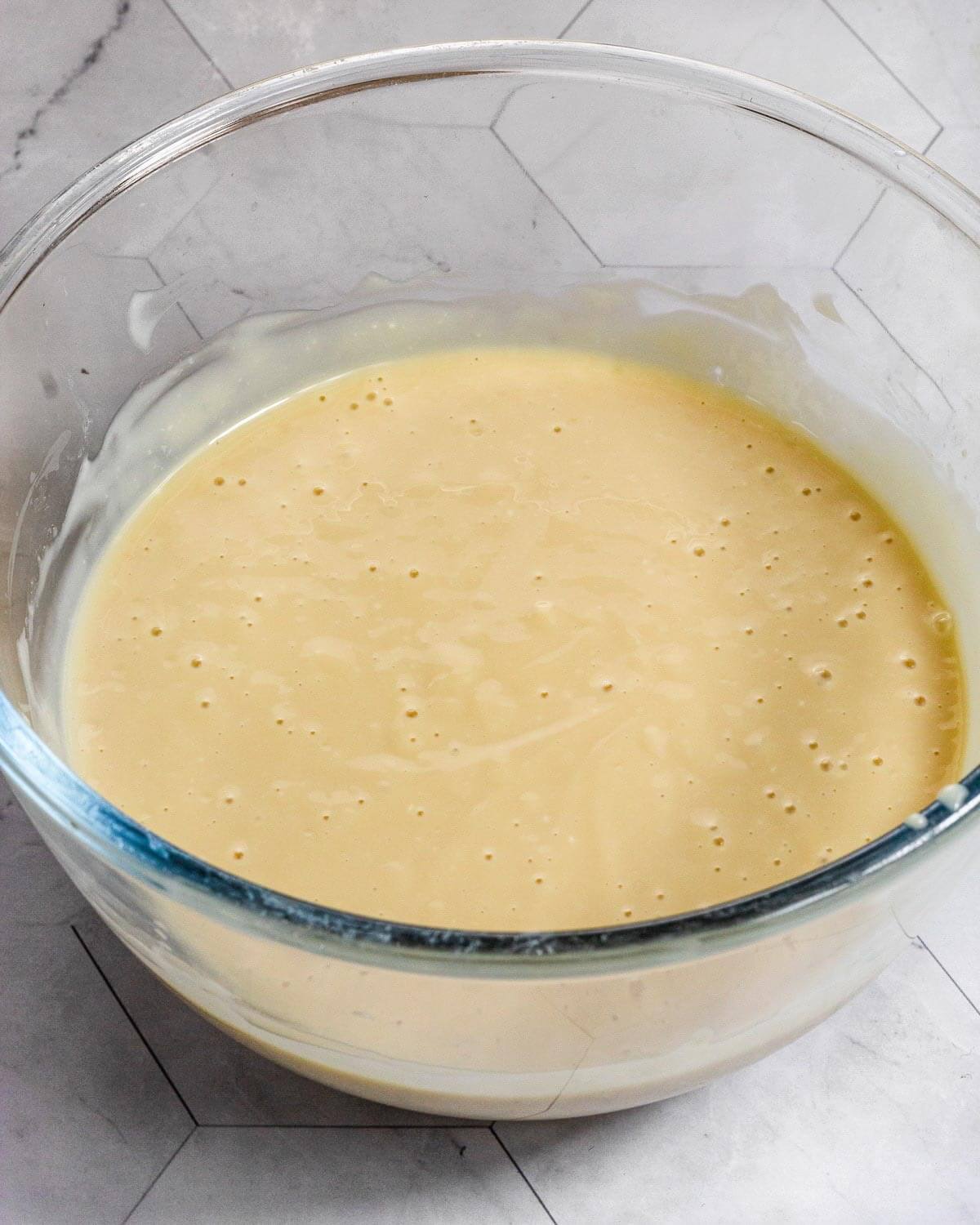 Step 4. Pour the wet ingredients into your dry ingredients and fold with a spatula until evenly combined. Fold in some more chocolate or chopped Oreos if you like!
Step 5. Transfer the brownie batter to your baking tin and bake!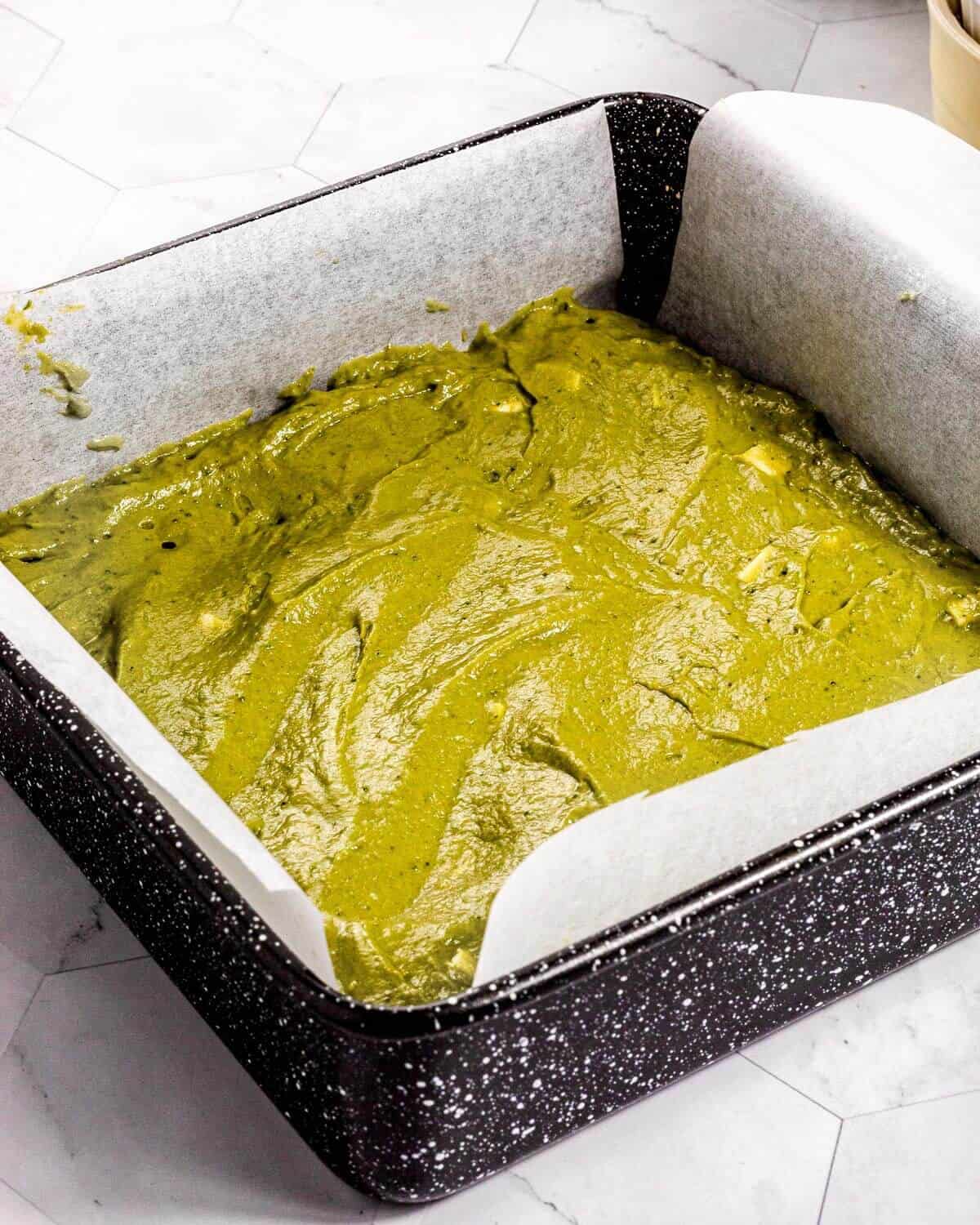 Step 6. Once baked, leave to cool in the tin and then carefully remove, slice and dust on some matcha if you so desire.
Baking Tips:
I recommend sifting your dry ingredients as matcha powder tends to be a bit lumpy. Alternatively, you could use a whisk to mix the dry ingredients to get rid of the lumps.
When melting chocolate, I like to use the double boiler method, but you could also melt your chocolate in the microwave. See this article on how to melt chocolate.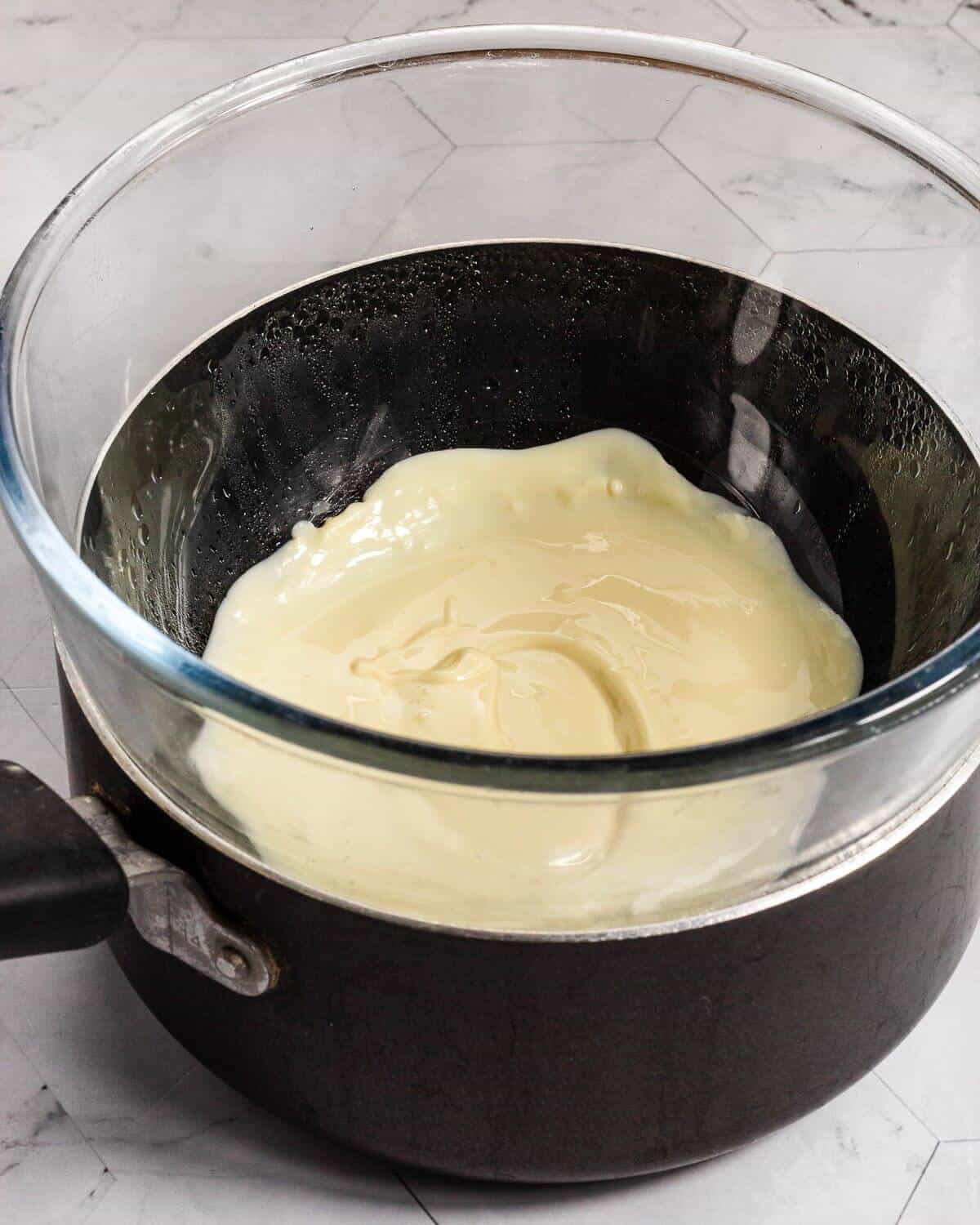 I bake these brownies in a square tin that is roughly 20cm by 20cm, the brownies are on the thinner side, but if you want thicker brownies you can use a smaller tin (like a loaf tin), you will have to bake them for a bit longer.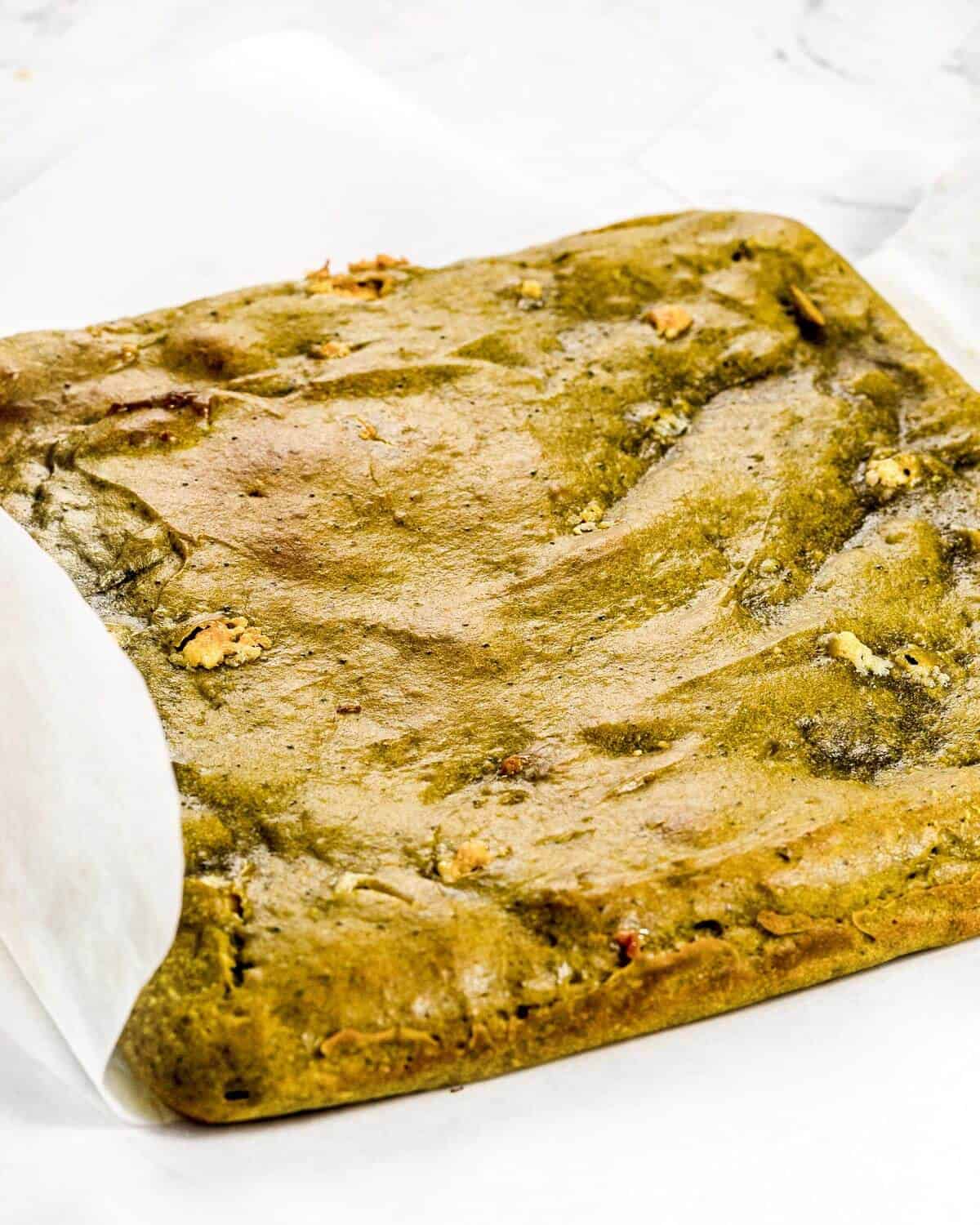 How to know when brownies are cooked
Insert a skewer or toothpick into the centre, there should be some wet crumbs, but the batter should be cooked.
If you want cakier matcha brownies, bake them for longer! I LOVE fudgy, gooey brownies – if you do too, stick to the time provided as that is what will give you perfect results!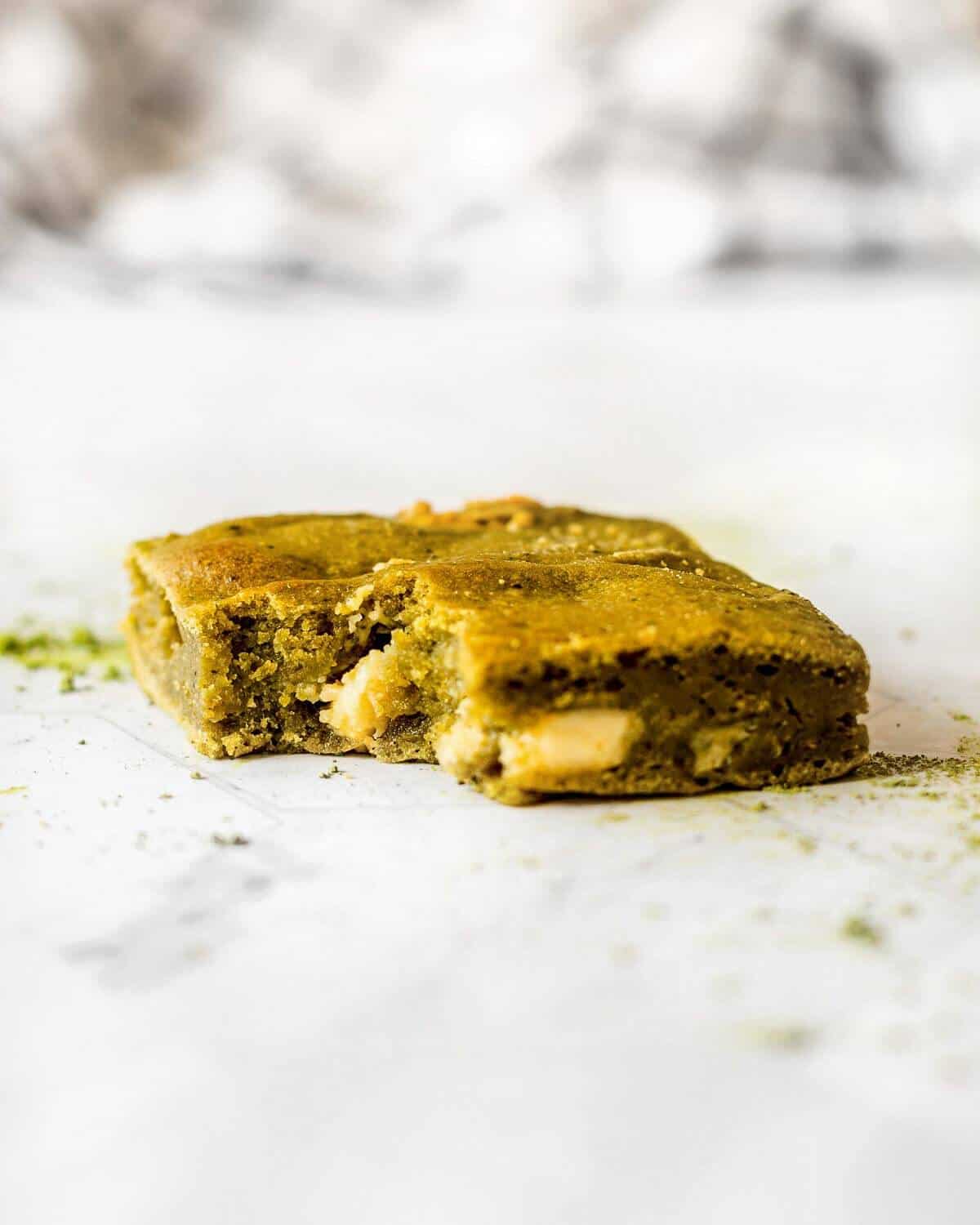 FAQ
Can I use Milk or Dark Chocolate?
You can, however, the colour of your brownies will be different. If you don't necessarily want green brownies, this may be a better option for you! Also – white chocolate and matcha are a match made in heaven!
Do I have to melt the chocolate or can I just fold in chopped chocolate?
You will have to melt the chocolate. If you don't, you will have to adjust all of the other ingredients and you will end up with matcha blondies instead of matcha brownies. The good news is – you can still add chopped chocolate as well as melted chocolate!
Can I use different flour?
You can use oat flour, however, the texture will be different. You could also use white wholewheat flour. I do not recommend using almond flour or coconut flour as you would have to adjust all of the other ingredients too.
Are these brownies Diabetic-friendly?
Yes, they can be. Maple syrup (consumed in moderation) is suitable for diabetics. You will just need to find a bar of diabetic-friendly white chocolate.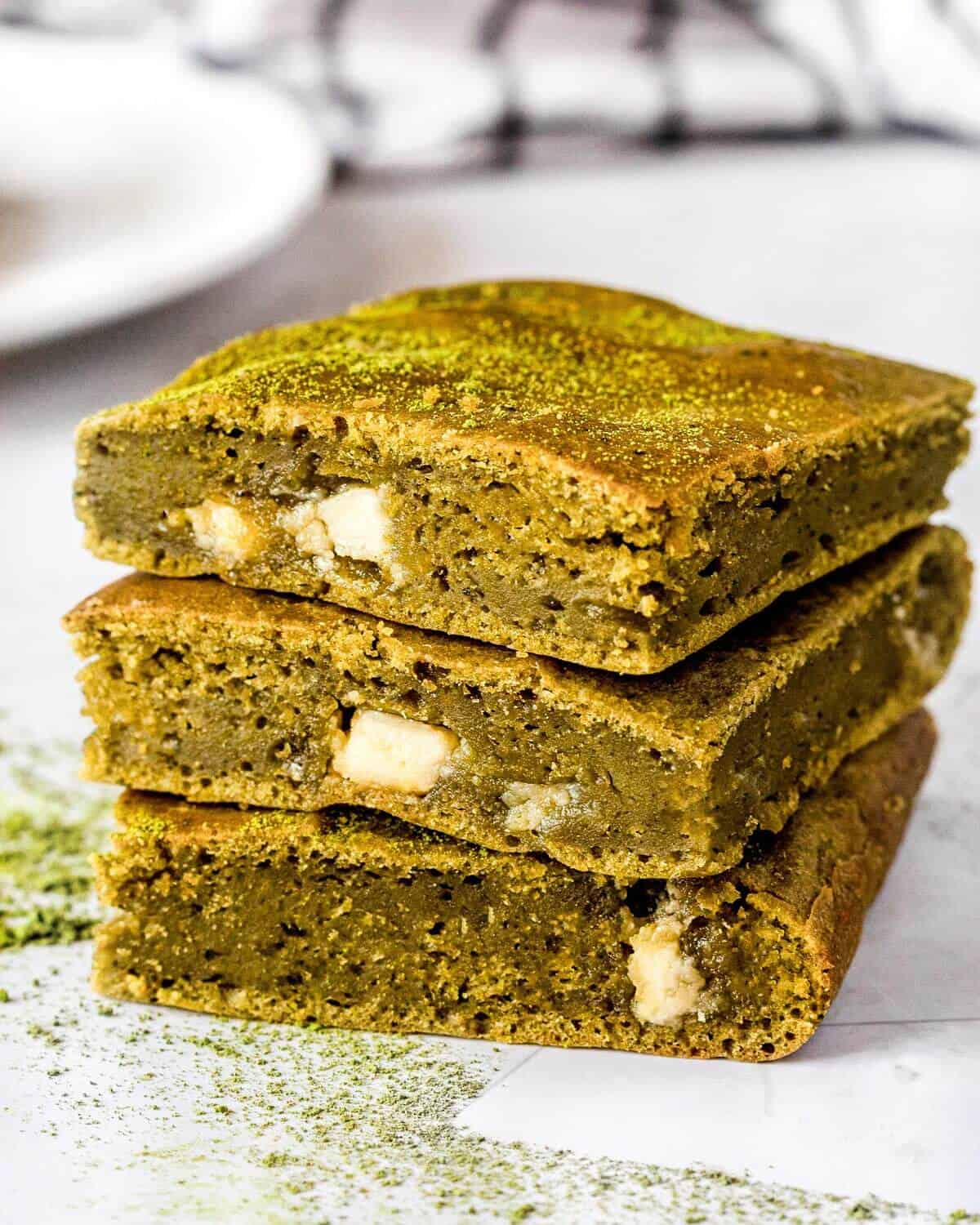 How to store Matcha Brownies
Once your brownies are completely cooled, you can store them in an air-tight container in your fridge for up to seven days! You can keep these green tea brownies at room temperature for 2 or 3 days, but they are best served cold!
You also freeze your brownies for up to three months, I recommend wrapping your sliced brownies in parchment paper and keeping them in a freezer-safe container or freezer bag.
If you love these matcha brownies, you should try these recipes next:
BAKING IN GRAMS
All of the recipes I create are tried and tested a few times until it has been perfected. My goal is to develop recipes that are simple to make and easy to follow so that anyone can make them – even if you've never baked before!
One very important thing that will ensure that you get the best results is to measure your ingredients by weight! I recommend purchasing a kitchen scale, they are very affordable and it will honestly change your baking game for good! Not all measuring cups are made equally – for example, a cup of flour to me weighs 120g, but for you, it may be anywhere between 100g and 200g – that's a BIG difference!
I do provide cup measurements, but for best results, I recommend using the weighted ingredients provided.
If you don't have a kitchen scale yet, you can use this Ingredient Weight Chart as a guideline to convert the ingredients to help you!
Now – dust your apron off and get baking! X
Hey! If you make this recipe, I would love it if you could leave me some feedback and a rating ⭐⭐⭐⭐⭐ in the comment section at the bottom of the page! Also let me know on Facebook, Instagram or Pinterest! I can't wait to hear your thoughts and see your photos!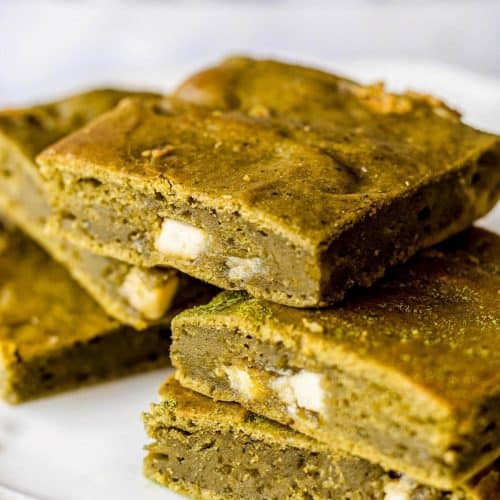 Healthy Matcha Brownies Recipe
These matcha brownies with white chocolate are quick and easy to make and also healthy, yet still chewy, fudgy, sweet and decadent as a brownie should be! Vegan and Gluten-free options.
Equipment
Baking Tin (20cm x 20cm)

see notes for smaller tin
Ingredients
1

cup

All-Purpose Flour (120g)

gluten-free if needed

2-3

tbsp

Matcha Green Tea Powder

1

tsp

Baking Powder

60

g

White Chocolate*

1/3

cup

Maple Syrup (100g)

1

cup

Greek-style Yoghurt* (250g)

1

tsp

Vanilla Extract

40

g

More White Chocolate
Instructions
Preheat your oven to 180°C / 350°F / 160°C fan and prepare your baking dish with parchment paper.

Sift your flour, matcha and baking powder into a large mixing bowl.

Pour your white-chocolate mixture into your dry ingredients and fold until almost combined then fold in some more white chocolate chunks.

Transfer your matcha brownie batter into your baking tin, spread it out evenly and then bake for 20 minutes.

Leave to cool in the tin, then carefully remove and slice into nine squares.
Notes
Make sure to use gluten-free certified ingredients if you are making these matcha brownies for someone with celiac disease.
Use Vegan White Chocolate and Vegan Yoghurt if you need these brownies to be dairy-free or vegan.
You can add in some chopped Oreos if you want!
Read Blog Contents for baking tips!
To make thicker brownies, use a loaf tin and bake for an extra 5 minutes.
You can use oat flour instead of all-purpose flour, but the texture will be different (still delicious, though!)
These nutritional values are provided as a guide only and may be different depending on your ingredients and measurements.
Nutrition
Nutrition Facts
Healthy Matcha Brownies Recipe
Amount per Serving
% Daily Value*
* Percent Daily Values are based on a 2000 calorie diet.
Did you make this?
Leave a rating & leave some feedback in the comments section below! You can also tag me on Instagram @Nourishing.Niki and use the #NourishingNiki