This lemon poppy seed loaf is perfectly moist with a sharp yet sweet lemon tang and the nutty taste and crunch of the poppy seeds. It's easy to make and you can top it off with a lemon icing drizzle or a delicious lemon and poppy yoghurt!
I just have to address my appreciation for loaf cakes. I'm not sure why, but for some reason, I feel like they are a lot easier than regular, round cakes. I can't be the only one who feels this way?
Whilst I'm at it I may as well address my appreciation for cake in general. There's nothing quite like a perfectly soft, fluffy and moist cake and this lemon and poppy seed cake is exactly that. Whilst I do love chocolate cake like my Healthy Chocolate Loaf Cake, when it's warmer outside and the lemons are fresh all I want is a refreshing slice of lemon cake!
It's perfect to have for breakfast (I'm on a mission to normalise eating cake for breakfast), dessert or with your afternoon cup of tea, it's delicious and satisfying any time of the day!
OH! And before I forget to mention – this recipe can be made suitable for vegans and gluten-free people alike!
Baker's Tips For This Lemon Poppy Seed Loaf
This recipe is pretty straightforward, however, I do recommend using the best quality ingredients you can as this loaf is supposed to have very delicate flavours. Using fresh, good quality lemons is quite important, as lemons don't always taste the same and some lemons are rather bitter. Please taste your lemon juice before using them, you want a sour yet sweet taste, not bitter sour!
Be careful when adding coconut oil to the other wet ingredients. I like to make sure my other ingredients are at room temperature because if they are too cold the coconut oil goes solid. If this does happen, pop the wet ingredients in the microwave for a couple of seconds to melt (but not heat!)
Once your loaf has baked, leave to cool completely before adding your icing or yoghurt.
You could skip the lemon yoghurt drizzle and just add some yoghurt when you serve the cake.
Ingredients & Substitutions
Plain Flour – also called All-Purpose Flour or Cake Flour depending on where you are in the world. You can use Gluten-Free Plain Flour if you need to.
Ground Almonds – this gives the flavour an incredible texture and moistness without adding too much oil. Do not substitute with another flour, you could use a different ground nut like tiger nuts instead.
Coconut Oil – can be replaced with any neutral oil or Olive Oil if you don't mind the flavour.
Maple Syrup – You can use agave or any liquid sweetener.
Lemons – if you're making this lemon loaf for a vegan, make sure to use unwaxed lemons as waxed lemons are not vegan! Many people don't believe me when I say this, if you're one of those people – read this article Why lemons are not always vegan.
How To Store Lemon Poppy Seed Loaf
With yoghurt drizzle: Refrigerate for up to 3 days
Without drizzle: Refrigerate for 5 days
To freeze: slice and freeze without yoghurt drizzle for up to 2 months. Leave to thaw in the fridge for a couple of hours before serving.
You might also enjoy these easy and healthy loaf recipes:
BAKING IN GRAMS

All of the recipes I create are tried and tested a few
times until it has been perfected. My goal is to develop recipes that are
simple to make and easy to follow so that anyone can make them – even if you've
never baked before!

One very important thing that will ensure that you get the best results is
to measure your ingredients by weight! I recommend purchasing a kitchen scale,
they are very affordable and it will honestly change your baking game for good!
Not all measuring cups are made equally – for example, a cup of flour to me
weighs 120g, but for you, it may be anywhere between 100g and 200g – that's a
BIG difference!

If you don't have a kitchen scale yet, you can use this Ingredient Weight Chart as a guideline to convert the
ingredients to help you!

Now – dust your apron off and get baking! X
If you have any questions about this recipe, feel free to leave a comment – I'll get back to you as soon as possible! Also, if you make this recipe, please leave a star rating and some feedback xxx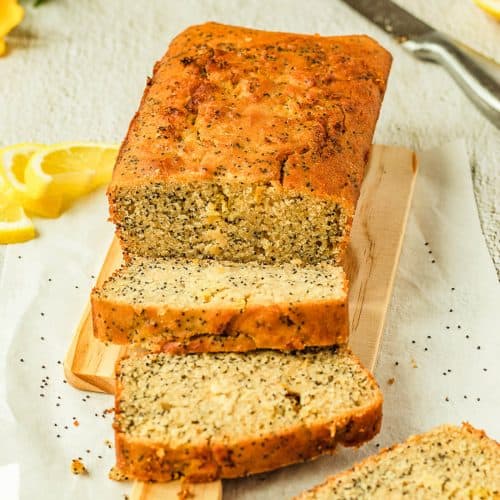 Lemon Poppy Seed Loaf
This lemon poppy seed loaf is perfectly moist with a sharp yet sweet lemon tang and the nutty taste and crunch of the poppy seeds. It's easy to make and you can top it off with a lemon icing drizzle or a delicious lemon and poppy yoghurt!
Instructions
Preheat your oven to 180°C (160°C fan / 350°F) and line a 1lb (roughly 20cm x 10cm) loaf tin baking parchment paper.

In a mixing bowl, combine the flour, almonds, baking powder, baking soda and salt.

.In a separate bowl mix together the oil, milk, sweetener, lemon juice and vanilla extract. Make sure all ingredients are at room temperature (see notes!)

Add the wet ingredients to the dry ingredients and lightly fold in the poppy seeds and lemon zest.

Bake for 45 minutes or until a toothpick comes out clean. If the toothpick comes out with sticky dough on it, bake for a further five minutes.

Once baked, leave to cool in the tin for 5 minutes then transfer the loaf to a cooling rack. Slice once cooled.

Top with some yoghurt and serve!
Notes
The nutritional values are provided as a guide only and may be different depending on your ingredients and measurements.
Make sure to use fresh, ripe lemons 
I love serving mine with some vegan vanilla yoghurt! You could also prepare a lemon drizzle sauce using 1/4 cup maple syrup and 2 tbsp lemon juice.
Nutrition
Nutrition Facts
Lemon Poppy Seed Loaf
Amount per Serving
% Daily Value*
* Percent Daily Values are based on a 2000 calorie diet.
Did you make this?
Leave a rating & leave some feedback in the comments section below! You can also tag me on Instagram @Nourishing.Niki and use the #NourishingNiki