This fruit cake loaf is everything a fruit cake should be: moist, fruity and comforting – BUT this recipe is so much easier than a regular fruit cake, you only need six ingredients! And as a bonus: it's completely vegan, oil-free and can be made gluten-free too!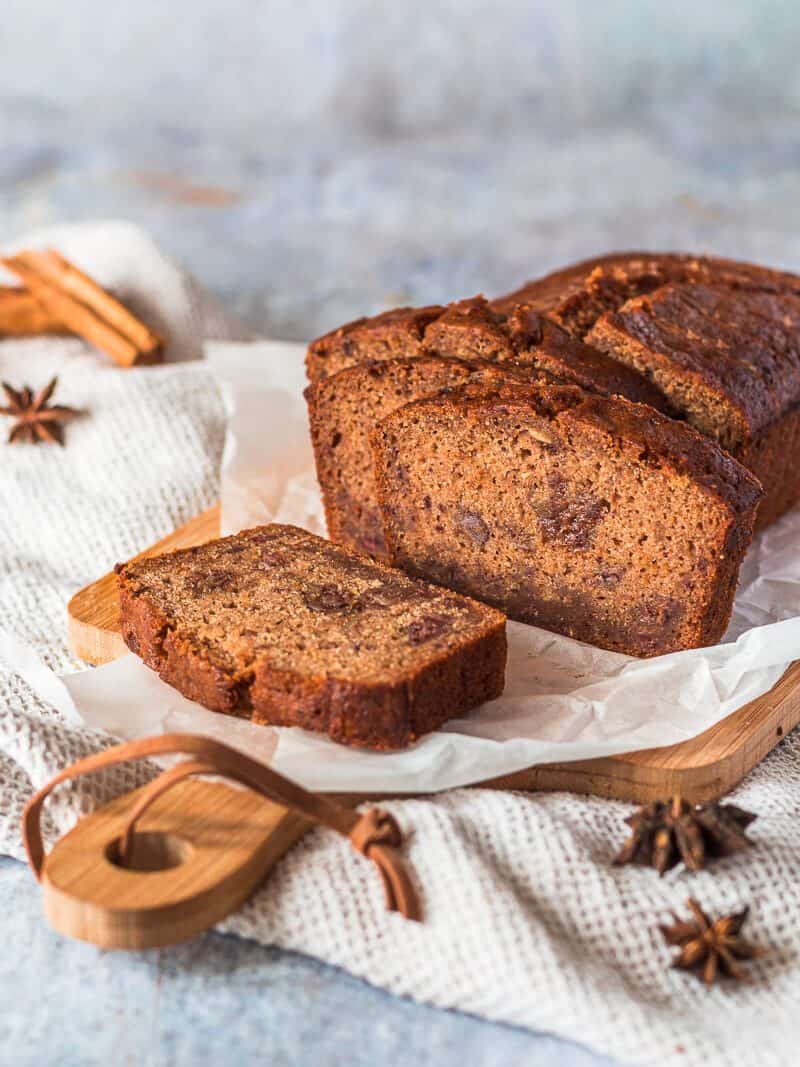 6 ingredients and 6 steps are all it takes to make this delicious, warming and sticky loaf. For some extra incredible, warming flavours you can infuse this loaf with some of your favourite tea (mine is Chai Rooibos Tea!).
It's best served toasted with a thick layer of salted vegan butter alongside a warm cup of tea.
Baker's Tips For This Fruit Cake Loaf
How to make a flax egg: Whenever a recipe calls for a flax egg I make sure to prep that before I do anything else because the longer it has to set the better. To make a flax egg, I swear by a 1:2.5 ratio. 2.5 tablespoons of water for every tablespoon of ground flaxseed. If you don't have ground flaxseed, you can blend whole flaxseeds until they become fine or use chia seeds instead!
You can use any tea you like, however, I recommend spicy tea like Chai! You can use loose leaf or simply tear open a few tea bags, leave to brew for around 10 minutes and then strain it. If you do not have a tea strainer you can use one of these methods.
Soak your dates in your brewed tea for at least 30 minutes before blending or chopping them. This will ensure they break down easier, and it also makes them extra gooey!
Ingredient Substitutes
Coconut Sugar – you can replace this with dark brown sugar or muscovado. You could also replace it with a lighter sugar, but the flavour won't be as deep as with dark sugar which caramelises more.
Flax Egg – you can use a chia egg instead, simply follow the same steps as when making a flax egg, but use ground chia seeds instead.
Plain Flour – Also known as All-Purpose Flour or Cake Flour, you can use gluten-free plain flour if you need it to be gluten-free!
Dates – if you don't have or don't like dates, that's okay! This Fruit cake loaf is rather forgiving, so you can use any dried fruit that you like such as raisins, prunes, cranberries or even a mixture of all of the above – just ensure you stick to the required weight!
How To Store This Fruit Cake Loaf
Store in an airtight container at room temperature for 3 days, or in the fridge for up to a week.
You could freeze it for 2 months, I'd recommend slicing the loaf first and putting some parchment paper between the slices. Leave it to thaw in the fridge or pop it straight in the toaster from frozen.
You may also like these comforting dessert recipes:
BAKING IN GRAMS
All of the recipes I create are tried and tested a few
times until it has been perfected. My goal is to develop recipes that are
simple to make and easy to follow so that anyone can make them – even if you've
never baked before!

One very important thing that will ensure that you get the best results is
to measure your ingredients by weight! I recommend purchasing a kitchen scale,
they are very affordable and it will honestly change your baking game for good!
Not all measuring cups are made equally – for example, a cup of flour to me
weighs 120g, but for you, it may be anywhere between 100g and 200g – that's a
BIG difference!

If you don't have a kitchen scale yet, you can use this Ingredient Weight Chart as a guideline to convert the
ingredients to help you!

Now – dust your apron off and get baking! x
Fruit Cake Loaf
This fruit cake loaf is moist, fruity and comforting and is so much easier than a regular fruit cake, you only need six ingredients! And as a bonus: it's completely vegan, oil-free and can be made gluten-free too!
Ingredients
1

Flax Egg

1 tbsp ground flaxseeds + 2.5 tbsp water

4

tbsp

Loose Leaf Tea

or 4 tea bags

400

ml

Boiled Water

250

g

Soft Dates

see notes

80

g

Coconut Sugar

300

g

Plain Flour

use gluten-free if necessary

2

tsp

Baking Powder

1

tsp

Ground Cinnamon

optional

1/2

tsp

Allspice

optional
Instructions
Make your flax egg by mixing the flax seeds with 2.5 tbsp water and set aside.

Add your loose leaf tea (or the contents of your tea bags) into freshly boiled water. Stir and set aside to brew for 10 minutes.

Finely chop your dates or blend them up. Strain your tea and pour over the dates. Let the dates soak in the tea for 30 minutes.

Sift the flour, baking powder and spices in a large mixing bowl.

Mix the coconut sugar into the date-tea mixture until combined. Add to the dry mixture along with the flax egg and apple cider vinegar.

Pour into a greased 1 lb loaf tin and bake in a pre-heated oven @ 180°C (160C fan / 350°F) for 50-55 minutes or until golden brown, and a skewer or knife comes out clean.

Leave in the tin for 10 minutes, then remove and place on a cooling rack to cool down for at least 30 minutes.

Serve warm or toasted with vegan butter!
Notes
These nutritional values are provided as a guide only and may be different depending on your ingredients and measurements.
Read the blog post contents for ingredient substitutions and recipe notes!
You can use any dried fruit if you don't have dates!
Nutrition
Nutrition Facts
Fruit Cake Loaf
Amount per Serving
% Daily Value*
* Percent Daily Values are based on a 2000 calorie diet.
Did you make this?
Leave a rating & leave some feedback in the comments section below! You can also tag me on Instagram @Nourishing.Niki and use the #NourishingNiki