If you're a fan of the irresistible combination of chocolate and peanut butter, get ready to indulge in a delectable treat. These Easy & Healthy No-Bake Peanut Butter Cup Cheesecakes are not only mouthwateringly delicious but also packed with wholesome ingredients.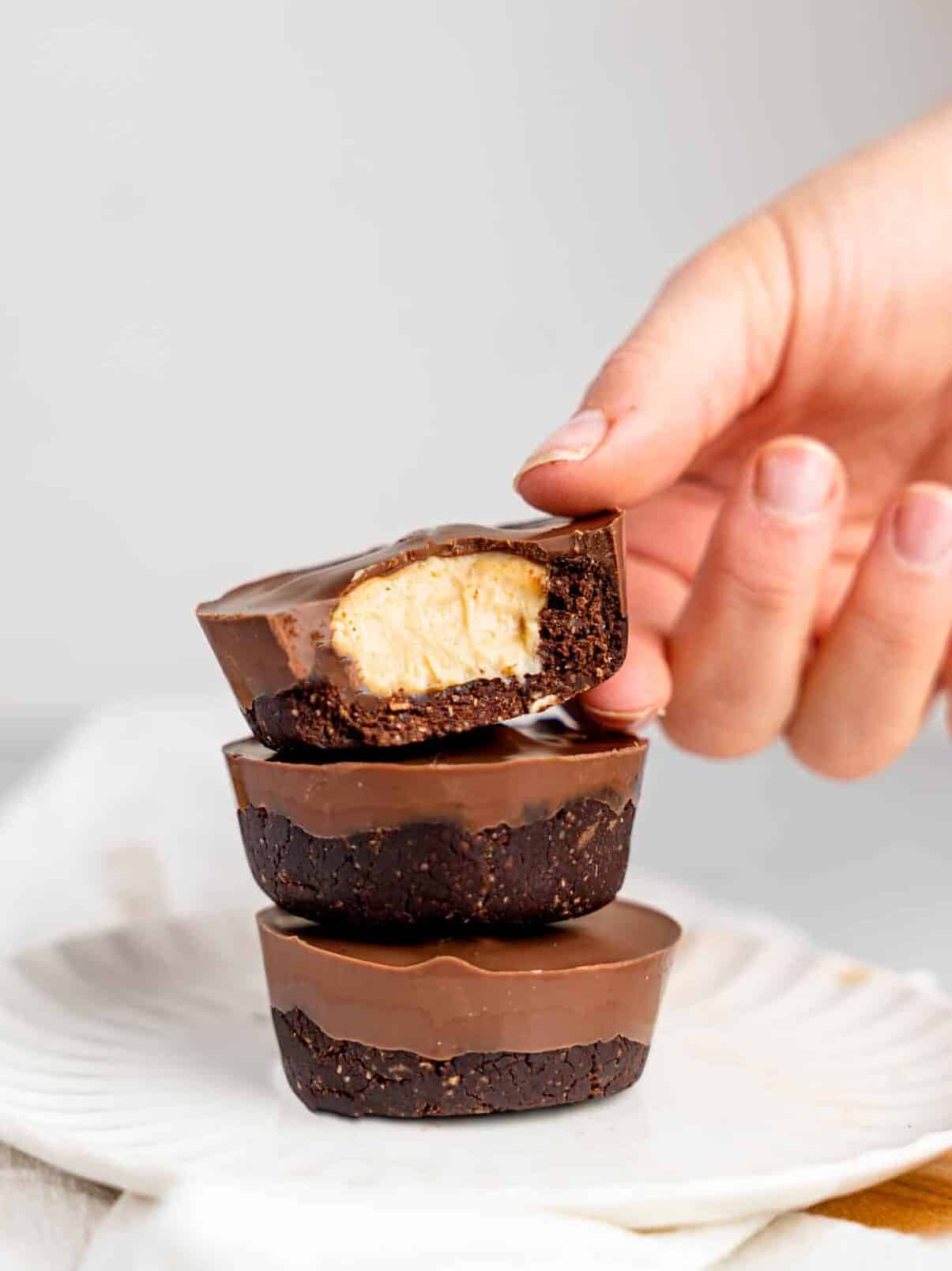 This recipe is perfect for those looking for a guilt-free dessert option or a delightful afternoon snack. With a no-bake chocolate crust, a creamy peanut butter cheesecake filling, and a luscious dark chocolate topping, these cheesecakes are sure to impress.
Let's dive into this 6-ingredient wonder that will blow your mind!
How to make no-bake peanut butter cup cheesecakes
No-Bake Chocolate Cheesecake Crust
This base is not only gluten-free but also free from refined sugars. It forms the perfect foundation for our delicious cheesecakes. To start, you'll need the following ingredients for the chocolate crust:
oat flour – you can use shop-bought or make your own by blending oats
cocoa powder or cacao powder
smooth peanut butter – runny peanut butter works best
liquid sweetener – my favourite liquid sweetener is maple syrup, but agave, honey or date syrup all work very well
In a bowl, combine the oat flour, cocoa powder, smooth peanut butter, and liquid sweetener. Mix until well combined, resulting in a sticky cookie-dough consistency.
If the mixture is too dry, add a teaspoon or two of water to achieve the desired texture.
Divide the dough into six equal portions and place them into a muffin tray. I like using this silicone muffin tray for easy removal, but you can use a regular muffin tray and insert some cupcake papers.
Press down the centre and up the sides of each portion to create a cup-like shape. I do this by using a measuring spoon, but you can use your fingers if you prefer.
The Filling
The peanut butter cheesecake filling is rich, creamy, and incredibly flavorful. For this part, gather the following ingredients:
cream cheese – you can use a plant-based alternative for a vegan-friendly version)
smooth peanut butter
liquid sweetener – my favourite liquid sweetener is maple syrup, but agave, honey or date syrup all work very well
In a bowl, whisk together the cream cheese, smooth peanut butter, and maple syrup (or agave) until you achieve a smooth consistency. You can use an electric whisk, a hand-held whisk or even just a fork to do this.
Ensure that all the ingredients are well combined, resulting in a creamy and luscious filling.
Spoon the filling into each of the prepared crusts, distributing it evenly.
The Chocolate Layer
No peanut butter cup would be complete without a decadent layer of chocolate on top. For this final touch, you'll need:
chocolate – I prefer to use dark chocolate with a high cocoa percentage as this is lower in sugar. You can also find some chocolates that are made using unrefined sugar (like coconut sugar), so if you want to keep these peanut butter cheesecakes completely free from refined sugars, this would be a good option for you! You can use your favourite bar of chocolate or chocolate chips.
coconut oil – this is optional, it makes the chocolate runnier and also softer when you bite into it
Melt the dark chocolate along with the coconut oil until it reaches a smooth and runny consistency. You can either melt the chocolate using a double boiler or in the microwave. For the double boiler method, simmer water in a saucepan and place a heatproof bowl on top, ensuring it fits snugly. Add the chocolate to the bowl and stir occasionally as it melts. If using the microwave, microwave the chopped chocolate in short bursts, stirring in between each interval.
Spoon the melted chocolate onto each cheesecake, creating a generous layer of indulgence.
Place the cheesecakes in the refrigerator to allow the chocolate topping to set.
Once the chocolate has set, your Easy & Healthy No-Bake Peanut Butter Cup Cheesecakes are ready to be enjoyed!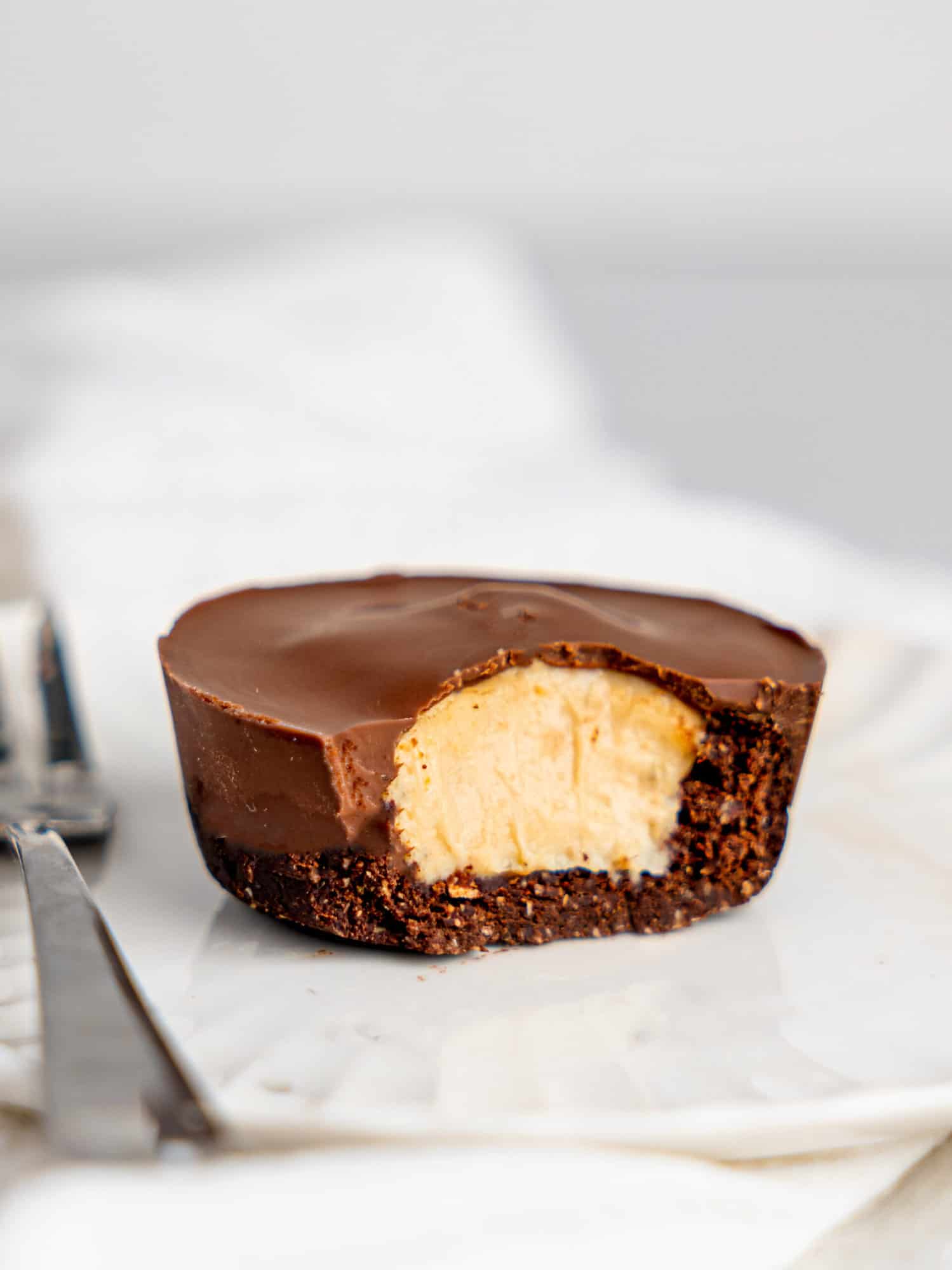 How to store cheesecake
Cheesecake should be stored either in the fridge or freezer to keep them fresh. As cheesecake contains dairy products (and sometimes eggs), it should be kept cool at all times and should exceed 3 hours at room temperature. So keep them cool for as long as you can before serving.
The peanut butter cup cheesecakes will last 4 days in the fridge and up to two months in the freezer. Keep them in an air-tight container for optimum freshness.
more no-bake desserts to make:
Hey! If you make this recipe, I would love it if you could leave me some feedback and a rating ⭐⭐⭐⭐⭐ in the comment section at the bottom of the page! Also let me know on Facebook, Instagram or Pinterest! I can't wait to hear your thoughts and see your photos!
No-Bake Peanut Butter Cup Cheesecakes (easy & healthy)
These cheesecakes make a fantastic afternoon snack or a delightful after-dinner dessert. The combination of the chocolate crust, creamy peanut butter filling, and rich dark chocolate topping will leave you craving more. The best part is that they're not only incredibly delicious but also made with wholesome ingredients, making them a guilt-free treat.
Ingredients
Peanut Butter Cheesecake Filling
Instructions
Add the ingredients for the base to a bowl and mix until combined. It should be a sticky cookie-dough consistency. Add a teaspoon or two of water if it's too dry.

Split the dough into 6 portions, then place them in a muffin tray. Press down the centre and up the sides to create a cup.

Add the filling ingredients to a bowl and whisk until smooth. Add this to the cups.

Melt chocolate and coconut oil until runny, spoon it onto your cheesecakes and then pop it in the fridge to set.
Notes
Read the full blog post when making these peanut butter cup cheesecakes for extra tips along the way! These nutritional values are provided as a guide only and may be different depending on your ingredients and measurements.
Nutrition
Nutrition Facts
No-Bake Peanut Butter Cup Cheesecakes (easy & healthy)
Serving Size
1 cheesecake
Amount per Serving
% Daily Value*
* Percent Daily Values are based on a 2000 calorie diet.
Did you make this?
Leave a rating & leave some feedback in the comments section below! You can also tag me on Instagram @Nourishing.Niki and use the #NourishingNiki