These Mini Banoffee Pies are for YOU if you love the delicious combination of banana and caramel (I mean, who doesn't?). With just five wholesome ingredients, these mini pies are gluten-free, contain no added sugars, and can even be made vegan if you wish. The best part? They're incredibly quick and easy to make – perfect for a last-minute snack or dessert!
Mini desserts are one of the best things in my opinion, because sometimes you just don't want to share! They're also super cute, right? These mini banoffee pies are actually so fun to make, and the combination of flavours just hits all the right notes. You NEED to try them, okay? Okay.
The (HEALTHY!) Ingredients
Banana: Bananas are not only naturally sweet but also packed with essential vitamins and minerals. They provide a good dose of vitamin C, potassium, and dietary fibre. The bananas in this recipe serve as the natural sweetener, eliminating the need for added sugars.
Oats: Oats are a nutritional powerhouse. They are rich in fibre, which helps with digestion and keeps you feeling full. Oats also contain a variety of vitamins and minerals, including manganese, phosphorus, and magnesium.
Smooth Nut Butter: Nut butter adds a creamy and satisfying texture to the pie. It's an excellent source of healthy fats and protein. The combination of fats and protein helps keep you feeling full and satisfied, making it a perfect ingredient for a healthy dessert. I use peanut butter, but almond butter, cashew butter, or anything along those lines will work well!
Vanilla Yoghurt: Yoghurt not only adds a delightful creaminess to these mini pies but also provides a dose of probiotics. Probiotics are beneficial for gut health, an essential aspect of overall well-being. Opt for a dairy-free yoghurt for a vegan version. My favourite is Greek Yoghurt or Skyr for extra protein and goodness!
Dark Chocolate: Dark chocolate is a healthier alternative to milk chocolate. It's rich in antioxidants and can improve heart health. In moderation, dark chocolate can be a part of a balanced diet. To keep these mini banoffee pies refined sugar-free, make sure to use chocolate that is refined sugar-free like this one.
Ingredient Substitutions:
Bananas: These are banoffee pies, so I'm not sure why you're here if you don't have bananas. However, on the rare occasion that this is even a possibility – If you don't have or prefer not to use bananas, you can try using unsweetened applesauce for a similar natural sweetness and moisture.
Oats: Rolled oats can be substituted with almond flour or coconut flour for a gluten-free option. For a low-carb alternative, you can use ground flaxseed or chia seeds. You may need to adjust the quantities to reach the right consistency. I use whole porridge oats, but instant oats also work.
Smooth Nut Butter: If you have nut allergies or prefer a different flavour, you can use sunflower seed butter, tahini, or soy nut butter.
Vanilla Yoghurt: Opt for dairy-free yoghurts like almond, coconut, or soy yoghurt if you're following a vegan or dairy-free diet. If you don't have vanilla yoghurt, you can add some vanilla extract to plain yoghurt.
Dark Chocolate: You can use any chocolate you wish or try other toppings like cacao nibs, shredded coconut, chopped nuts, or dried fruits for added flavour and texture.
How to Make Mini Banoffee Pies
I've added the step-by-step instructions below AND I've also got a video for you to follow along with.
Step 1: Preheat the Oven
Begin by preparing your oven for baking. To do this, preheat it to 180°C (350°F or 160°C fan). Preheating the oven ensures that it's at the right temperature when you're ready to bake your pies.
Step 2: Prep the Bananas
Take two large bananas or 220g of bananas and slice 60g off and slice it into 6 coins, set them aside for now (we'll get back to them later). Mash the remaining 160g.
Step 3: Make the Crusts
Now, add 110g of the mashed banana to the oats. This step is essential for creating a delectable and healthy pie crust. Mix it up until all the oats are coated with the banana and it's a sticky mixture. Divide the mixture between 6 holes in a muffin tray (I like using a silicone tray like this one). Use your fingers or a shot glass to press the mixture into the muffin holes to form a mini crust shape. Bake them for 10 minutes.
Step 4: Make the Healthy Caramel
Take the remaining 50g of mashed banana and combine it with the smooth nut butter in a separate bowl. This combination tastes like a delicious caramel that works so well in this recipe!
Step 5: Assemble the Pies
After your crusts have baked to perfection, it's time to assemble your mini pies. Divide the banana caramel mixture evenly among the baked crusts. To enhance the natural sweetness, top each mini pie with a banana coin. This assembly step ensures that each bite is a delightful blend of flavours and textures.
Step 6: Add the Yoghurt Topping
Now, take a moment to add a dollop of vanilla yoghurt on top of each mini pie. For a vegan version, choose dairy-free yoghurt.
Step 7: Grate the Dark Chocolate
To finish off your mini banoffee pies, grab your dark chocolate and grate some on top of each pie. AND THAT'S IT!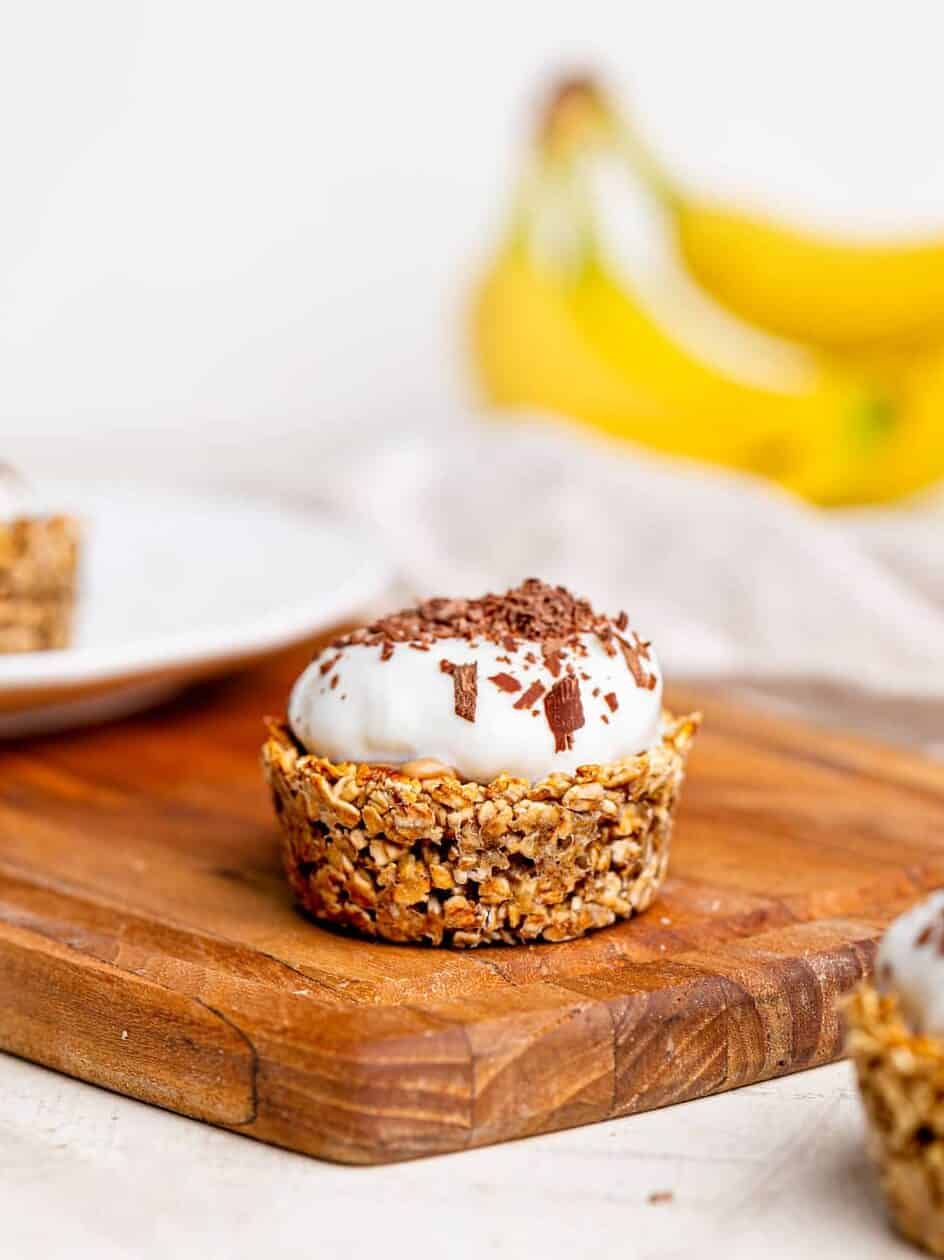 How to Store Banoffee Pie
Room Temperature: Mini pies are best eaten shortly after preparation, particularly if they contain dairy-based yoghurt. Be cautious when storing at room temperature; it's advisable not to leave them out for more than 2 hours to prevent spoilage and bacterial growth.
Refrigeration: For longer-term storage (up to 3-4 days), cool the mini banoffee pies to room temperature after baking. Seal them in an airtight container and store them in the refrigerator.
Freezing (Extended Storage): To store banoffee pies for an extended period (up to 2-3 months), allow them to cool to room temperature after baking. Individually wrap each pie in plastic or foil to prevent freezer burn. Place the wrapped pies in an airtight container or freezer-safe bag. Label with the date and freeze.
Thawing: When ready to enjoy a frozen pie, remove it from the freezer, thaw it in the refrigerator for a few hours, and serve. Mini pies can also be enjoyed cold or at room temperature for a chilled treat.
More easy and healthy mini desserts
Easy & Healthy Banoffee Pies
Indulge in the delightful combination of banana and caramel with these quick and easy mini banoffee pies, made with just FIVE nourishing ingredients!
Ingredients
220

g

Banana

2 large bananas

100

g

Oats

1 cup

60

g

Smooth Nut Butter

1/4 cup

90

g

Thick Vanilla Yoghurt*

1/3 cup

20

g

Dark Chocolate

just a few blocks
Instructions
Preheat oven to 180°C (350°F).

Mash 160g of the banana and slice what is left into 6 banana coins.

Combine 110g (1/2 cup) mashed banana with oats to form a sticky mixture.

Divide the mixture between 6 holes of your muffin tray and press the mixture in with your fingers or a shot glass to create mini pie crusts.

Bake for 10 minutes until golden.

Mix the remaining 50g mashed banana with nut butter to create a caramel-like filling.

Divide the filling among the baked crusts, adding a banana coin on top.

Finish with a dollop of yoghurt and grated some dark chocolate on top.
Video
Notes
MEASUREMENTS:
Whilst I do provide the US cup measurements for the recipe, I always recommend using a kitchen weighing scale and using the weighted measurements instead. This will result in a more accurate process and your cake will come out perfectly.
TIPS:
Banana Ripeness: Choose ripe bananas with brown speckles for the best natural sweetness and flavour.
Caramel Filling: If your nut butter and banana mixture isn't as smooth as you'd like, you can gently heat it in the microwave for a few seconds or on the stovetop to make it easier to spread.
Muffin Tray: Using a silicone muffin tray can make it easier to remove the mini pies without damaging them.
Even Crusts: When pressing the crust mixture into the muffin holes, ensure it's evenly distributed and firmly packed to create a stable base.
Toppings Variation: Get creative with toppings. Try different types of chocolate, chopped nuts, or a sprinkle of cinnamon for added flavour.
Dairy-Free Options: For a vegan version, use dairy-free yoghurt. Almond, coconut, or soy yoghurt are great options.
Make Ahead: You can prepare the crusts in advance and assemble the pies just before serving to maintain the crispness of the crust.
MORE INFO:
Read the blog post before making these Banoffee Pies for extra tips, ingredient substitutions and storage instructions.
NUTRITIONAL INFO:
These nutritional values are provided as a guide only and may be different depending on your ingredients and measurements.
Nutrition
Nutrition Facts
Easy & Healthy Banoffee Pies
Amount per Serving
% Daily Value*
* Percent Daily Values are based on a 2000 calorie diet.
Did you make this?
Leave a rating & leave some feedback in the comments section below! You can also tag me on Instagram @Nourishing.Niki and use the #NourishingNiki