This light and fluffy vegan blueberry cake topped with a crunchy crumble topping is certainly a crowd-pleaser! It's secretly easy and healthy and can be made gluten-free!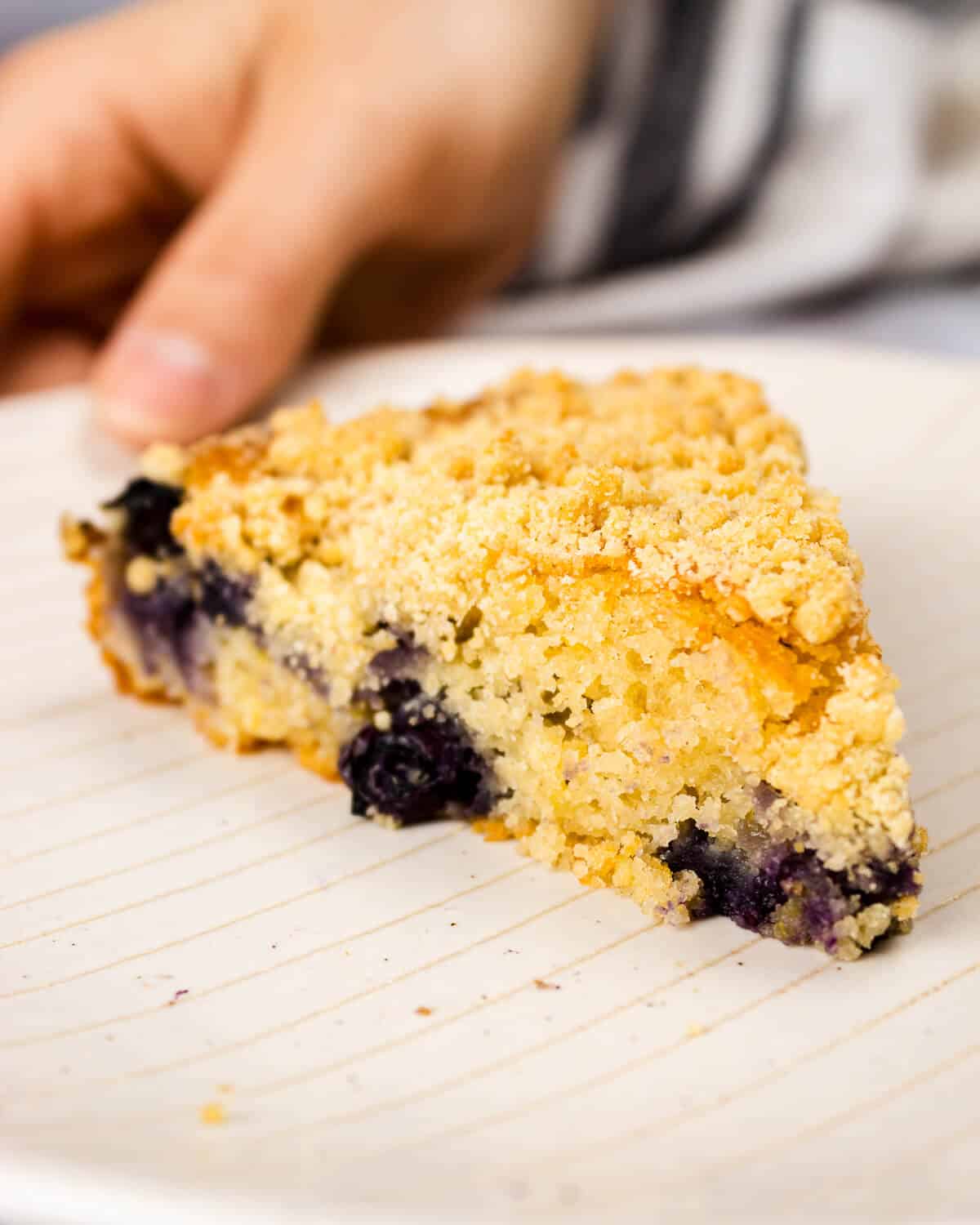 I went back home to South Africa in March. I had such an unforgettable time with family and friends filled with plenty of delicious food (which is crucial to any good holiday!). One of my favourite parts of the holiday was being able to eat my mother's food again (I get my love of all things food from her).
One of my favourite things she made whilst I was there was Sourdough Blueberry Crumble Muffins. They have been imprinted in my heart and mind ever since. So this recipe is inspired by my mum's muffins – they're not made from a sourdough starter like hers (I am yet to make a successful sourdough starter myself), and they aren't filled with motherly love – BUT nevertheless, it's still pretty damn good!
This blueberry crumb cake is really easy and simple to make (I even made a video for you to prove this), and I made them a bit healthier too, by using nourishing ingredients – cause that's what I do!
Please do yourself a favour and make this cake for someone you love, because they're sure to love you even more after!
Ingredients & Substitutions
Plain Flour: This is the same as all-purpose flour or cake flour, depending on where you like. You can use gluten-free plain flour if necessary.
Ground Almonds: Also known as Almond Meal, you can replace this with Almond Flour or Ground Walnuts. This makes the cake SUPER moist (like, REALLY), this also allows you to use less oil in the cake without drying it out! The ground almonds also add structure and hold the cake together if you're using gluten-free flour AND who doesn't love a bit of healthy fats?
Baking Powder and Baking Soda: You'll need BOTH for this recipe to rise properly. You don't need to understand the science behind this (I still don't really), just know that you can't substitute them.
Olive Oil: Use any vegetable oil or melted coconut oil (just make sure the rest of your ingredients are at room temperature). I stayed away from EVOO for so long, but it's actually really good for you! It's not only a HEALTHY fat but it's also packed with antioxidants!
Maple Syrup: You can use agave, honey or any other liquid sweetener. I love using maple syrup as it's an unrefined sugar and also contains antioxidants and is rich in Vitamin B!
Dairy-free milk: You can use any plant milk, lactose-free milk or even just regular old cow's milk if you must.
Vanilla Extract: This not only adds flavour to the cake but also enhances the other flavours! You could use almond extract instead if you like!
Lemon Juice and Zest: Because lemon and blueberries belong together! Also – the acidity of the lemon helps the cake to rise as it reacts with the baking soda!
Blueberries: Fresh or frozen blueberries work here (no need to defrost them if they're frozen).
Baking Tips for Vegan Blueberry Cake
Make sure to follow the recipe steps in the right order. You don't want to mix together your cake ingredients and THEN only make your crumble topping. Your crumble topping needs to be ready to be sprinkled on top as soon as the batter is mixed.
The same goes for mixing together the wet ingredients and dry ingredients separately and then combining the two – you could try just dumping all the ingredients in one bowl and then mixing (where's the fun in that?), but the ingredients will not be evenly distributed and NO ONE wants to eat a lump of baking powder.
By adding the blueberries to the dry ingredients they get coated in flour which helps them to not sink to the bottom of your cake!
I use a 7-inch spring-form pan for this recipe. If you don't have one, you could use a smaller or a larger tin but you will have to adjust the cooking temperature. For a smaller tin: the cake will have to bake longer and for a larger tin it will not need as much time. Always check your cake with a skewer in the middle – it should come out with a few moist crumbs but it should not have uncooked batter on it.
How To Store Vegan Blueberry Cake
Store the cake in an air-tight container on your counter for up to three days or in the fridge for up to a week.
You can freeze this cake if you like for up to three months. When you're ready to eat it – leave it to thaw for a few hours and enjoy!
You may also enjoy these vegan cakes:
BAKING IN GRAMS
All of the recipes I create are tried and tested a few times until it has been perfected. My goal is to develop recipes that are simple to make and easy to follow so that anyone can make them – even if you've never baked before!
One very important thing that will ensure that you get the best results is to measure your ingredients by weight! I recommend purchasing a kitchen scale, they are very affordable and it will honestly change your baking game for good! Not all measuring cups are made equally – for example, a cup of flour to me weighs 120g, but for you, it may be anywhere between 100g and 200g – that's a BIG difference!
If you don't have a kitchen scale yet, you can use this Ingredient Weight Chart as a guideline to convert the ingredients to help you!
Now – dust your apron off and get baking! X
Vegan Blueberry Cake
This light and fluffy vegan blueberry cake topped with a crunchy crumble topping is certainly a crowd-pleaser! It's secretly easy and healthy and can be made gluten-free!
Ingredients
For the Crumble Topping
50

g

Plain Flour

gluten-free if necessary

1

tbsp

Olive Oil

1

tbsp

Maple Syrup
Instructions
Make the Crumble Topping:
With your hands or a spatula – combine the crumble ingredients in a bowl until all the ingredients are evenly distributed the set it aside.
Make the Blueberry Cake
Preheat your oven to 180°C / 350°F / 160°C fan and line your cake tin with grease-proof paper (I used a 7-inch springform tin.

Add your oil, milk, syrup, vanilla, lemon juice and zest to a bowl and whisk to combine. Set aside.

In a large mixing bowl – add your sifted flour, ground almonds, baking powder, baking soda, salt and blueberries and mix until combined.

Pour in your wet ingredients and mix until just combined.

Transfer the batter to your cake tin and smooth out the top. Sprinkle the crumble on top, making sure to cover the whole top of the cake.

Bake for 30-35 minutes – insert a skewer to check the doneness – it should come out with just a few moist crumbs.

Leave to cool for around 10 minutes, then remove from the cake tin and leave on a wired rack to cool completely before slicing!

Serve with custard, cream or enjoy as is!
Notes
Please read the blog content for ingredient substitutes, baking tips and storage advice!
These nutritional values are provided as a guide only and may be different depending on your ingredients and measurements.
Nutrition
Nutrition Facts
Vegan Blueberry Cake
Amount per Serving
% Daily Value*
* Percent Daily Values are based on a 2000 calorie diet.
Did you make this?
Leave a rating & leave some feedback in the comments section below! You can also tag me on Instagram @Nourishing.Niki and use the #NourishingNiki